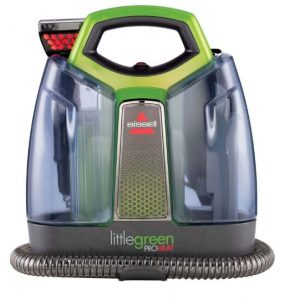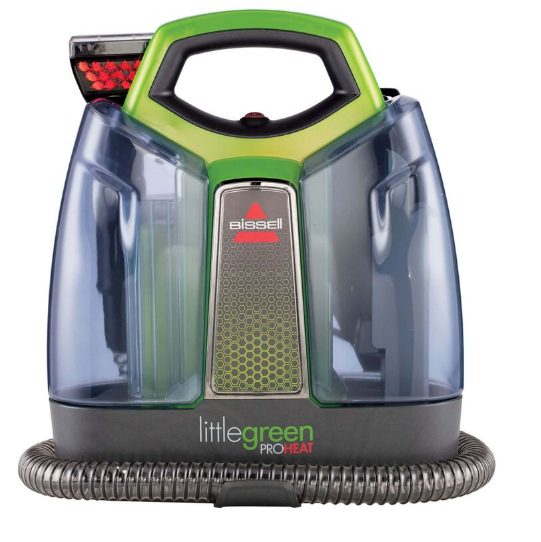 Bissell 5207 Series Little Green Proheat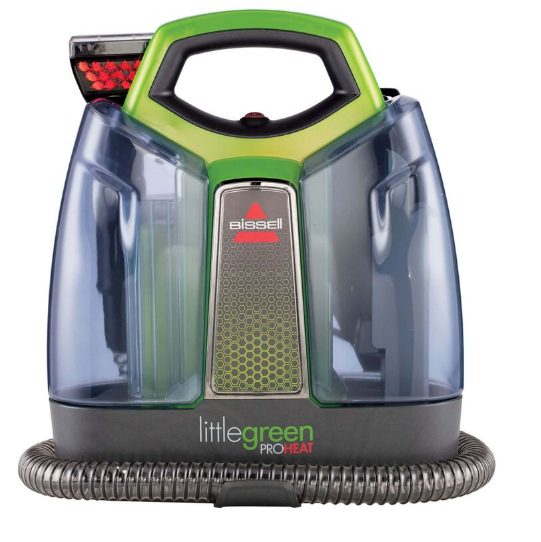 Bissell 5207 Series Little Green Proheat
LITTLE GREEN® PROHEAT®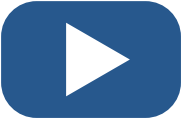 It more of a video person? Look for this icon and go online for an instructional how-to video at www.BISSELL.ca/videos
IMPORTANT SAFETY INSTRUCTIONS
READ ALL INSTRUCTIONS BEFORE USING YOUR PORTABLE DEEP CLEANER.
When using an electrical appliance, basic precautions should be observed, including the following:
WARNING
TO REDUCE THE RISK OF FIRE, ELECTRIC SHOCK, OR INJURY:
Connect to a properly grounded outlet only. See grounding instructions. Do not modify the 3-prong grounded plug.
Do not leave appliance when it is plugged in. Unplug from outlet when not in use and before servicing.
Do not expose to rain. Store indoors.
Do not allow to be used as a toy. Close attention is necessary when used by or near children.
Do not use for any purpose other than described in this User's Guide. Use only manufacturer's recommended attachments.
Do not use with damaged cord or plug. If appliance is not working as it should, has been dropped, damaged, left outdoors, or dropped into water, have it repaired at an authorized service center.
Always install float before any wet pick-up operation.
Do not pull or carry by cord, use cord as a handle, close a door on cord, or pull cord around sharp edges or corners. Do not run appliance over cord. Keep cord away from heated surfaces.
Do not unplug by pulling on cord. To unplug, grasp the plug, not the cord.
Do not handle plug or appliance with wet hands.
Do not put any object into openings. Do not use with any opening blocked; keep openings free of dust, lint, hair, and anything that may reduce airflow.
Keep hair, loose clothing, fingers, and all parts of body away from openings and moving parts.
Turn off all controls before plugging or unplugging appliance.
Use extra care when cleaning on stairs.
Do not use to pick up flammable or combustible materials (lighter fluid, gasoline, kerosine, etc.) or use in areas where they may be present.
Do not use appliance in an enclosed space filled with vapors given off by oil base paint, paint thinner, some moth proofing substances, flammable dust, or other explosive or toxic vapors.
Do not use to pick up toxic material (chlorine bleach, ammonia, drain cleaner, etc.).
Do not pick up anything that is burning or smoking, such as cigarettes, matches, or hot ashes.
Use only BISSELL cleaning products intended for use with this appliance to prevent internal component damage. See the Cleaning Fluid section of this guide.
Keep appliance on a level surface.
Do not carry the appliance while in use.
SAVE THESE INSTRUCTIONS FOR FUTURE USE
This model is for household use only. Commercial use of this unit voids the manufacturer's warranty.

WARNING
Improper connection of the equipment-grounding conductor can result in a risk of electrical shock. Check with a qualifi ed electrician or service person if you aren't sure if the outlet is properly grounded. DO NOT MODIFY THE PLUG. If it will not fi t the outlet, have a proper outlet installed by a qualifi ed electrician. This appliance is designed for use on a nominal 120-volt circuit and has a grounding attachment plug that looks like the plugin illustration. Make certain that the appliance is connected to an outlet having the same confi duration as the plug. No plug adapter should be used with this appliance.
GROUNDING INSTRUCTIONS


This appliance must be connected to a grounded wiring system. If it should malfunction or break down, grounding provides a safe path of least resistance for electrical current, reducing the risk of electrical shock. The cord for this appliance has an equipment-grounding conductor and a grounding plug. It must only be plugged into an outlet that is properly installed and grounded in accordance with all local codes and ordinances.
Thanks for buying a BISSELL portable carpet cleaner!
We love to clean and we're excited to share one of our innovative products with you. We want to make sure your portable carpet cleaner works as well in two years as it does today, so this guide has tips on using (pages 6-11), maintaining (pages 11-13), and if there is a problem, troubleshooting (page 14). In just a few simple assembly steps, you'll be ready to spot clean. Flip to page 6 and let's get started!
What's In The Box?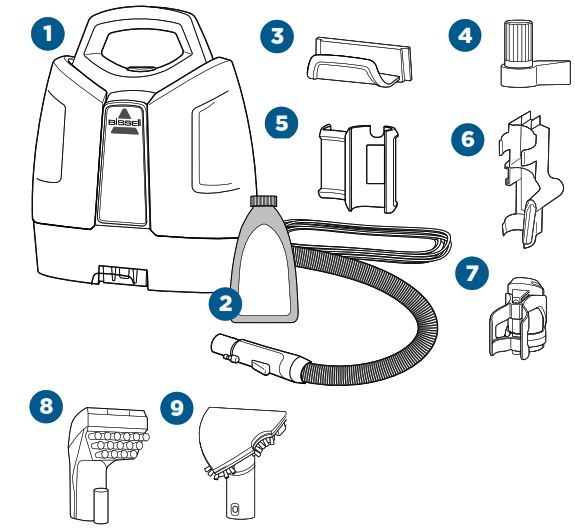 Base Unit
BISSELL Formula
Flex Hose Clip
Additional Tool Storage*
Hose Grip Bracket
Quick Release Cord Wrap
HydroRinse™ Self Cleaning Hose Tool*
3″ Tough Stain Tool*
3-N-1 Stair Tool*
*select Models only
NOTE: Standard accessories may vary by model. To identify what should be included with your purchase, please refer to the "Carton Contents" list located on the carton top flap.
Product View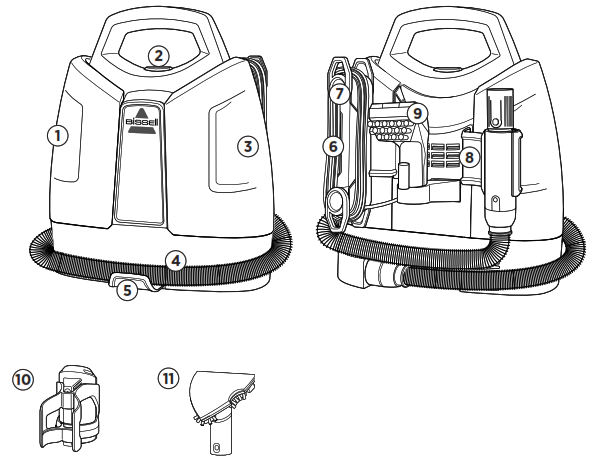 Clean Water/Solution Tank
Power Button
Dirty Water Tank
Flex Hose
Flex Hose Clip
Power Cord
Quick Release Cord Wrap
Hose Grip Bracket
3" Tough Stain Tool
HydroRinse™ Self Cleaning Hose Tool
3-N-1 Stair Tool*
*select Models only
Cleaning Formula

WARNING
To reduce the risk of fi re and electric shock due to internal component damage, use only BISSELL cleaning formula intended for use with this machine.
Keep plenty of genuine BISSELL Spot & Stain Cleaner formula for portable spot cleaning machines on hand so you can clean whenever it fits your schedule. Always use genuine BISSELL cleaning formulas.
Use Professional formula for optimal cleaning results!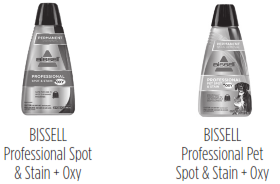 NOTICE: Use of cleaning formulas that contain lemon or pine oil may damage this appliance and void the warranty. Chemical spot cleaners or solvent-based soil removers also should not be used. These products may react with the plastic materials used in your cleaner, causing cracking or pitting.
Assembly

WARNING
Do not plug in your cleaner until you are familiar with all instructions and operating procedures.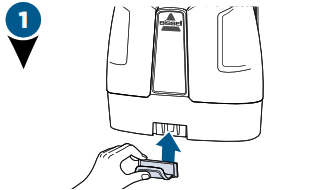 Slide the flex hose clip into opening on the front of the machine. You will hear a "snap" when it is locked into place.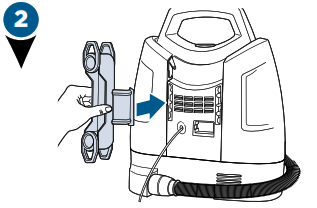 Attach cord wrap by snapping it into place on the collection tank side of the machine.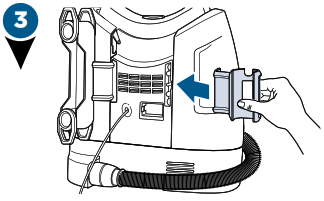 Snap the hose grip bracket into the back of the machine on the clean tank side.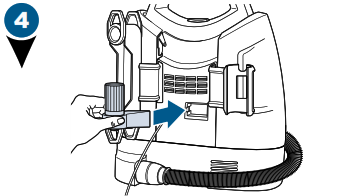 Snap the second tool storage (select models) into the back between the cord wrap and hose grip bracket.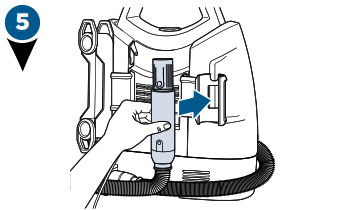 Then wrap the flex hose around the unit and snap hose grip into bracket.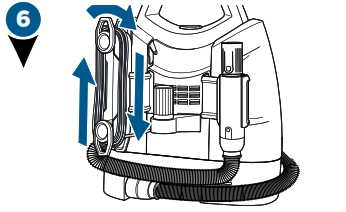 Wrap the power cord around the cord wrap.
Filling the Solution Tank
Remove the tank by lifting it straight up and away from the unit.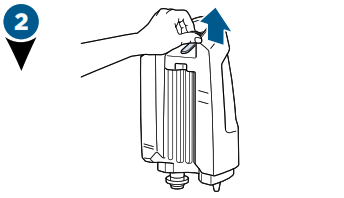 Pull black tab to reveal tank opening. The plug rotates out of the way for easy filling.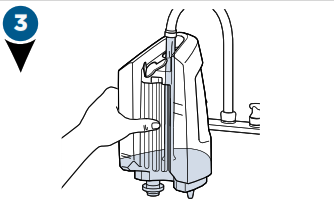 Add water to the indicated fill line on the solution tank.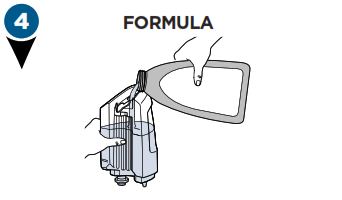 Add the BISSELL formula to the indicated fill line on the solution tank.
NOTE: Follow the fi ll lines on your clean tank to add the correct amount of hot tap water (140 degrees F)/ 60 degrees C) MAX) and portable machine formula.
Note: There are different directions on the tank for small and large messes. DO NOT BOIL OR MICROWAVE WATER.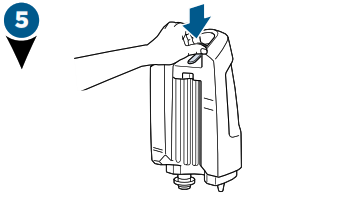 Replace the plug by rotating into place and pressing gently onto tank.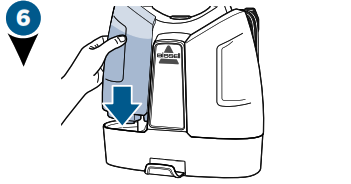 Replace tank by lining the tank bottom with indentations on machine. Press down firmly on tank to secure in position.
Pre-Treating
IMPORTANT: Check the manufacturer's tag before cleaning upholstery. "W" or "WS" on the tag means you can use your cleaner. If the tag is coded with an "S" (with diagonal strike-through), or says "Dry Clean Only," do not proceed. If the manufacturer's tag is missing or not coded, check with your furniture dealer.
WHY PRETREAT? Cleaning effectiveness will be enhanced if you pre-treat heavily stained or highly soiled areas.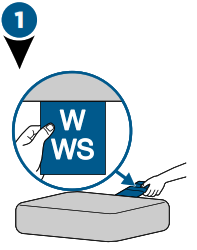 Check the manufacturer's tag before cleaning upholstery. "W" or "WS" on the tag means you can use your machine.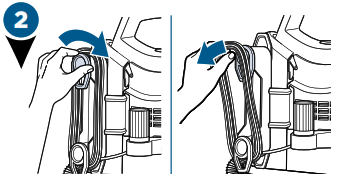 Twist the quick release cord wrap clockwise to quickly unwrap power cord. Plug-in unit and press power button beneath the handle to turn it ON.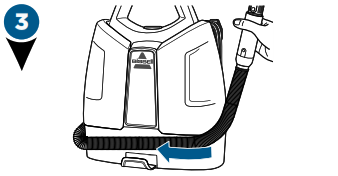 Release the flex hose from the hose grip bracket. Unwrap flex hose completely from around the unit.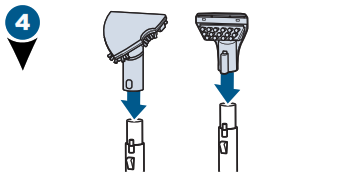 Select desired tool for spot cleaning, Insert tool on end of hose until it clicks into place.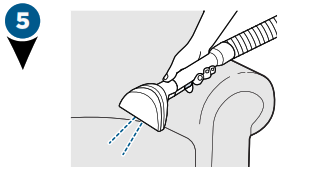 Hold the 3" tough stain tool just above the carpet or upholstery to be cleaned. Press the trigger to mist solution over the soiled area.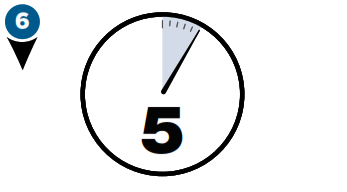 Let cleaning solution set for 5 minutes before cleaning.
Cleaning with Tools

WARNING
Keep spray away from face. Failure to do so may result in personal injury.
CLEANING WITH THE 3″ TOUGH STAIN TOOL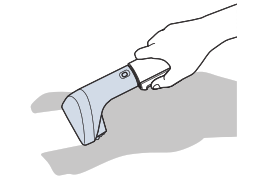 Attach the 3" tough stain tool to the handheld cleaning hose. Press the spray trigger to mist solution over and onto the soiled area. Release spray trigger and gently scrub the stain.
To lift the stain away, apply downward pressure on the tool and slowly pull it toward you. Then use "drying strokes" (by not pressing down the trigger) to remove the remaining moisture. Repeat as needed.
CLEANING WITH THE HYDRORINSE™ TOOL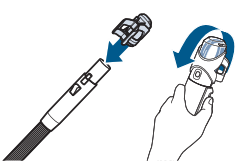 Attach the HyrdoRinse™ tool to the cleaning hose. Hold the hose and attachment in an upright position. Then hold down the trigger to rinse the hose for 30 seconds.
The HydroRinse™ tool can be stored on the right handle or on the hose in between use.
CLEANING WITH THE 3-N-1 STAIR TOOL (select models)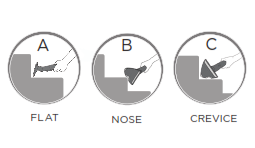 Attach the 3-N-1 tool to the cleaning hose. This versatile 3-way tool sprays, scrubs and suctions up dirt and stains from the outer curves, corner, and tread of a carpeted stairs. Twist the tool head to the desired setting to clean. The downward-facing edge is the active cleaning mode: (a) use the flat area to clean the top of the stairs, (b) use a pointed edge to clean the inside the crevice, (c) use an indented area to clean the outer corner.
CLEANING WITH THE DEEP STAIN/REACH TOOL (optional accessory available for purchase)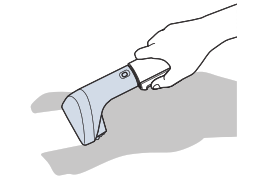 Attach the deep stain/reach tool to the cleaning hose. Set the tool directly on top of the carpet before pulling the spray trigger to inject formula deep into the carpet fibers.
Always keep the tool in direct contact with carpeting to avoid over-spraying.
NOTE: Ensure that the cleaning solution and water are in the tank before use
Cleaning with Stain Trapper Tool

WARNING Keep spray away from face. Failure to do so may result in personal injury.
Attach the stain trapper tool to the end of the hose.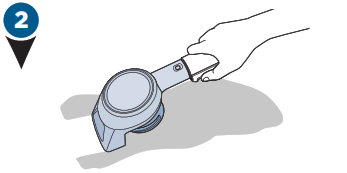 Slowly move the tool back and forth over the stain. Be careful not to move the tool back and forth too quickly or soiled water will flow back into the hose.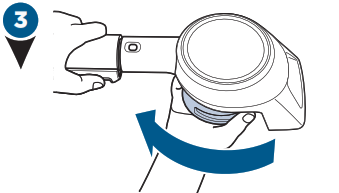 To empty the stain trapper tool, rotate the small tank on the bottom of the tool to unlock it.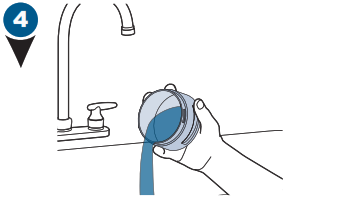 Dump dirty water into a sink or toilet and rinse the tank out with clean water.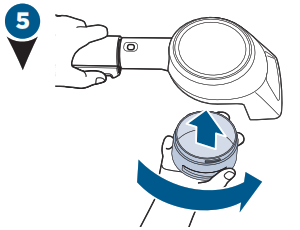 Replace the tank by lining up the locking teeth with their mating slots (make sure the two teeth that are closest together are pointed toward the brush). Turn the tank to lock it into place.
CLEANING THE STAIN TRAPPER TOOL: Clean the front of the tool by removing the plate over the suction plate. Pull down to remove and rinse with water. Then replace the plate by sliding it back into place.
Empty Dirty Water Tank

WARNING
To reduce the risk of electric shock, turn power OFF and disconnect from electrical outlet before performing maintenance or troubleshooting.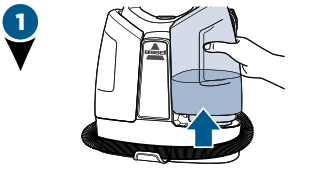 To remove the dirty water collection tank simply lift up on the tank from the base of the machine.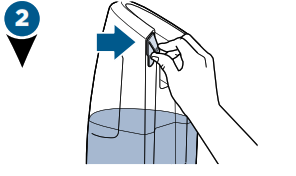 Pull tab to remove plug from tank.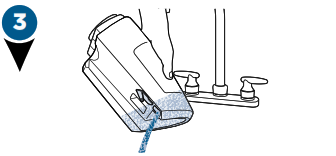 Carefully empty dirty water tank, as some water may potentially enter/drain from center float stack.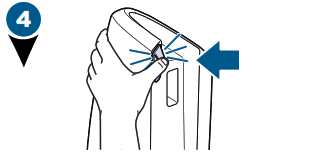 Close the tank plug and return tank to unit. Ensure tank is secure before use.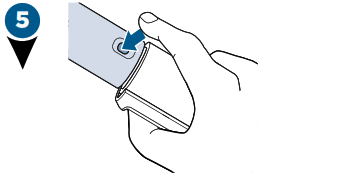 To disconnect the cleaning tools from the hose grip, push down on the button and pull straight off. (Do NOT twist tool to remove it.)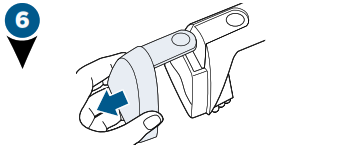 The front of the 3" tough stain tool, deep stain tool, 3-N-1, and stain trapper tool (select models) can be removed for easy cleaning. Press the button on top of the tool and slide its front off the tool base. Rinse under water and return to the tool.
NOTE: Store unit in protected, dry area, at room temperature (40 degrees F to 110 degrees F).
NOTICE To reduce the risk of a leaking condition, do not store unit where freezing may occur. Damage to internal components may result.
Clean the Float Stack

WARNING
To reduce the risk electric shock, turn power OFF and disconnect from electrical outlet before performing maintenance or troubleshooting.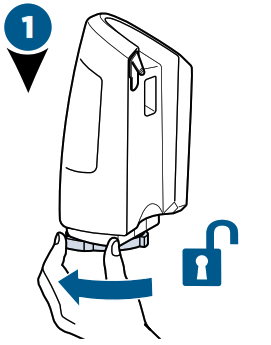 The float stack can be removed from the dirty water tank for cleaning. Turn it counterclockwise to remove it.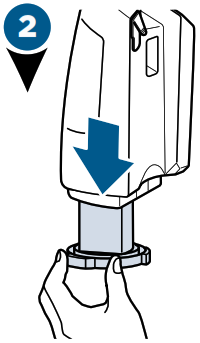 Remove the float stack from the dirty water tank.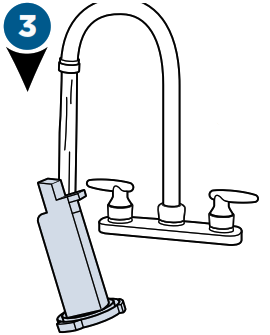 Rinse with water until all debris is removed and let air dry.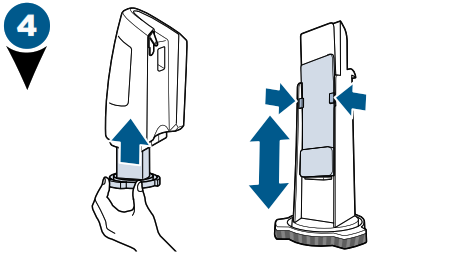 Return the float stack to the dirty tank. Ensure float is installed before returning the float stack to the dirty tank.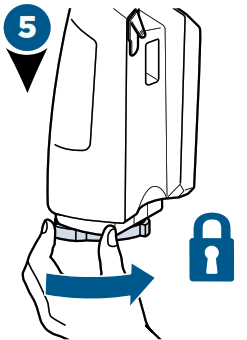 Turn the float stack clockwise to lock.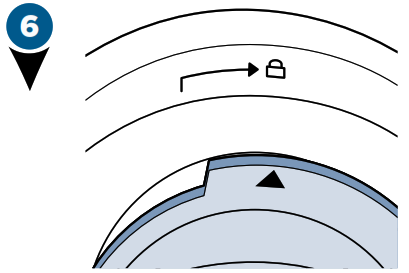 Ensure the arrow on the float stack lines up with the lock icon.
Thermal Protector
An internal thermal protector has been designed into your carpet cleaner to protect it from overheating. When the thermal protector activates, the suction motor will stop operating. If this happens proceed as follows: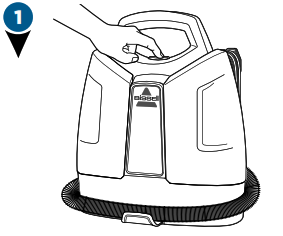 Turn the cleaner OFF.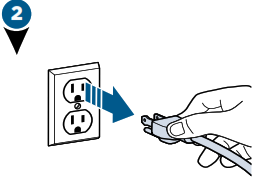 Unplug cleaner from the electrical outlet.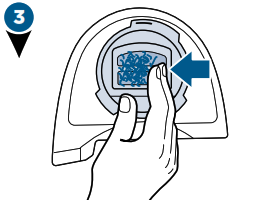 Check the end of the hose and tool for blockages and remove if necessary. Check the float stack for clogs and remove debris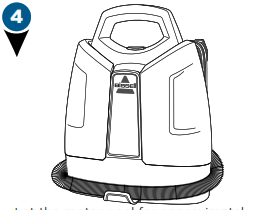 Let the motor cool for approximately 30 minutes. The thermal protector will automatically reset and cleaning may continue once plugged back in.
NOTE: If the thermal protector continues to activate after following the above steps, your cleaner may need servicing. Call BISSELL Consumer Care or visit the website.
Troubleshooting

WARNING
To reduce the risk of electric shock, turn power switch off and disconnect from electrical outlet before performing maintenance or troubleshooting checks.
Problem
Possible causes
Remedies
Reduced spray or no spray
Spray nozzle clogged.
Clean spray nozzle using an unfolded paper clip.
Clean water/solution tank empty.
Check/fill tank.
Clean water/solution tank insertclogged.
Clean insert at bottom of clean water/solution

tank.

Pump needs priming.
Gently lift clean water/solution tank while depressing the spray trigger OR gently squeeze clean tank while depressing spray trigger.
Clean tank not fully seated.
Remove and reinstall clean tank.
Spot cleaner won't pick up cleaning solution
Poor upholstery/carpet tool position.
Reposition upholstery/carpet tool on surface, follow recommended cleaning procedures.
Dirty water tank is full.
Empty dirty water tank.
Excess solution in flex hose.
Lift tool and point upwards to allow water in hose to flow into the dirty water tank.
Incorrect cleaning formula.
Use BISSELL Portable Machine formulas only.
Dirty tank is improperly seated onto base.
Remove dirty tank and reseat onto unit.
Dirty tank plug is unplugged.
Push in dirty tank plug until properly sealed.
Dirty Water Tank Leaking
Duckbill valve is dirty.
Clean the duckbill valve that is located at the bottom of the dirty water tank. Once cleaned, make sure it is placed securely back in place.
Float stack not fully locked on dirty tank.
Remove float stack and twist until arrow is aligned with lock symbol on dirty tank pg. 12.
Dirty tank not properly seated onto machine.
Remove and reseat onto unit.
Warranty
If you need additional instruction regarding this warranty or have questions regarding what it may cover, please contact BISSELL Consumer Care by e-mail or telephone as described below.
Limited Two-Year Warranty
Subject to the *EXCEPTIONS AND EXCLUSIONS identified below, upon receipt of the product BISSELL will repair or replace (with new or remanufactured components or products), at BISSELL's option, free of charge from the date of purchase by the original purchaser, for two years any defective or malfunctioning part. See information below on "If your BISSELL product should require service". This warranty applies to products used for personal, and not commercial or rental service. This warranty does not apply to fans or routine maintenance components such as filters, belts, or brushes. Damage or malfunction caused by negligence, abuse, neglect, unauthorized repair, or any other use not in accordance with the User's Guide is not covered.
BISSELL IS NOT LIABLE FOR INCIDENTAL OR CONSEQUENTIAL DAMAGES OF ANY NATURE ASSOCIATED WITH THE USE OF THIS PRODUCT. BISSELL'S LIABILITY WILL NOT EXCEED THE PURCHASE PRICE OF THE PRODUCT.
*EXCEPTIONS AND EXCLUSIONS FROM THE TERMS OF THE LIMITED WARRANTY THIS WARRANTY IS EXCLUSIVE AND IN LIEU OF ANY OTHER WARRANTIES EITHER ORAL OR WRITTEN. ANY IMPLIED WARRANTIES WHICH MAY ARISE BY OPERATION OF LAW, INCLUDING THE IMPLIED WARRANTIES OF MERCHANTABILITY AND FITNESS FOR A PARTICULAR PURPOSE, ARE LIMITED TO THE TWO YEAR DURATION FROM THE DATE OF PURCHASE AS DESCRIBED ABOVE.
NOTE: Please keep your original sales receipt. It provides proof of date of purchase in the event of a warranty claim.
Service
If your BISSELL product should require service:
Contact BISSELL Consumer Care to locate a BISSELL Authorized Service Center in your area.
If you need information about repairs or replacement parts, or if you have questions about your warranty, contact BISSELL Consumer Care.
Website: www.BISSELL.ca
E-mail: www.BISSELL.ca/email-us
Call:
BISSELL Consumer Care
1-800-263-2535
Monday – Friday 8am – 10pm ET
Saturday 9am – 8pm ET
Sunday 10am – 7pm ET
Please do not return this product to the store.
Other maintenance or service not included in the manual should be performed by an authorized service representative.
For any questions or concerns, BISSELL is happy to be of service.
Contact us directly at 1-800-263-2535.
Register your product today!
Registering is quick, easy, and offers you benefits over the lifetime of your product.
You'll receive:
Faster Service
Supplying your information now saves you time should you need to contact us with questions regarding your product.
Product Support Reminders and Alerts
We'll contact you with any important product maintenance reminders and alerts.
Special Promotions
Optional: Register your email to receive notice of offers, contests, cleaning tips and more!
Visit www.BISSELL.ca/registration!
Visit the BISSELL website: www.BISSELL.ca
When contacting BISSELL, have model number of cleaner available.
Please record your Model Number: ___________________
Please record your Purchase Date: ___________________
NOTE: Please keep your original sales receipt. It provides proof of purchase date in the event of a warranty claim. See the Warranty page for details. For cleaning tips and more visit www.BISSELL.ca or fi nd us at:

We can't wait to hear from you!
Rate this product and let us (and millions of your closest friends) know what you think!
FAQ'S
How do I use the Little Green Proheat?
The Little Green Proheat is easy to use. Simply fill the tank with water and add your favourite cleaning solution. Plug the appliance into a grounded electrical outlet and turn it on.
How do I know when to empty the tank?
The Little Green Proheat has a handy indicator that tells you when to empty the dirty water. When the indicator light goes on, it's time to empty the dirty water tank.
Can you use cold water in a Bissell Little Green ProHeat?
No. You must fill it with heated water.
Can you use Bissell Little Green without water?
No. While it does act as a vacuum for water, you would get a giant mess if using as a regular vacuum without the water running through it. Do not recommend at all.
Why is my Bissell Little Green leaking?
Leaking From the Bottom
You'll need to make sure the collection tank is locked into place, just as if the leak was above the collection tank. If you're still having issues, it's likely due to the ball valve on the bottom of the tank.
Why does my Bissell not spray water?
If your machine is still not spraying, check to make sure the clean tank has water and/or the water & formula mixture in the tank. If your tank is empty, this could be the reason your machine is not spraying. You will need to fill your clean tank again. Reset the tank and ensure it sits snug on the machine.
Can I use vinegar and water in my Bissell?
Create a cleaning solution with one part white vinegar and one part hot water. Clean the window frames by wiping them down with a cloth that's dampened with an all-purpose cleaner and water. Then wipe the solution away with a clean water cloth and dry the frame thoroughly.
Does the Bissell ProHeat actually heat the water?
But you might be a little disappointed if you expect this tool to heat up its own water. Despite its name being the Bissell ProHeat, this carpet cleaner doesn't actually heat up the water it uses to clean your floors.
Can you put boiling water in Bissell?
After you get out your carpet cleaner, fill the clean tank to the line with hot (not boiling) tap water. Hot water does a better job cleaning than cold but, if you boil it, you run the risk of melting parts of your carpet cleaner.
Why is my Bissell Little Green not sucking?
If you are experiencing No/Low Suction, follow these steps to resolve: Check dirty water tank Turn off & unplug machine Remove & empty dirty water tank Firmly push dirty water tank plug back.
How do you deep clean a little green machine?
Make sure your machine is off and unplugged.
First you'll need to empty and rinse the dirty water tank.
To remove the tank, lift it straight up and pull away from the unit.
Pull on the black tab and rinse out the tank with clean water after emptying.
Does a Bissell little green have a reset button?
Locate the brush reset button on the lower back right of the vacuum. Press the button to reset the brushroll To ensure the brush has been reset, plug the vacuum back into the electrical outlet. Turn on the vacuum detent the vacuum to begin cleaning Turn the brushroll on.