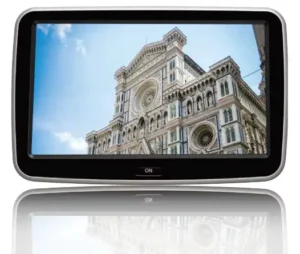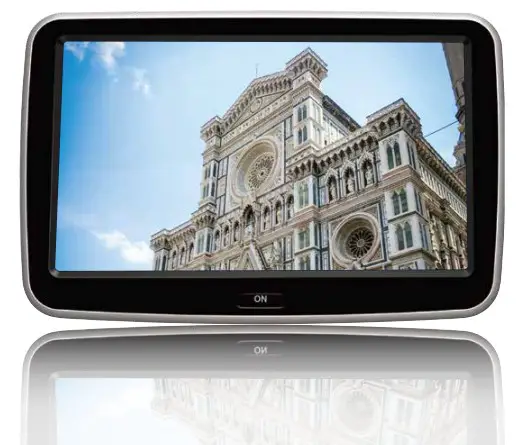 HEADREST MONITOR
FLORENCE 900 HRM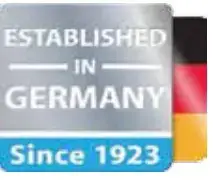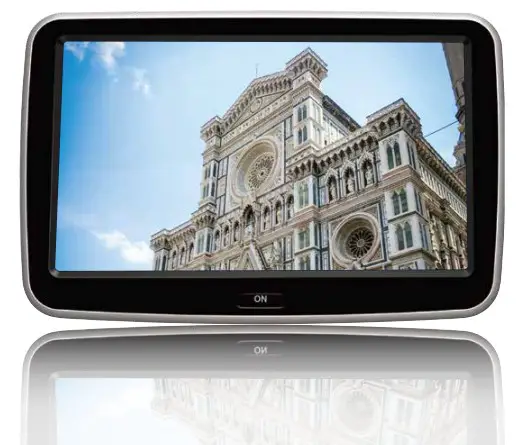 Enjoy it!
Operating and Installation Instructions
Attention
Contents and instructions are subject to change.
Ensure all wires are connected properly, and that the unit is functioning well before fitting the unit into the mount.
Any unauthorized installation, modification, or repair may cause malfunction to the unit and void of warranty coverage.
Consult authorized dealer if installation requires modifications on the vehicle. Do not expose the monitor to high heat, sunlight, dust, dirt or excessive vibration. Keep monitor dry and clean. Reset or restart unit in case of a program error.
Disclaimer-In no event shall Blaupunkt be liable for any direct, indirect, punitive, incidental, special consequential damages, to property or life, improper storage, whatsoever arising out of or connected with the use or misuse of our products.
USA & CANADA: Product not intended for sale in the United States and Canada. If purchased in the U.S. or Canada, this product is purchased as-is. No warranty, express or implied is provided in the U.S. and Canada.
Features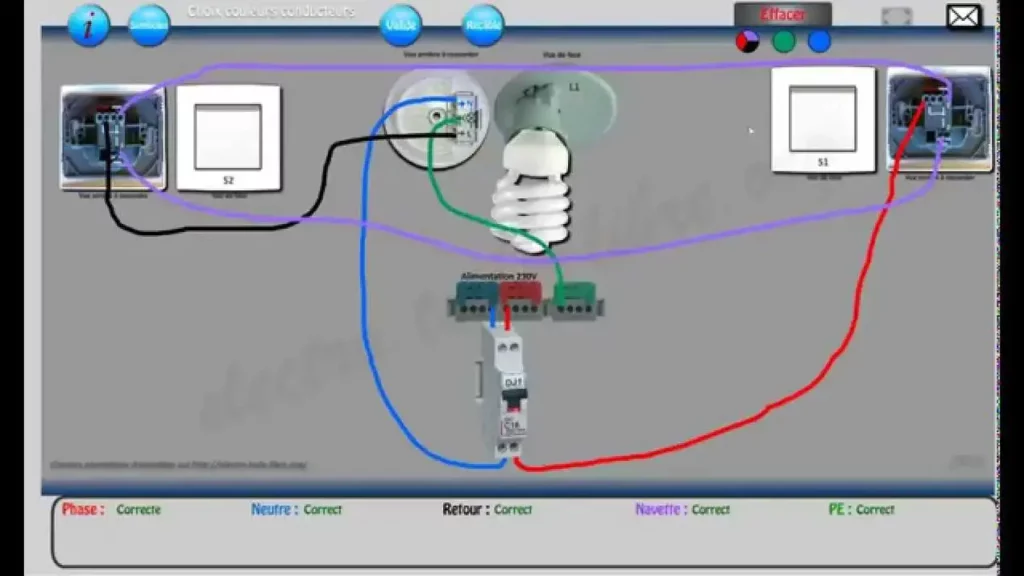 Mercedes-Benz plug & play OE upgrade headrest monitor with 10.1″ capacitive touch screen, tailor-made for selected models
Florence 900 HRM
10.1″ Capacitive Touch Screen LCD
1024 x 600 Display Resolution
Viewing Angle : 80° (Left / Right / Up /
Down)
Power Supply: 12V DC
Android 4.4.4
1G RAM, 8G Flash
Support MPEG/MP3/WMA,
AVI/MKV/MP4/MOV/FLAC,
JPG/BMP/GIF
Built-in Speaker
Built-in IR/FM/Bluetooth transmitter
1 x 3.5mm Headphone Jack
1 x AN Input
1 x Micro SD (Up to 64gb, not included)
1 x USB (Up to 128GB, not included)
Current: Max. 700MA
Operating Temperature: -10°C — 60°C
Function Diagram
1. Reset button
2.3.5mm headphone jack
3. USB port
4. Micro SD port
5.AV input
6. Headrest release button
7. Speaker
8. Power button
Installation
Make sure the vehicle has a built-in monitor slot behind the seat. See Exhibit 1.
Carefully insert/remove the device into/from the slot to assemble. See Exhibit 2.
Press Headrest Release Button to the device from the slot. See Exhibit 3.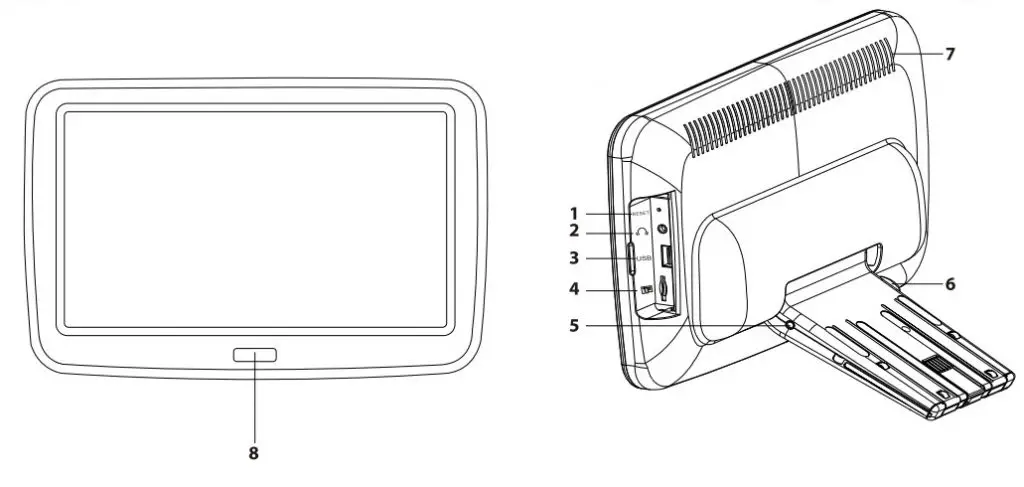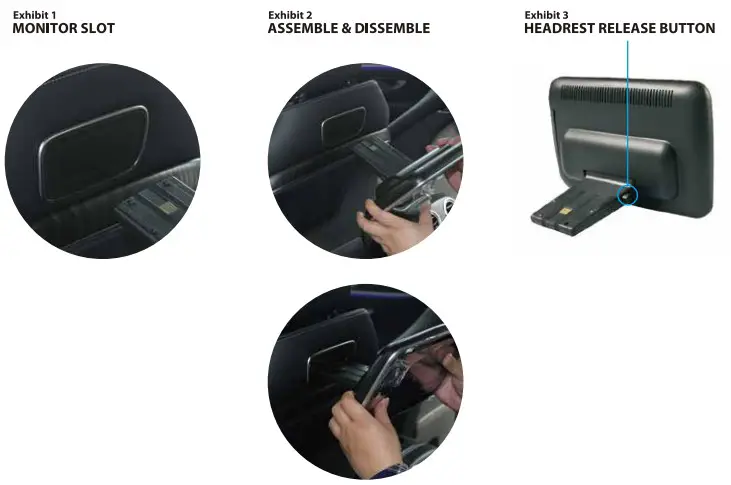 Operation
Wi-Fi
Go to settings to activate or deactivate the Wi-Fi feature to connect to a Wi-Fi network and access the internet or other network devices.
Disclaimer: The WLAN can be operated indoors only without restrictions.

Bluetooth
Go to SETTING to activate or deactivate the Bluetooth feature to pair with headphones.
ScreenShot
Go to SETTING to activate or deactivate the ScreenShot function by allowing the ScreenShot button to appear on the status bar.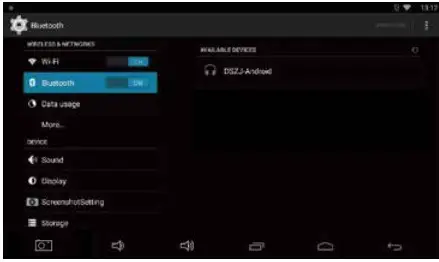 Backup & Reset
Go to SETTING to Backup or reset the device. Set backup account on the device before resetting the device.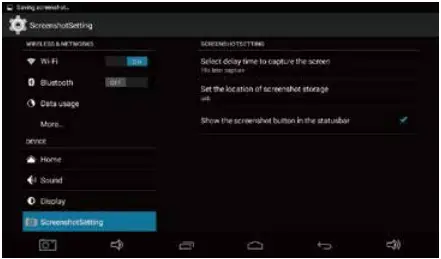 V
VIDEO DECODER
MPEG-1/2
Video Codec
MPEG-1/2
Supported Image Size
48x48pixels to 1920x1088pixels
Maximum Frame Rate
30fps
Maximum Bit Ratel
80Mbps
File Format
DAT, MPG, VOB, TS
Remark
Support Field Coding
MPEG-4
Video Codec
MPEG4
Supported Image Size
48x48pixels to 1920x1088pixels
Maximum Frame Rate
30fps
Maximum Bit Rate
38.4Mbps
File Format
AVI, MKV, MP4, MOV, 3GP
Remark
Not support MS MPEG4 y1/y2/y3
Not support GMC
H.264
Video Codec
H.264
Supported Image Size
48x48pixels to 1920x1088pixels
Maximum Frame Rate
30fps
File Format
AVI, MKV, MP4, MOV, 3GP, TS, FLV
Remark
Support Field Coding
Support MBAFF
MVC
Video Codec
H.264 MVC
Supported Image Size
48x48pixels to 1920x1088pixels
Maximum Frame Rate
60fps
Maximum Bit Rate
38.4Mbps
File Format
MKV, TS
Remarks
Support Stereo High Profile only
H.265/HEVC
Video Codec
H.265/HEVC
Supported Image Size
48x48pixels to 1920x1088pixels
Maximum Frame Rate
60fps
Maximum Bit Rate
57.2Mbps
File Format
MKV, MP4, MOV, TS
GOGGLE VP8
Video Codec
VP8
Supported Image Size
48x48pixels to 1920x1088pixels
Maximum Frame Rate
30fps
Maximum Bit Rate
38.4 Mbps
File Format
WEBM,MKV
H.263
Video Codec
H.263
Supported Image Size
SQCIF(128×96), QCIF(176×144), CIF(352×288),4CIF(704×576)
Maximum Frame Rate
30fps
Maximum Bit Rate
38.4Mbps
File Format
3GP, MOV, MP4
Remark
Not support H.263+
VC-1
Video Codec
VC-1
Supported Image Size
48x48pixels to 1920x1088pixels
Maximum Frame Rate
30fps
Maximum Bit Rate
45Mbps
File Format
WMV, ASF, TS, MKV, AVI
MOTION JPEG
Video Codec
MJPEG
Supported Image Size
48x48pixels to 1920x1088pixels
Maximum Frame Rate
30fps
Maximum Bit Rate
38.4Mbps
File Format
AVI
VIDEO ENCODER
H.264/AVC
Video Codec
H.264
Supported Image Size
96x96pixels to 1920x1088pixels
Maximum Frame Rate
30fps
Maximum Bit Rate
20Mbps
Remark
Not support MBAFF
Google VP8
Video Codec
VP8
Supported Image Size
96x96pixels to 1920x1088pixels
Maximum Frame Rate
30fps
Maximum Bit Rate
10Mbps
Remark
WEBM
Audio Format
AUDIO DECODER
MPEG Audio
Audio Codec
MPEG1/2/2.5 Audio Layers/2/3
Channel
2
Bit rate
8kbps-320Kbps, CBR and VBR
Sampling rate
8KHZ-48KHz
File Format
MP1, MP2, MP3
Windows Media Audio
Audio Codec
WMA Version 4,4.1, 7, 8, 9, wmapro
Channel
2
Bit rate
8kbps-320Kbps
Sampling rate
8KHZ-48KHz
File Format
WMA
Remarks
Not support WMA Pro, lossless and MBR
WAV Audio
Audio Codec
MS-ADPCM, IMA-ADPCM, PCM
Channel
2
Sampling rate
8KHZ-48KHz
File Format
WAV
Remark
Support 4bit MS-ADPCM,IMA-ADPCM
OGG Audio
Audio
Codec Q1— Q10
Channel
2
Sampling rate
8KHZ-48KHz
File Format
OGG, OGA
FLAC Audio
Audio Codec
Compress Level 0-8
Channel
2
Sampling rate
8KHZ-48KHz
File Format
FLAC
AAC Audio
Audio Codec
ADIF, AIDS Header AAC-LC and AAC-HE, AAC-ELD
Channel
5.
Sampling rate
8KHZ-48KHz
File Format
AAC, M4A
AMR Audio
Audio Codec
AMR-NB, AMR-WB
Channel
1
Bit rate
AMR-NB 4.75-12.2kbps@8kHz AMR-WB 6.60-23.85kbps@16kHz
Sampling rate
8KHZ, 16KHz
File Format
3GP
MIDI Audio
Audio Codec
MIDI Type 0 and 1, DLS version 1 and 2, XMF and
Mobile XMF, RTTTURTX, OTA, iMelody
Channel
2
File Format
XMF, MXMF, RTTTL, RTX, OTA, IMY
AUDIO ENCORDER
AMR Audio
Audio Codec
AMR-NB, AMR-WB
Channel
2
Bit rate
4.75kbps-12.2Kbps, CBR
Sampling rate
8KHZ, 16KHZ
Container
3GPP
AAC Audio
Audio Codec
AMR-NB, AMR-WB
Channel
2
Bit rate
4.75kbps-12.2Kbps, CBR
Sampling rate
8KHZ, 16KHZ
Container
3GPP
Image Format
IMAGE DECODER
JPEG
Image Codec
JFIF file format 1.02
Support Image Size
48x48pixels to 8176x8176pixles
Container
JPG, JPEG
Remark
Base and progressive
Software support SRGB JPEG
Software support Adobe RGB JPEG
BMP
Image Codec
BMP
Support Image Size
No Restriction'
Container
BMP
GIF
Image Codec
GIF
Support Image Size
No Restriction
Container
GIF
PNG
Image Codec
PNG
Support Image Size
No Restriction
Container
PNG
WEBP
Image Codec
WEBP
Support Image Size
No Restriction
Container
WEBP
IMAGE ENCODER
JPEG
Image Codec
JPEG Baseline
Support Image Size
96x32pixels to 8176x8176pixles
Maximum Data Rate2
90Mpixels/Second
File Format
JFIF file format 1.02
Designed and engineered by Blupunkt