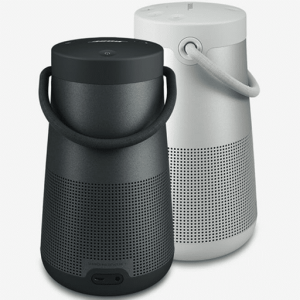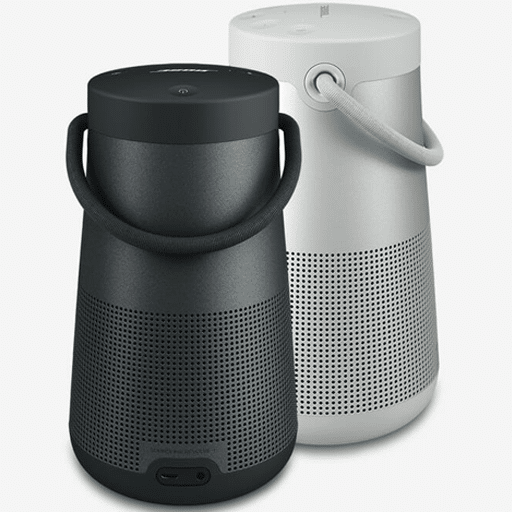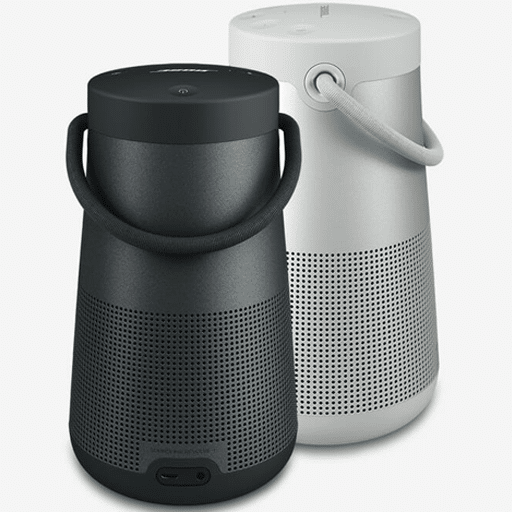 Bose Revolve SoundLink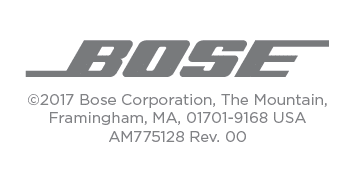 IMPORTANT SAFETY INSTRUCTIONS
Please read and keep all safety, security, and use instructions.

Bose Corporation hereby declares that this product is in compliance with the essential requirements and other relevant provisions of Directive 2014/53/EU and all other applicable EU directive requirements. The complete declaration of conformity can be found at: www.Bose.com/compliance
Important Safety Instructions
Read these instructions.
Keep these instructions.
Heed all warnings.
Follow all instructions.
Do not install near any heat sources such as radiators, heat registers, stoves, or other apparatus (including amplifiers) that produce heat.
Only use attachments/accessories specified by the manufacturer.
Unplug this apparatus during lightning storms or when unused for long periods of time.
Refer all servicing to qualified personnel. Servicing is required when the apparatus has been damaged in any way, such as power-supply cord or plug is damaged, objects have fallen into the apparatus, does not operate normally, or has been dropped.
WARNINGS/CAUTIONS:
This symbol means there is uninsulated, dangerous voltage within the product enclosure that may constitute a risk of electrical shock.
This symbol means there are important operating and maintenance instructions in this guide.
This product contains magnetic material. Consult your physician on whether this might affect your implantable medical device.
Keep the product away from fire and heat sources. Do NOT place naked flame sources, such as lighted candles, on or near the product.
Do NOT make unauthorized alterations to this product.
Do NOT use a power inverter with this product.
Use this product only with the power supply provided.
Where the mains plug or an appliance coupler is used as the disconnect device, the disconnect device shall remain readily operable.
Do not expose products containing batteries to excessive heat (e.g. from storage in direct sunlight, fire or the like).
The product label is located on the bottom of the product.
NOTE: This equipment has been tested and found to comply with the limits for a Class B digital device, pursuant to Part 15 of the FCC Rules. These limits are designed to provide reasonable protection against harmful interference in a residential installation. This equipment generates, uses, and can radiate radio frequency energy and, if not installed and used in accordance with the instructions, may cause harmful interference to radio communications. However, there is no guarantee that interference will not occur in a particular installation. If this equipment does cause harmful interference to radio or television reception, which can be determined by turning the equipment off and on, the user is encouraged to try to correct the interference by one or more of the following measures:
Reorient or relocate the receiving antenna.
Increase the separation between the equipment and receiver.
Connect the equipment into an outlet on a circuit different from that to which the receiver is connected.
Consult the dealer or an experienced radio/TV technician for help.
Changes or modifications not expressly approved by Bose Corporation could void the user's authority to operate this
equipment.
This device complies with part 15 of the FCC Rules and with ISED Canada license-exempt RSS standard(s). Operation
is subject to the following two conditions: (1) This device may not cause harmful interference, and (2) this device must
accept any interference received, including interference that may cause undesired operation.
This device complies with FCC and ISED Canada radiation exposure limits set forth for general population.
This equipment should be installed and operated with a minimum distance of 20 cm between radiator and your body.
This transmitter must not be co-located or operating in conjunction with any other antenna or transmitter.
Meets IMDA Requirements.
Unpacking
Carefully unpack the carton and confirm that the following parts are included: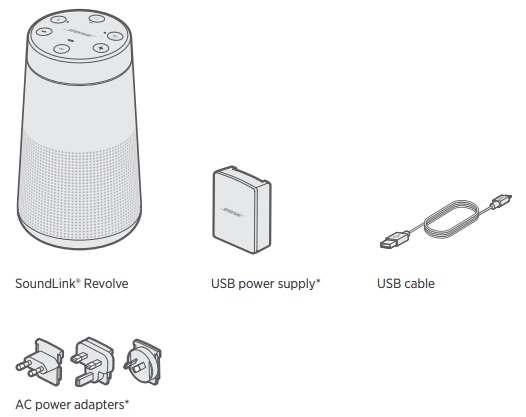 *The USB power supply and AC power adapters may vary slightly. Use the
AC power adapter for your region.
If any part is damaged, do not use it. Contact your authorized Bose® dealer or Bose
customer service (see page 29).
Diagram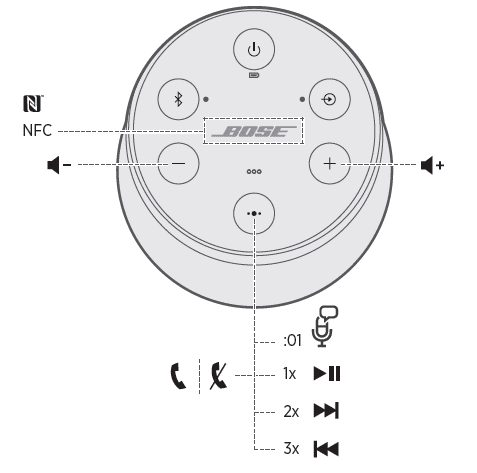 Please read and keep all safety and use instructions.
1. Getting Start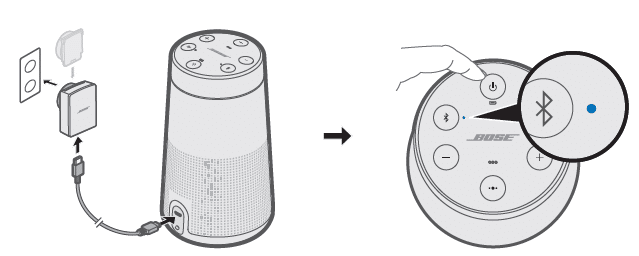 Connect to power.
Press –Power Button.
2. Change Language
Press – or + to scroll through available languages.
Press and hold o O o to select your language.
3. Bluetooth Connection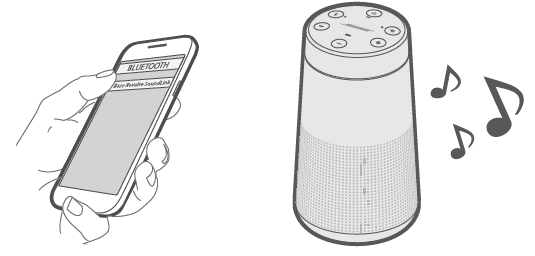 Select Bose Revolve SoundLink.
Play music.
4. Download the free Bose® Connect app

Download the free Bose® Connect app to easily manage Bluetooth® connections, unlock features and access future updates.
5. Charging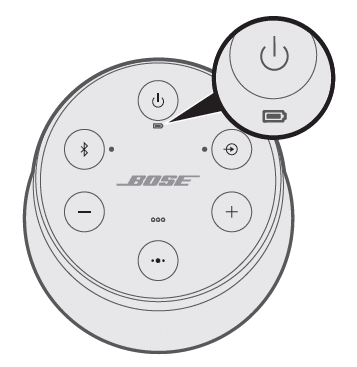 6. Using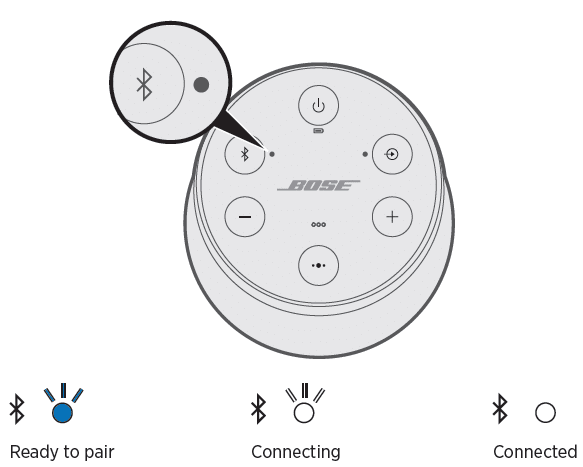 FAQs
What is the difference between SoundLink Revolve and the larger SoundLink Revolve+?
SoundLink Revolve+ is larger and generates higher-volume, more room-filling sound than SoundLink Revolve. SoundLink Revolve+ also has a carrying handle to make portability easier given its larger diameter. SoundLink Revolve+ has a battery life of up to 16 hours, while SoundLink Revolve has a battery life of up to 12 hours. All other features are identical.
What kind of audio sources can I use with the SoundLink Revolve speakers?
The audio connection options for the SoundLink Revolve and Revolve+ are Bluetooth® and 3.5 mm stereo audio cable. NFC can also help facilitate Bluetooth® pairing.
Can two SoundLink Revolve speakers be wirelessly linked together in Party Mode?
Yes, using the Bose Connect app, you can enable Party Mode from any of the following Bose Bluetooth speakers: SoundLink Revolve and SoundLink Revolve+.
Do SoundLink® Revolve speakers support Wi-Fi® or WiDi®?
No. The speakers' wireless connection is Bluetooth® only.
What is the wireless range of SoundLink Revolve speakers?
The speakers have a wireless range up to 9 m (30 ft). Performance can be affected by obstacles such as walls, interference from Wi-Fi or other wireless devices.
How many devices can pair with SoundLink Revolve speakers?
SoundLink Revolve speakers keep track of the last eight devices that were paired and connected to them, dropping the least recently used device when a new one is paired.
Can I stream music (Spotify, Deezer etc.) from my computer to the speaker?
Yes, as long as your computer is enabled for Bluetooth® and is within 9 metres of the speaker.
What happens when my phone is streaming music and a call comes in?
When a call comes in, the music will pause and the call will ring through the speaker. You can answer the call by pressing the multi-function button and talk into the speaker itself to conduct your phone call. When you end your call, music playback resumes
What is the battery performance of the SoundLink Revolve and Revolve+
Bluetooth® speakers?
In typical usage, the SoundLink Revolve battery lasts up to 12 hours and the SoundLink
Revolve+ lasts up to 16 hours. Battery performance can vary with the content played and volume
at which it is played.
How long does it take to charge the SoundLink Revolve and Revolve+ Bluetooth® speakers' battery?
While not playing music, much of the SoundLink Revolve speakers' battery charge can be recovered in approximately four hours when using a USB power source. Charging from
alternative USB power sources or when playing music may take longer.
What purpose do the voice prompts on the speaker serve?
They provide guidance during the Bluetooth® pairing and connection process. They also identify the connected source devices by text to speech, simplifying usage with more than one source device.
Can the voice prompts be disabled?
Yes. Simply press the "+" (volume up) and "–" (volume down) buttons simultaneously.
Can the SoundLink Revolve and Revolve+ Bluetooth® speakers be used toprovide audio for video, such as watching a movie on a tablet?
Yes. However, the quality of the experience—specifically, synchronisation between audio and video—may be compromised due to various signal processing technologies implemented in the speakers. This is true especially when using Bluetooth® as your input. For better synchronisation and lower latency, we recommend you use the Auxiliary or USB Audio inputs. For the best experience, please update your speaker's software.
What does the IPX4 rating mean for the water resistant SoundLink Revolve speakers?
The IPX4 rating classifies the degrees of protection provided against the intrusion of solid objects (including body parts like hands and fingers), dust, accidental contact and water in electrical enclosures. For SoundLink Revolve and Revolve+, we've stretched beyond the required testing parameters, to ensure that your speaker will long outlast an accidental showering of water. This means that you can use SoundLink Revolve and Revolve+ in more places and not worry if it gets wet (for example, splashes at the pool, getting caught in the rain, washing your car, splashes in the kitchen, etc.). Just don't submerge it.