Learn all about the Bose Solo 5 soundbar with remote control in this handy online version of the manual. It contains troubleshooting as well as setup information and includes detailed sections that cover the remote control too.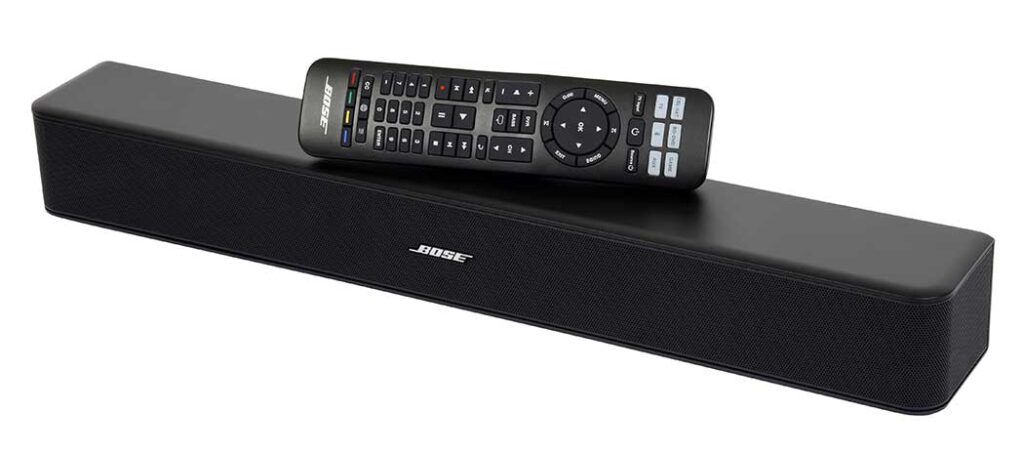 BOSE® SOLO 5 TV SOUND SYSTEM
Please read and keep all safety and use instructions.
Bose Corporation hereby declares that this product is in compliance with the essential requirements and other relevant provisions of Directive 2014/53/EU and all other applicable EU directive requirements. The complete declaration of conformity can be found at: www.Bose.com/compliance
Important Safety Instructions
Read these instructions.
Keep these instructions.
Heed all warnings.
Follow all instructions.
Do not use this apparatus near water.
Clean only with a dry cloth.
Do not block any ventilation openings. Install in accordance with the manufacturer's instructions.
Do not install near any heat sources such as radiators, heat registers, stoves, or other apparatus (including amplifiers) that produce heat.
Protect the power cord from being walked on or pinched, particularly at plugs, convenience receptacles, and the point where they exit from the apparatus.
Only use attachments/accessories specified by the manufacturer.
Use only with the cart, stand, tripod, bracket, or table specified by the manufacturer, or sold with the apparatus. When a cart is used, use caution when moving the cart/apparatus combination to avoid injury from tip-over.
Unplug this apparatus during lightning storms or when unused for long periods of time.
Refer all servicing to qualified personnel. Servicing is required when the apparatus has been damaged in any way, such as power-supply cord or plug is damaged, liquid has been spilled or objects have fallen into the apparatus, the apparatus has been exposed to rain or moisture, does not operate normally, or has been dropped.
WARNINGS/CAUTIONS
To reduce the risk of fire or electric shock, do not expose this product to rain or moisture.
Do NOT expose this apparatus to dripping or splashing, and do not place objects filled with liquids, such as vases, on or near the apparatus.
Keep the product away from fire and heat sources. Do not place naked flame sources, such as lighted candles, on or near the product.
Do NOT make unauthorized alterations to the product.
Do NOT use a power inverter with this product.
Do NOT use in vehicles or boats.
The speaker wire and interconnect cables included with this system are not approved for in-wall installation. Please check your local building codes for the correct type of wire and cable required for in-wall installation.
Use this product only with the power supply provided.
Where the mains plug or appliance coupler is used as the disconnect device, the disconnect device shall remain readily operable.
The batteries provided with this product may present a risk of fire or chemical burn if mishandled.
Do NOT expose products containing batteries to excessive heat (e.g. from storage in direct sunlight, fire or the like).
Only use the mounting hardware supplied with this product.
Do NOT mount on surfaces that are not sturdy, or that have hazards concealed behind them, such as electrical wiring or plumbing. If you are not sure about installing the bracket, contact a qualified professional installer. Ensure the bracket is installed according to local building code.
Due to ventilation requirements, Bose does not recommend placing the product in a confined space such as in a wall cavity or in an enclosed cabinet.
NOTE: This equipment has been tested and found to comply with the limits for a Class B digital device, pursuant to Part 15 of the FCC Rules. These limits are designed to provide reasonable protection against harmful interference in a residential installation. This equipment generates, uses, and can radiate radio frequency energy and, if not installed and used in accordance with the instructions, may cause harmful interference to radio communications. However, there is no guarantee that interference will not occur in a particular installation. If this equipment does cause harmful interference to radio or television reception, which can be determined by turning the equipment off and on, the user is encouraged to try to correct the interference by one or more of the following measures:
Reorient or relocate the receiving antenna.
Increase the separation between the equipment and receiver.
Connect the equipment into an outlet on a circuit different from that to which the receiver is connected.
Consult the dealer or an experienced radio/TV technician for help.
Changes or modifications not expressly approved by Bose Corporation could void the user's authority to operate this equipment.
This device complies with part 15 of the FCC Rules and ISED Canada license-exempt RSS standard(s). Operation is subject to the following two conditions: (1) This device may not cause harmful interference, and (2) this device must
accept any interference received, including interference
that may cause undesired operation.
This Class B digital apparatus complies with Canadian ICES-003.
CAN ICES-3 (B) / NMB-3 (B)
This device complies with FCC and ISED Canada RF radiation exposure limits set forth for general population. It must not be co-located or be operating in conjunction with any other antennas or transmitters.
This equipment complies with FCC/IC radiation exposure limits set forth for an uncontrolled environment.
This equipment should be installed and operated with minimum distance 20cm between the radiator and your body.
Model: 418775
About your TV sound system
Your TV sound system provides clear, spacious sound from one compact soundbar.
System features
Videostage® and TrueSpace® technologies deliver many of the benefits of a five- speaker home theater in a single soundbar.
Sleek and elegantly designed soundbar fits easily in front of your TV.
Connects with just one audio cable for easy setup.
Programmable universal remote powers on/off your TV, cable/satellite box and
system with the press of a single button.
Stream music from Bluetooth® devices.
Stores up to eight Bluetooth devices in its pairing list.
Connects up to two Bluetooth devices for easy switching between devices.
Mounting ring to hide the power supply behind your mounted TV.
Soundbar can be mounted on the wall (kit available separately).
Unpacking
Carefully unpack the carton and confirm that the following parts are included:
*May ship with multiple power cords. The appropriate power cord for your region is
supplied.
Note: If part of the system is damaged, do not use it. Contact your authorized Bose®
dealer or Bose customer service. Refer to the contact sheet in the carton.