Find the answer to some of the most asked questions in this CLOKOWE WiFi Bluetooth Projector user manual.

CLOKOWE YG661 WiFi Bluetooth Projector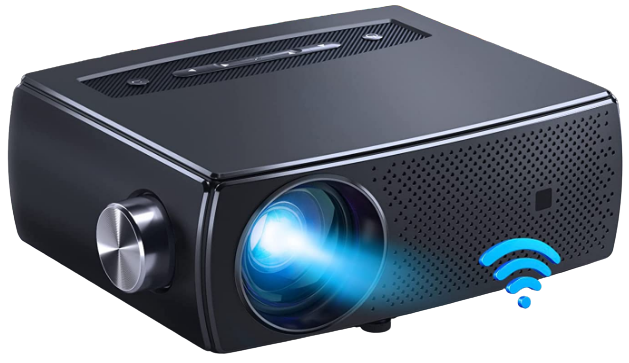 Specifications
Native Resolution: 1920×1080P
Contrast: 10000:1
Connectivity: Bluetooth, HDMI, USB, AV, Wi-Fi, Screen Mirroring
Speaker: 3W Speaker Support Dolby Sound
Projection Technology: LCD 2.0
Mounting Type: Wall Mount, Ceiling Mount, Tripod Mount
What's in the box?
Lens Cover
Remote Control
Power Supply
HDMI Cable
AV Cable
User Manual
Product Description
Full HD Movie Projector with Native 1080P Resolution, WIFI, Bluetooth, and Dolby Audio
CLOKOWE FULL HD movie projector provides exceptional sharpness with true native 1080P resolution. Full HD 4K is only partially supported.
The large screen Max 300″ with two built-in 3W powerful speakers provides an unforgettable movie experience. The portable projector can be used to project from the front, back, or ceiling. Simply enjoy the audio-visual feast!
CLOKOWE mini projector provides 10000 high brightness, which is significantly clearer than other 1080P projectors, thanks to the use of upgraded brighter LED light and LCD display technology.
The image of the CLOKOWE YG661 portable outdoor projector can be easily adjusted by remote control from 75% to 100%. There is no longer any need to adjust the projection distance. Included is a 100″ projector screen.You can enjoy a large visual feast with your friends or family if you have an extra customised projector screen. The WiFi portable projector brightens up your home entertainment experience.
Several Connections
The CLOKOWE 1080P projector with WiFi & Bluetooth, with 2*USB ports, HDMI port, AV port, and a 3.5 mm headphone jack, can easily connect with TV Stick, PC, external speakers, Xbox, DVD player, USB, iPad, iPhone, Android smartphone, and so on.
Warm Recommendations
Due to copyright issues, the mirror display function does not support protected videos; however, these videos can be played via HDMI connection on devices such as fire TV and Roku.
The projector's Bluetooth can connect to Bluetooth speakers/earphones/soundbars but not to phones/computers.
Hi-Fi stereo speaker built-in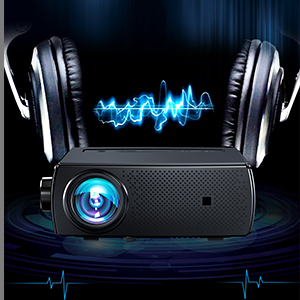 The 1080p full HD video projector's built-in dual stereo speakers (3W) with SRS Sound provide original audio fidelity, making you feel like you're in a real movie theatre.
System for Low-Noise Cooling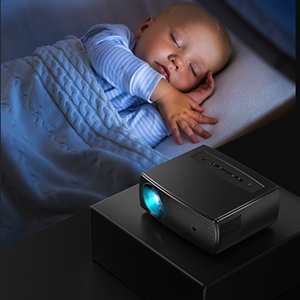 The small projector has fast heat dissipation and produces less noise thanks to an advanced smart noise cooling system. You can even use it while the baby is sleeping at night.
Lamp Life Extension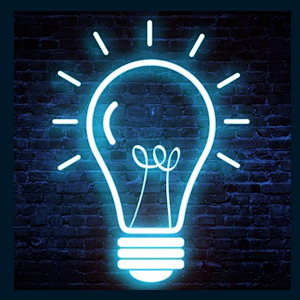 Adopting newly upgraded LED light and LCD display technology, the led lamp has a lifespan of more than 100,000 hours and consumes less energy than others.
FAQs
Is it safe to hang this projector from the ceiling and project downward?
You can mount this projector to the ceiling; simply select the appropriate bracket.
Is it okay to place this projector on a table next to the couch, or does it has to be directly in front of the screen?
It works best if it is directly in front of the screen, but it can also be placed beside the couch; however, the picture will appear tilted.
Will my streaming devices work on the projector if I have streaming devices on my Xbox and connect it via HDMI?
The streaming devices will work on the projector, dear Customer.
What is the best way to connect this to a desktop computer?
It's so simple to use an HDMI cable.
I have it connected to my surround sound system, but the volume won't go all the way up. The speakers are set to maximum volume, but I can barely hear it. Why?
Make sure the projector's volume is all the way up to 100%. Then, using your surround sound equipment, adjust the volume.
What is the distance between you and the screen?
The projector's projection distance is 4.3ft-28ft.
What is the best way to connect this to a desktop computer?
It's so simple to use an HDMI cable.
How fast does this projector refresh?
I'm not certain. It does display in 1080p, and there is no lag when I watch football games on it.
The information is perplexing! Can it connect to the iPhone via Bluetooth, i.e. wirelessly?
I enabled Bluetooth, but I'm using an Android, so it should be the same.
What does "4k supported partially" mean exactly? Will I be able to play 4K content from Disney Plus? or is it limited to certain apps?
The input signal must already be in 4K resolution.
If I need technical assistance, who should I contact?
Dear customer, if you have any product problems, please contact us via email at service [email protected] or by phone at +1 888 899 8551.