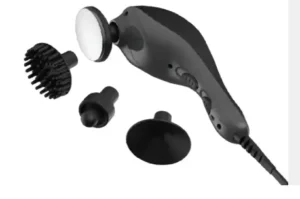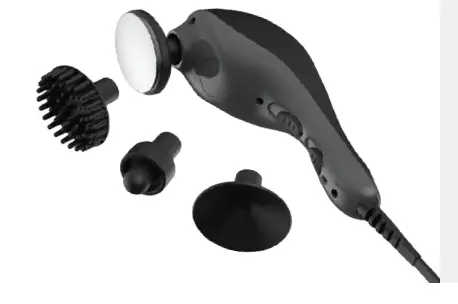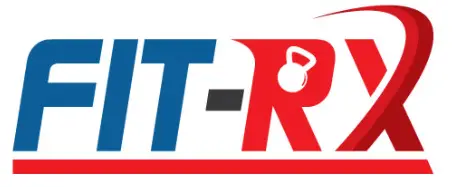 FitRx Heat Therapy Handheld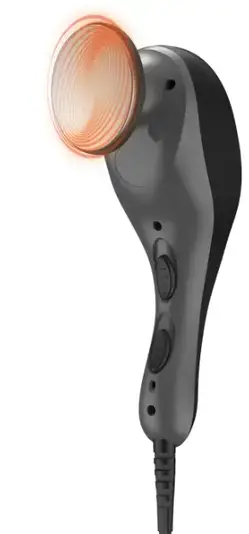 Introduction
You Want the Best Heated Massage of Your life?
You GOT the BEST Heated Massage of Your Life!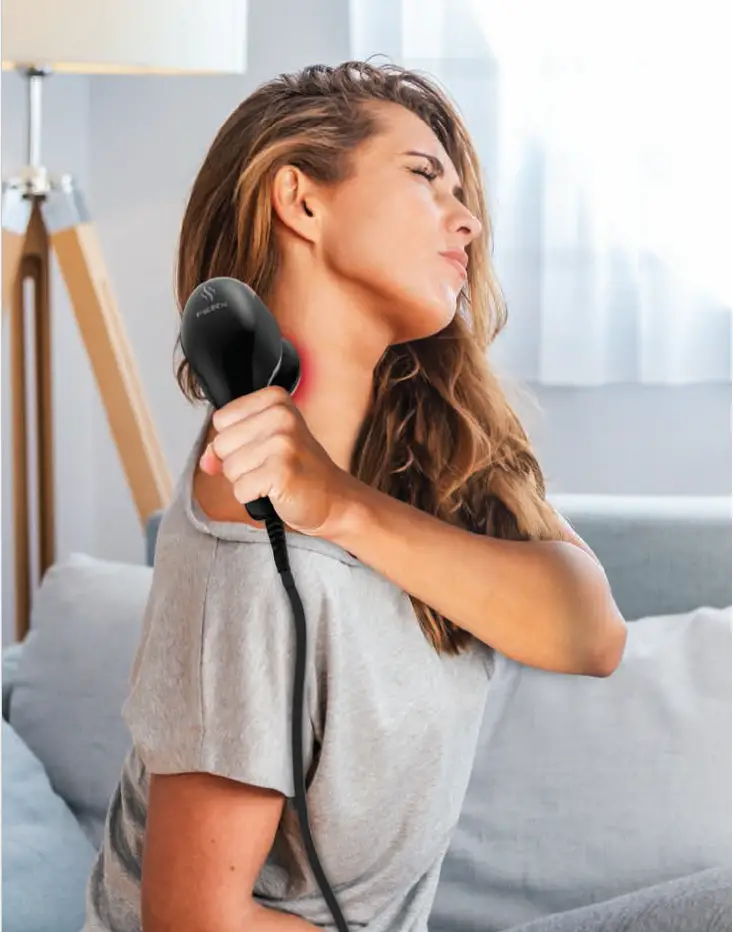 Your purchase of the FitRx Heat Therapy Massager is a big first step when you're getting serious about improving your physical fitness and overall wellness.
Chronic muscle pains? Hardcore gym junkie? Office job with long working hours? Recovering from an accident? Whatever your situation, the FitRx Heat Therapy Massager provides customized massage therapy in the comfort of your own home, without the need to visit luxury spas or physiotherapists. This massager will suit various purposes from simply waking up your muscles to decreasing lactic acid and accelerating muscle recovery after exercising, or even take you to the intense, professional massage level.
Welcome to the FitRx fam.
Are you ready?
Better Results Far Your Fitness Goals.
Included in your package
FitRX Heat Therapy Massager
Heat Soothing Head
Facial Vitalizer Head
Scalp Stimulator Head
Spot Precision Head
User Manual
Use it the way you want
Penetrating heat soothes stiff. aching muscles.
Provides fast comfort by increasing blood circulation to speed-up healing or fitness recovery
Ergonomic design for comfortable use an the lower and upper back, legs, arms. and feet
9′ power cord for maximum power and freedom of movement
Two speeds allow you to dial in from a gentle relaxing massage to a deep invigorating massage depending on your condition or needs
Versatile Precision Therapy
Four massage heads are included ta target specific areas of the body. Ensuring specialized recovery and relief
How to Use the FitRx Heat Therapy Massager
Before use, please read this Instruction manual carefully.
To reduce the risk of electric shock, the FitRx Heat Therapy Massager has a polarized plug [one blade is wider than the other]. This plug will fit in a polarized outlet only one way. If the plug does not fit completely into the outlet, reverse the plug. If it still does not fit, contact a qualified electrician to install the proper outlet. Do not alter or bend the plug in any way.
With both of the massager switches in the OFF position, plug the power cord into an AC outlet. [Make sure the voltage of power supply is the same as that indicated on massager.]
Place the desired massage attachment on the stem of the massager. The attachments easily press on and pull oft. If heat is desired, the heat attachment must be used. [See special instructions below for using the Deep Heat Attachment.)
Slide the top switch between the 2 massaging speeds:
Low-for soothing massage.
High-for vigorous, deep-penetrating action.
Slide the bottom switch to the desired heat setting: I – LOW or II – HIGH. Use heat only with the Heat Soothing Head. Heat may be applied alone or with the massaging feature.
Apply the massager to the targeted area, using continual movement. A circular motion is often most effective.
To insert the Heat Soothing Head, simply align the special track bar with the grooved section in the massager stem then press firmly onto stem. To detach, use thumb and two fingers and pull away from stem.
When Heat Soothing Head is correctly aligned and pushed on the stem, the electrical heat element is automatically connected. If using the massager for the first time, begin with the lowest heat setting. Test the surface for a comfortable temperature. The massager will heat to the desired level within four minutes.
NOTE: When using heat, always check temperature before placing massager against skin. Every person reacts differently to certain temperatures.
We suggest the following before use – check temperature by lightly touching with fingertips the silver heat plate on the massager.
If uncomfortable to your touch, reduce temperature by:
rubbing massaging surface on soft cloth.
moving the HEAT button to a lower setting.
turning off unit for a short period before applying to your skin.
Keep the massager moving constantly anytime heat is on. Never use heat on swollen or inflamed areas, or on areas with skin blemishes.
Important Safeguards
To reduce the risk of death or electric shack:
Do not reach for the FitRx Heat Therapy Massager if it has fallen into water. Unplug immediately.
Do not use while bathing or in the shower.
Do not place or store the FitRx Heat Therapy Massager where it can fall or be pulled into a tub or sink. Do not place in or drop into water or other liquid.
Always unplug the FitRx Heat Therapy Massager from the electrical outlet immediately after using and before cleaning.
Do not use the FitRx Heat Therapy Massager without attachments.
WARNING
To reduce the risk of bums. fire. electric shock or injury to persons:
This FitRx Heat Therapy Massager should never be left unattended when plugged in. Unplug from outlet when not in use and before putting on or taking off parts.
Do not operate the FitRx Heat Therapy Massager under a blanket or pillow. Excessive heating can occur and cause fire. electric shock or injury to persons.
Close supervision is necessary when the FitRx Heat Therapy Massager is used by, on. or near children or disabled persons.
This massager contains an electromagnetic motor. To avoid risk of injury,
it must not be used within six inches of an implantable cardiac device.
Use heated surfaces carefully. May cause serious burns. Do not use over insensitive skin areas or in the presence of poor circulation. The unattended use of heat by children or incapacitated persons may be dangerous.
Use the FitRx Heat Therapy Massager only for its intended use, as described in this manual. Do not use attachments not recommended by the manufacturer.
Never operate the FitRx Heat Therapy Massager if it has a damaged cord or plug, if it is not working properly, if it has been dropped or damaged, or dropped into water. Return to tzumi for examination and repair.
Do not carry the FitRx Heat Therapy Massager by supply cord or use cord as a handle.
Keep the cord away from heated surfaces.
Never drop or insert any object into any opening on the FitRX Heat Therapy Massager. Do not use outdoors.
Do not operate where aerosol [spray) products are being used or where oxygen is being administered.
In case of pregnancy, diabetes or illness. consult your physician before using this massager.