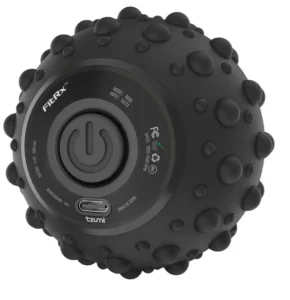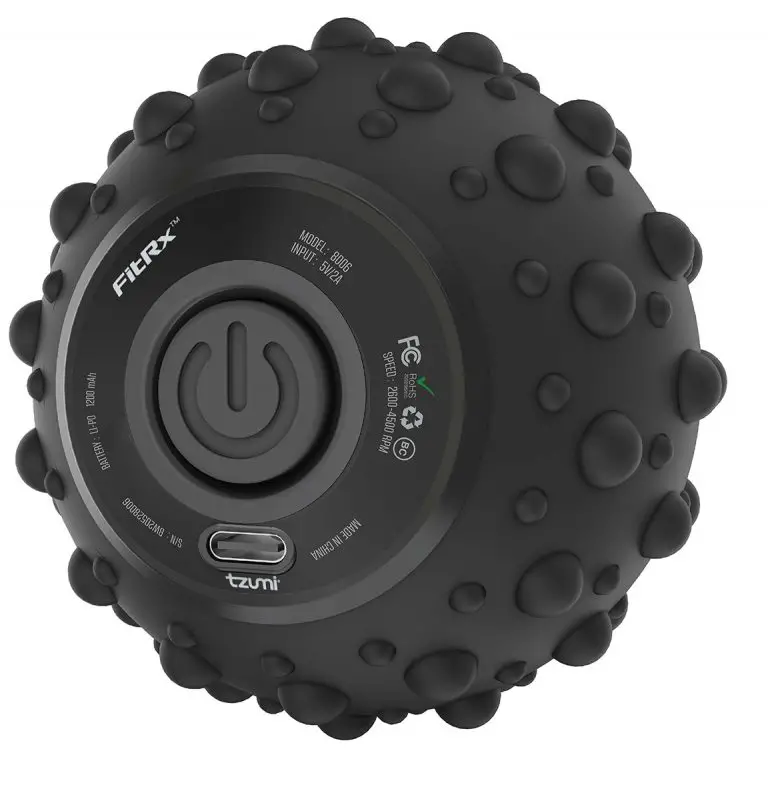 FitRx Tzumi VibraBall User Manual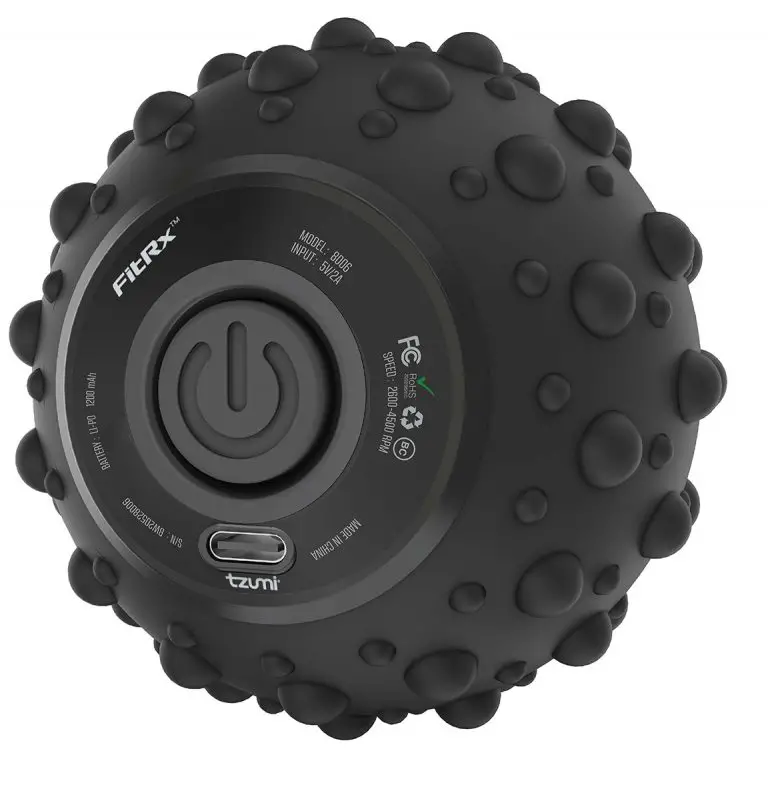 Taking Charge of Your Health and Well-Being
Your purchase of the FitRx VibraBall is a big first step when you're getting serious about improving your physical fitness and overall wellness.
Effectively targeting sore, aching muscles, the VibraBall vibrating massage ball combines a textured massage surface, and therapeutic vibrations to relieve pain, tension, and fatigue. This fabulously invigorating massage ball features three intensity levels and an auto mode that varies the intensity level throughout a massage session for optimal relief. Perfect for self-massage at home or on the go, the VibraBall is compact for easy portability and rechargeable for greater convenience.
Welcome to the FitRx fam.
Are you ready?
Better Results For Your Fitness Goals.
Included in Your Package
FitRx Vibrating Massage Ball USB-C Power Cord This Fabulous Manual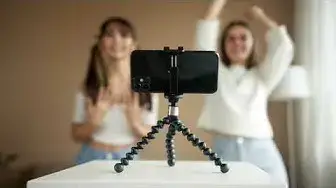 Use it the way you want
| | |
| --- | --- |
| Mobility 6 flexibility | Athletic performance |
| Pre-workout warm-up | Joint pain relief |
| Post-workout recovery | Myofascial release |
| Sore muscle relief | Trigger point massage |
| Better blood circulation | Relaxation |
CUSTOMER SUPPORT
If you have any questions about using your FitRx VibraBall. we are here to help! Call or email us. an experienced customer support representative will be happy to assist you 1455-60-TZUMI or [email protected]
Get to Know your FitRx VibraBall Vibrating Ball
FitRx VibraBall is our most compact design ever—easy to throw in your backpack, purse, or gym bag without missing a beat. It strikes a near-perfect balance between power and size, making it a convenient option for getting optimal Fitfx quality relief anywhere. Equipped with speeds of 2600-4500 RPM, FitRx VibraBall can be calibrated to deliver amazing therapeutic benefits to your body.
Multipurpose Performance and Power
Elevate your workouts: Reduce muscle tension, improve flexibility, and reduce your chances of injury.
Recover faster and better: Decrease inflammation, loosen tight joints, and break down scar tissue.
Relieve your pain: Effectively treat trigger points, sore muscles, and chronic pain caused by tendinitis, bursitis, carpal tunnel, and more.
Relax more: Boost your circulation and immune functions, reduce stress levels and, get better sleep.

FitRx Level Treatment Anytime, Anywhere
Easily target tense or sore muscles and aching joints, the VibraBall vibrating massage ball is great for self massage, deep tissue massage and myofascial release, trigger point therapy and plantar fasciitis relief. Use this pulsating ball of massage energy to relieve tension and pain in the neck, shoulders, arms, waist, back, thighs, calves, and feet. Providing gentle pressure to soothe sore, aching muscles, the VibraBall pulsing massage ball also increases circulation to reduce pain and muscle recovery time. The exterior of the massage ball is constructed with a supple rubber that's layered with massage nodes for deep tissue massage and trigger point therapy.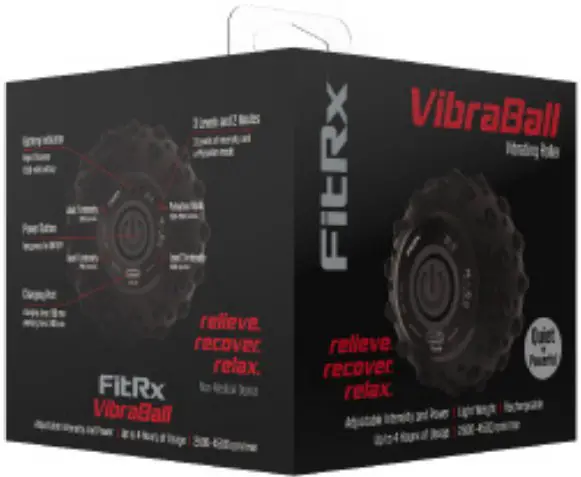 How to use the FitRx VibraBall
Before use ,please read this instruction manual carefully.
HOW TO USE THE FITRX VIBRABALL
Press and hold the ON button to turn the massager ON; it will start at the lowest strength/speed.
Press the power button again to increase the strength/speed to level 2.
Press the power button again to enter the pulsating mode, the FitRx VibraBall will pulsate at different strengths/speeds.
Press the power button again to increase to level 3, this is the maximum strength/speed mode.
Press the power button again to stop the massager and put it into standby mode.
Press and hold the power button for three seconds to turn the massager completely OFF.
After five minutes of non-use, the VibraBall will automatically power OFF.
HOW TO MAINTAIN THE VIBRABALL
To keep the VibraBall in pristine condition, wipe its surface with a slightly damp towel and dry it with a soft cloth. Keep the VibraBall away from liquids and heat.
CHARGING INSTRUCTION
The battery should be fully charged prior to use. To charge the battery, plug in the USB-C cable into the charging port and the other end into a USB power source. When the unit is charging, the battery indicator will flash throughout the charging process. When the battery is fully charged, the battery indicator will stop flashing and glow steadily. The average running time of the massager is 100-240 minutes depending on speed and pressure levels.
WARNING
If the FitRx VibraBall Massager is used incorrectly and/or carelessly it can cause damage or injury.
Important Safeguards
To reduce the risk of injury or electric shock:
This massager is recommended for use by adults only. Do not use the massager directly on the surface of your skin. To avoid injury, the massaged area should be covered by clothing or a dry towel. When using the massager, gently press and use it; do not massage the same part of the body for more than 60 seconds. Only use at high speeds on soft body tissue. Do not use high speeds and/or pressure on the head, bones, and joints. Frequent use of high pressure/speeds may cause abrasions. If you experience pain or discomfort stop using the massager immediately. The massager should not be submerged in water. Do not open, take apart, or modify the massager. Do not charge or leave the massager unattended while ON.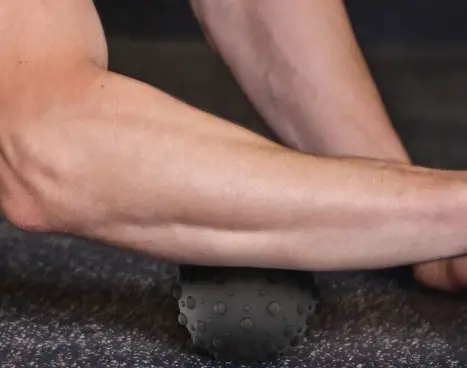 SPECIFICATIONS
| | |
| --- | --- |
| Battery Type: | Lithium-Poly |
| Battery Capacity: | 7 41I, 12D0mAh/8.88Wh |
| Speed: | 2600-4500 rpm |
| Charging Time: | 180 min |
| Working Time: | 240 min |
| Input: | DC 5V/24 |
Disclaimer
Read the instructions carefully before using the massager. The use of this equipment is subject to following its instructions closely. tzumi is not liable for any damage or loss caused by inappropriate use of the device.
If you are: pregnant, diabetic, have a pacemaker, recovering from surgery, suffer from migraines and/or neuropathic disorders, disc protrusion and/or spinal inflammation, do not use this massager without the approval of your doctor. If you feel pain or discomfort while using the massager, stop using it immediately and consult your doctor.

For more details on the FitRx family of product or to check out more brilliant innovation visit: tzumi.com