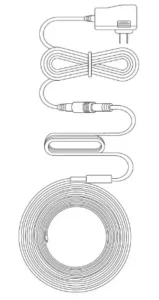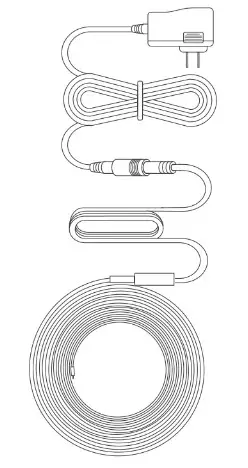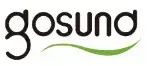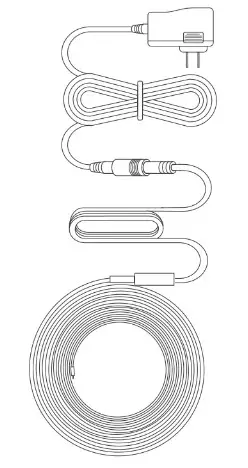 Smart Wi-Fi LED Light Strip
User Manual
Product Package
Light Strip
Smart controller
User manual
5 pieces adhesive tape
LED Light Strip
Input: DC 12V,1A
Rated power: 12W
Wi-Fi Frequency:2.4GHz
Light emitting mode:RGB
Install the LED USB Light Strip
Please note that the front of the light strip is on the same side as the front of the controller.
Note: Here are some tips about install 16.4ft LED strip lights:
The strip lights should be stick on a clean wall and installation is firm.
The controller cannot be perched upside down on the wall.
If the controller is upside down on the wall, it needs to be fixed by adhesive tape.
Upgraded Stronger 3M Adhesive


Surfaces should be clean,dust-free and dry possible before application
Tear adhesive tape, keep it clean

Make sure to press the tape firmly into place when applying, and please press at least 10 seconds
Fix the strip lights stand in the Corner, the strip lights are more stable
Download "Gosund" APP
Search "Gosund" App on App Store, Google Play or scan the QR code below and install it.
Please open the "Gosund" App. Click register and type in your email address to automatically create an account, otherwise type in your phone number to get a verification code to register an account. If you already havea "Gosund" account, simply click login with your account.
The free APP "Gosund" is compatible with mobile devices that supports IOS 8.0 above and Android 4.4 above.

Connecting the device with Gosund App
A: For Easy Mode Connection- LED Light Strip blue lights blinking quickly .
Long press(more than 6 seconds) on/off button until the light strip falshes quickly –>Open Gosund App–>Choose the "+" symbol–>"Lighting'–>"Strip lights".

Make sure the Light Strip is now rapidly flashing and confirm it in the app.

Choose your home WiFi(make sure the WiFi connection you choose is the same connection/WiFi you used on your phone/device and it should
be 2.4GHz not 5GHz)

Finally, wait to successfully configure, then tap "Completed".

B.AP Mode
Please switch to "Other Mode", Click "AP Mode"

Long press on/off button until the Light Strip flashes slowly;

Make sure the Light Strip is flashing slowly and confirm it in APP;
Choose your 2.4G Wi-Fi and enter the password and confirm it in APP;

Tap "Connect now" and choose Wi-Fi hotspot named "Smartlife-xxx", then go back to Gosund application;

Wait till successful configuration and then tap "Completed".
Note: if the connection fails in"AP Mode', please check if your router is dual-band Wi-Fi. If it is dual-band Wi-Fi, please enter the router management interface to split 2.4G and 5G Wi-Fi, and then connect 2.4G Wi-Fi.
After connecting the network, short press on/off button to switch different color, press on/off button 2-6 seconds to power off, long press on/off button more than 6 seconds to restore factory settings.
Getting to know "Gosund"APP
You can create certain scenes and groups on Gosund App, it allows you to control different smart devices in different rooms at the same time.
Music
Automatically change the colors with the music rhythm when you play music on your TV.
Using Amazon Echo Quick Guide What You'll Need…
Make sure your Echo dot is connected with your Amazon Alexa and you have "Gosund"APP account.
A.Enable our Skill in Alexa APP
Log inyourAmazon Alexa,choose "Skill" inthe option bar, then search "Gosund" in the search bar; Select "Gosund" in the search result and click "Enable".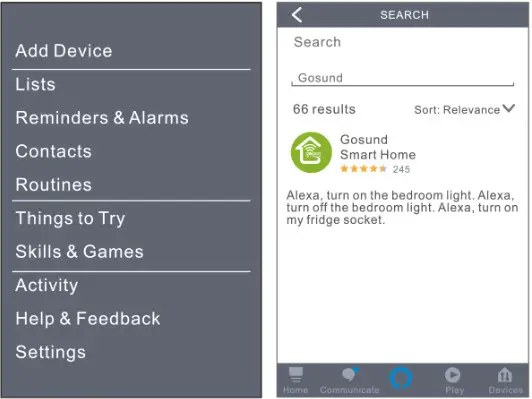 Input your account and password that you have registered at "Gosund" APP. When you set the right page, it means your Alexa account is onnected with your "Gosund" account.

B.Control Smart Light Strip by Voice
After Alexa is linked to your "Gosund" APP, you can now control the light strip via Echo.
Discovering device simply say to Echo: "Echo(or Alexa),discover my device."or choose "add device''to discover the smart light strip.Echo will start to find the device which is added in "Gosund" APP. It will take about 20 seconds to show the result. Or you may click"Discover device" on the Alexa APP, it will successfully show available devices.
Note:
Echo is one of the wake-up name, the other two names are Alexa and Amazon.

Support Skill List
You can control devices by instruction like below:
"Alexa, turn on/off(name of the smart light strip)"
"Alexa, turn on the light strip."
"Alexa, turn off the light strip."
Note: The name of the device must be consistent with the name of light strip on the "Gosund"APP.The name is recommended to use easy pronunciation of English words.(Amazon Echo just supports English temporarily.)
After-sale and Warranty
All NiteBird products come with a limited warranty of 12 months from the date of purchase. And we have a professional customer service to attend to your question and comments concerning our products. Please do not hesitate to contact us at [email protected]
We will do our best to help you resolve any problems you might have about Our products until you are satisfied. We appreciate your support and cooperation.