The Homedics Total Comfort Ultrasonic Humidifier instruction manual is a guide for the user to easily understand how to use this product. The manual includes images, diagrams, and step-by-step instructions on how to set up the humidifier in your home. It also provides information about what type of water you can put in the humidifier as well as when it should be cleaned or replaced.
Instruction Manual and Warranty Information for UHE-CM18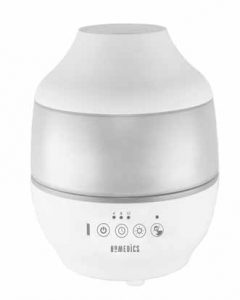 Homedics UHE-CM18 Total Comfort Ultrasonic Humidifier
PLEASE TAKE A MOMENT NOW REGISTER YOUR PRODUCT AT: www.homedics.com/register Your valuable input regarding this product will help us create the products you will want in the future.
2-YEAR LIMITED WARRANTY
IMPORTANT SAFETY INSTRUCTIONS
WHEN USING ELECTRICAL PRODUCTS, BASIC SAFETY PRECAUTIONS SHOULD ALWAYS BE FOLLOWED, INCLUDING THE FOLLOWING:
READ ALL INSTRUCTIONS BEFORE USING.
DANGER – TO REDUCE THE RISK OF ELECTRIC SHOCK:
Always place humidifier on a firm, flat surface. A waterproof mat or pad is recommended for use under the humidifier. Never place it on a rug or carpet, or on a finished floor that may be damaged by exposure to water or moisture.
Always unplug the unit from the electrical outlet immediately after using and before cleaning.
DO NOT reach for a unit that has fallen into water. Unplug it immediately.
DO NOT place or store the unit where it can fall or be pulled into a tub or sink.
DO NOT place or drop into water or other liquids.
DO NOT use water above 86° Fahrenheit.
WARNING – TO REDUCE THE RISK OF BURNS, FIRE, ELECTRIC SHOCK, OR INJURY TO PERSONS:
Use this unit only for its intended use as described in this manual. Do not use attachments not recommended by HoMedics; specifically, any attachments not provided with this unit.
NEVER drop or insert any object into any opening.
DO NOT operate where aerosol (spray) products are being used, or where oxygen is being administered.
NEVER operate the appliance if it has a damaged cord or plug, if it is not working properly, if it has been dropped or damaged, or dropped into water. Return the appliance to a HoMedics Service Center for examination and repair.
Always unplug the unit when filling or moving the unit.
Ensure that your hands are dry when operating the controls or removing the plug.
NEVER use the humidifier in an environment where explosive gases are present.
DO NOT place the humidifier near heat sources, such as a stove, and do not expose the humidifier to direct sunlight.
DO NOT carry this unit by the power cord or use the power cord as a handle.
To disconnect, turn all controls to the off position, then remove the plug from the outlet.
CAUTION: All servicing of this humidifier must be performed by authorized HoMedics service personnel only.
SAVE THESE INSTRUCTIONS
CAUTION – PLEASE READ ALL INSTRUCTIONS CAREFULLY BEFORE OPERATING.
This product is intended for household use only.
Never cover the unit while it is operating.
Always keep the cord away from high temperature and fire.
Perform regular maintenance on the ultrasonic membrane.
Never use detergent to clean the ultrasonic membrane.
Never clean the ultrasonic membrane by scraping with a hard object.
Do not attempt to adjust or repair the unit. Servicing must be performed by professional or
qualified personnel.
Stop using this unit if there is an unusual noise or smell.
Unplug this unit when not in use for a long period of time.
Do not touch the water or any parts of the unit that are covered by water while the unit is on or plugged in.
Never operate without water in the tank.
Only use water in the tank.
Never use any additive in the water.
Keep this unit out of reach of children. Do not allow children to use this unit without supervision.
DO NOT use outdoors. For indoor use only.
UNIQUE FEATURES and SPECIFICATIONS
ULTRASONIC TECHNOLOGY
This humidifier uses ultrasonic, high-frequency technology to convert water into a fine mist that is dispersed evenly into the air.
MIST OUTPUT SETTINGS
Select low or high mist output.
360° ROTATING MIST NOZZLE
Easily adjust the mist direction.
BUILT-IN TIMER
Programmable timer, up to 12 hours.
7 NIGHTLIGHT COLOR OPTIONS
Choose your favorite or scroll through all the colors.
AUTO SHUT-OFF PROTECTION
When the tank is empty the unit will shut off automatically.
CAPACITY
0.5 gallons – 1.9 liters.
RUNTIME: 25 HOURS
Runtime is calculated based on the low setting. Depending on the natural humidity level in your home, the temperature of water you use, and the mist-level setting you choose, you may experience longer or shorter runtimes.
OIL TRAY
Includes 3 essential oil pads. Use your favorite essential oil to deliver aroma into the air.
CLEAN TRANSDUCER/ULTRASONIC MEMBRANE
A red LED will illuminate above the clean icon, indicating it is time to clean the transducer/ ultrasonic membrane.