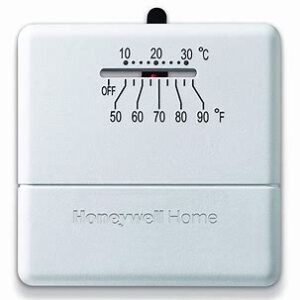 CT33A1009/E1
Owner's Manual [pdf]: CT30 Series Low-Voltage Thermostat
Which thermostat models are compatible with 750 millivolt systems such as a fireplace?
Honeywell offers a variety of thermostats that are capable of working with 750 MV heating systems such as fireplaces. Typically these models are battery powered. Thermostats you find at the retail store will indicate on their packaging whether or not it will work with these type of systems. If you've already purchased a thermostat and discarded the package, check the thermostat literature to verify compatibility with millivolt system
Why is my system heating when it's set to cooling?
If the heating/cooling system is providing warm air when it's in cooling mode, complete the following steps:
1. Verify the thermostat is wired correctly.
2. Make sure the thermostat is configured correctly for the heating/cooling system type.
3. Verify the wiring is connected correctly and securely to the thermostat.
If the above information has been verified and the issue is still present, contact a HVAC professional.
My thermostat is set to cool, but my heat pump isn't coming on to cool. Why?
If your thermostat is newly installed and the heat pump worked for cooling with the previous thermostat, check the following:
1. Verify that the thermostat is set to cool and is calling for cooling, usually indicated by the words "cool on," a snowflake icon, or a shimmering snowflake icon. If the room temperature is below the cool set point, the thermostat display should indicate a call for cooling
2. Confirm that the circuit breakers are on.
3. If you installed the thermostat yourself, ensure that the wires are matched correctly and securely connected at the thermostat. Also verify that the thermostat is correctly configured to control a heat pump. The installation instructions for your thermostat show these settings.
4. If the heat pump runs in heat mode with a call for cooling, verify that the configuration setting for the changeover is set correctly for your system. The configuration settings are shown in the installation guide for your thermostat. If you do not know whether your heat pump uses the changeover valve in heat or cool mode, call your professional HVAC contractor or the manufacturer of your heat pump.
5. If there are not separate wire connections to R and Rc on the thermostat, those terminals need a jumper. Some models use a small metal jumper and other models have a switch that needs to be set to "R".
If the same issue occurred with the previous thermostat, then the problem is most likely with your heat pump. Call a professional HVAC contractor if the above steps don't solve the issue.
What kind of heating and cooling system do I have?
Here are some common ways to identify what kind of system you have: Conventional Forced Air systems often include gas or oil furnaces and central air conditioning. Air is typically blown through vents. Heat Pumps also blow air through vents. However, a heat pump system uses one outdoor unit to control both air conditioning and heating. It may also include a backup gas furnace. Radiant systems use hot water to heat the home. This may be done with baseboards, underfloor heating or radiators. If your Lyric thermostat is only controlling air conditioning in your home, select None (Cool Only).
750 Millivolt Economy Non-programmable Thermostat
| | |
| --- | --- |
| Thermostat Type | Mechanical, Non programmable |
| Color | White |
| For Use With | 750 mV Heating Only Systems, Forced Air (Gas, Oil & Electric), Hot Water/Steam |
| Includes | Thermostat, Cover Plate, Wire Label, Caution Card, Wall Anchors, Mounting Screws |
| Program Modes | Manual / Not Programmed |
| Utility Rewards | No |
| Product Height | 3.12 in |
| Product Length | 3.12 in |
| Product Width | 0.88 in |
| Warranty | 1 Year |
| Control Functions | Heating |