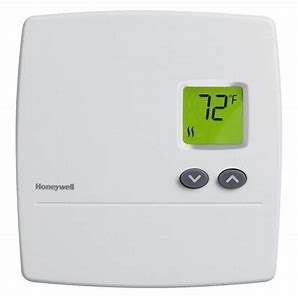 CT51N1007/E1
Owner's Manual [pdf]: CT50 Series Thermostat
Specifications [pdf]: Mechanical Thermostats
Why is my system heating when it's set to cooling?
If the heating/cooling system is providing warm air when it's in cooling mode, complete the following steps:
1. Verify the thermostat is wired correctly.
2. Make sure the thermostat is configured correctly for the heating/cooling system type.
3. Verify the wiring is connected correctly and securely to the thermostat.
If the above information has been verified and the issue is still present, contact a HVAC professional.
How do I wire my thermostat?
*There is no standard for which color wire controls each function. When wiring, each wire should be identified by what terminal(s) it connects to, never by color. If you do not know the terminal that each wire connects to, it may be necessary to go to the HVAC system and look at the designations on the control board. For typical wiring examples, and for clarification of what types of systems your thermostat works with, please consult your owners/install guide. *
The thermostat uses 1 wire to control each of your HVAC system's primary functions, such as heating, cooling, fan, etc. See the diagram below for what each wire controls on your system:
S – Indoor and Outdoor Wired Sensors
Y – Compressor Stage 1 (Cooling)
Y2 – Compressor Stage 2 (Cooling)
G – Fan
C – Common
U – Humidifier, Dehumidifier, or Ventilator control
L/A – A – Input for heat pump fault
O/B – Reversing valve for Heat Pump systems
E – Emergency Heat
Aux / W2 – Heat Stage 2 (Heating)
W – Heat Stage 1 (Heating)
R – 24vac (Heating transformer)
Rc – 24vac (Cooling transformer)
*Trade model thermostats are required to operate "dual-fuel" systems (systems that use a heat pump for the first 1 or 2 stages of heating and use a gas or oil furnace for backup / emergency heating). If you have a dual-fuel system, or are unsure, it is recommended that you contact a Professional HVAC Contractor to continue.
Please follow the below guide for the basic wiring walkthrough:
To protect your equipment, turn off the power at the breaker box or switch that controls your heating and cooling equipment. To make sure that your system is off, change the temperature on your existing thermostat so that your system starts heating or cooling. If you don't hear or feel the system turn on within 5 minutes, the power is off. If you have a digital thermostat that has a blank display, you can skip this step.
Next, remove your existing thermostat from the wall plate. Most thermostats pull directly off the wall. However, some lift from the bottom and lever off, and others have a locking tab.
The next step is to take a picture of your wiring. When taking the picture, please make sure that the terminal markings are clearly visible.
Review your pictures.
If you see terminals labeled A B C, or 1 2 3 then your new thermostat may not be directly compatible, as your system requires a communicating thermostat.
If you see thick, black or red wires then you have a line voltage system. This type of wiring requires a line voltage thermostat and is not compatible with low voltage thermostats
If you see wires connected to terminals labeled G1,G2,G3, you will need a thermostat capable of controlling multiple fan speeds, none of our retail thermostats are compatible with this system type. G is compatible, but not G1,G2,and/or G3.
What you should typically see is 18 – gauge solid core wire. The most common configuration is five wires, however you could see as few as two, and as many as ten.
Any wire that is present, but not connected to a terminal you will want to make a note of, but you will not label these wires.
Using the photos that you took, remove each wire one at time and label it. If a terminal has multiple designations like W and O/B, it will be labeled as W and O/B and not just one or the other.
After you have removed and labeled all wires you can unscrew, remove the old thermostat wall plate and mount the new thermostat's wall plate.
After mounting the new thermostat's wall plate, we can re-connect the wiring. If we recommend placing a wire in a terminal, do not move it to another terminal if we address it later in the guide. (Ex. – You have a single wire labeled W-O/B and we advise placing it in the O/B terminal. If later in the guide we recommend putting the W wire in the W terminal, you will not move this wire, as we've already instructed you to place it in O/B.)
Now, let's cover wiring configurations.
Identify any wires label R, RH, or RC. You will typically have one or two out of those three. If you just have one wire, regardless if it's labeled RC, it will go into the R terminal, and the jumper connecting terminals R and RC will be in place. Some thermostats have a jumper switch, some have a metal staple, others may have a plug, and the jumper may also just be a wire connecting the two terminals. If you have two wires, R or RH will go into the R terminal, and RC will go into the RC terminal. If you have more than one wire (you have a wire labeled R, and another wire labeled Rc for example) you can remove any jumpers between the R and Rc terminals, or push the switch to open the RC terminal so you can insert a wire.
Next, let's talk about the C, or common wire. If you have a Trane model thermostat, and have a wire labeled X or B refer to your thermostat manual. In some cases, one of those wires may be your common. If you have a C wire, place it into the C terminal on your wall plate.
Let's take a look at the G wire. This wire will go to the G terminal on your new thermostat.
For the Y, Y1, and Y2 wires, Y or Y1 will go to the Y terminal, and Y2 will go to the Y2 terminal.
The O/B wire can have many configurations. It can be W-O/B, O/B, W-O, W-B, or you may even have separate O and B wires. If you have separate wires for O and B, you will want to tape off the B wire so it can't make contact, and the O wire will be connected to the O/B terminal on your thermostat.
If your O or B terminal shares a label with another wire, typically W, you'll need to identify whether you have a heat pump system or not. A heat pump runs your compressor for both heating and cooling. If you don't know your system type, place this wire into the W terminal. If you have a heat pump system, place it into the O/B terminal.
Locate any unconnected wire labeled W or W1. If in the previous step you identified an O, B, or O/B wire that's connecting to the O/B terminal, and have a separate W wire, place this wire into the W2 terminal. If you do not have a wire connected to the O/B terminal, connect the W wire to the W terminal.
What is Honeywell's warranty on my thermostat?
Honeywell Home thermostats carry different warranty periods depending on the specific model of thermostat, where the product is purchased and how it is installed. Please refer to your product manual to verify your warranty terms.
In general, retail products carry a 1 or 2 year warranty, where trade or professional install products carry a 3-5 year warranty.
Resideo's warranty covers manufacturer defects only.
How far away from my router can the thermostat be located?
The range of your Wi-Fi signal strength is determined by your router. Your router's owner's manual has specific recommendations for how far away you should place your router. If you don't have your router manual, you can always try to avoid obstacles like thick walls, metal objects, and surfaces that can impact signal strength and distance.
Can I lock my thermostat so that no one can change the settings?
Varies by model. Refer to your thermostat manual for the Screen Lock feature.
The T9/T10, T5/T6, RTH9580WF, the RTH9585WF, and the TH9320WF (WiFi Color Touchscreen) all have a screen lock feature.
Keep in mind that the screen lock feature only blocks changes on the thermostat screen itself. Users with access to the thermostat via the Total Connect Comfort or Honeywell Home mobile apps can continue to control all functions via their app.
Manual Heat And Cool Thermostat
| | |
| --- | --- |
| Thermostat Type | Mechanical, Non programmable |
| Color | White |
| Includes | Thermostat, Wall Anchors, Screws, Wire Labels |
| Program Modes | Manual / Not Programmed |
| Utility Rewards | No |
| Warranty | 1 Year |
| Control Functions | Heating, Cooling |
| Stages | 1 Heat / 1 Cool |