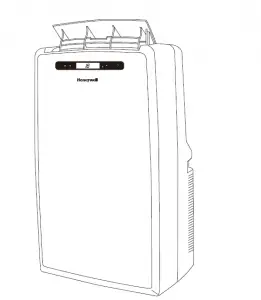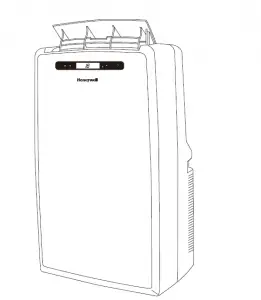 OWNER'S MANUAL
Read all instructions carefully before setting up and operating the unit. Please keep this instruction manual for future reference. This manual is designed to provide you with important information needed to setup, operate, maintain and troubleshoot your portable air conditioner. Failure to follow these instructions may damage and/or impair operation and void the warranty.
THANK YOU
Congratulations on your purchase of this versatile Honeywell Portable Air Conditioner.
Honeywell Portable Air Conditioners are ideal for spot cooling. The compressor,
condenser and evaporator are housed in a compact unit. The air is filtered, dehumidifiednand cooled while a flexible air outlet hose sends heat outside. The air conditionern includes a window venting kit. No permanent installation is needed so the unit is easy to move from room to room and offers a truly flexible air conditioning solution. Auto Evaporation System – The unit automatically evaporates the condensate through the air outlet hose. No need to empty the drainage tank except in very high humidity
conditions.
This Honeywell model MM14CHCS is equipped with a built-in Heat Pump, This efficient technology allowed the MM14CHCS to convert cooling to heating for year around comfort at the touch of a button or from the included remote control. Please read the instructions carefully.
USER TIPS
To ensure optimal efficiency of the product, we recommend keeping doors and
windows closed when it is used as an air conditioner or dehumidifier.
If the product is being used with the fan function only, please position the unit near an open window so that outside air is drawn into the unit, the air circulates in the room and then exits via the door.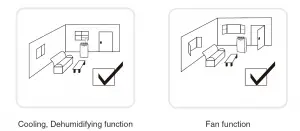 Important : After transporting the unit, place it UPRIGHT for 20 min.
before use to allow the refrigerant to stabilize.
Check that the unit is complete with all accessories as outlined in this
instruction manual.
Follow installation instructions to set up your unit.
Plug the unit into a properly grounded circuit.
SAFETY
READ AND SAVE THESE INSTRUCTIONS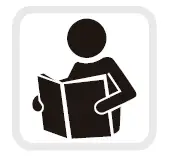 Improper handling can cause serious damage to the appliance.
DO NOT operate the unit with a damaged plug or loose socket point. If the power cord is damaged, it must be replaced by the manufacturer or an authorized service agent
DO NOT cover the air intake and exhaust when in use.
This appliance is not intended for use by children. Children should be supervised and should not play on or around the appliance.
DO NOT place objects on or sit on the unit.
Always turn off and unplug the unit when cleaning or servicing.
If service is needed contact an authorized service agent.
Unplug the unit when stored or not in use.
DO NO T run the power cord under carpeting and rugs.
Use caution to prevent tripping on cord.
DO NOT use in areas where gasoline, paint or other flammable goods are stored.
Basic safety precautions should always be followed when using electrical appliances.
PARTS DESCRIPTION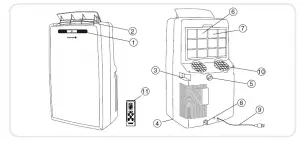 Control Panel ( Incl. Signal Receptor)
Air Outlet
Handle
Caster
Water Drain Cap (De-humidifier mode)
Air Filter
Back grill
Water drain Cap (Air Conditioning Mode)
Power Supply Cord
Hose Connector
Remote Control (Batteries not included)
Installation Kit :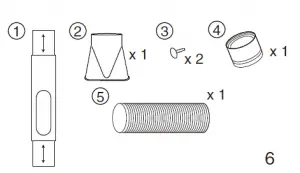 INSTALLATION
Install the plastic hose with window bracket adapter and hose connector on both sides. Ensure proper fit on both ends.
Adjust the window bracket as per width or height of your window and insert a plastic screw to fix at the desired position. Note : Do not install the window
bracket to your window. This step
is required only to adjust it to the
size of your window. The bracket
should be removed from the window
after the size is adjusted.
Connect the plastic hose to the hose connector on back of the unit.
Connect the window bracket to the opposite end of the plastic hose. Ensure that connections are tight and installed properly.
Connect the window bracket to the window.
The Portable Air Conditioner is now ready to use.
NOTE:
The supplied exhaust hose can be extended from 12 inches (1 feet) to 47 inches
Do not bend (to the extent shown below) the exhaust hose.
A bent hose will block exhaust air and cause the unit to malfunction or shut-off.

Warning:
The length of the exhaust hose is designed acording to the product specifications.
Do not replace or lengthen it with any other pipe or hose as this could cause the
unit to malfunction.
Make sure the back of the unit is at least 20 inches away from a wall.
Do not place the unit in front of curtains or drapes as this could obstruct the airflow.
USE and OPERATION

Indication symbols on LCD panel:

USE & OPERATION
Power Control
The power control turns the unit on and off.
Mode Control
The Mode Control has 4 settings:
Cool
Dehumidify
Fan
Heat
The settings are adjusted with Mode Control button. A light will
indicate which setting is currently being used.
Cooling Mode
When cooling mode is selected, the indicator light will shine.
During the cooling mode the air is cooled and hot air is exhausted
to the outside through the exhaust tube.
Adjust fan speed and air temperature to suit your desired comfort
level. Temperature setting range is 16°C ~ 32°C.
Note : The air exchange hoses must vent outside the room
when using cool mode.
Dehumidify Mode
When dehumidify mode is selected, the indicator light will shine.
Air is dehumidified as it passes through the unit, without being in
full cooling mode If room temperature is higher than 25
degree Celsius, fan speed can be adjusted; otherwise fan speed
is fixed to " LOW ".
Note : If the unit will be used mainly as dehumidifier, do not
connect the exhaust hose and let the warm air return in the
room. Continuous drainage is then necessary and more
efficient.
Fan Mode
When fan mode is selected the indicator light will shine.
Heating Mode
When heating mode is selected the indicator light will shine.
Heating is activated only when the ambient temperature is
below 25°C . In this mode, the desired temperature can be set
between 16 and 25 °C .
Note: The air exchange hoses must vent outside the room when
using heating mode.
Air is circulated throughout the room with no cooling. After switching the air conditioner off, you must wait 3 minutes before switching it back on again
Note: unit does not need to be vented in Fan mode.
Fan Speed Control
The Fan Speed Control has 3 settings: High, Medium, and Low.
Timer
Auto turn off :
With machine in running mode, press timer button to select
number of hours you would like the unit to run in air conditioning
mode until it automatically shuts off.
Auto turn on :
With machine in stand by mode, press timer button to select
number of hours until you would like the unit to automatically start
running in air conditioning mode.
Timer / Temp set controls
Used for adjusting the timer and thermostat.
The default display is room temperature.
In cooling mode, when " " or " " button is pressed, the set
temperature is displayed and may be adjusted.
After 10 seconds the display will revert back to room temperature.
Temperature is only adjustable in cool mode. The time is
adjustable between 1~24 hours.
Note : By pressing both " " / " " set buttons at the same time,
the display will toggle between Celsius and Fahrenheit.
Warning Light
Condensed water may accumulate in the unit. If the
internal tank becomes full, the Power Light will flash
and the unit will not operate until the unit has been
drained.
REMOTE CONTROL (batteries not included)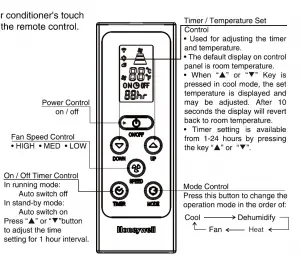 CLEANING and MAINTENANCE
Appliance Maintenance:
Turn off the appliance before disconnecting the power supply.
Always clean with a soft dry cloth.
Air Filter Maintenance:
The air filter should be cleaned after every two weeks of use.
Clean it as follows:
Turn off the appliance and remove the air filters.
Wash it with a solution of detergent in lukewarm water. After cleaning, dry in ashaded and cool place, then reinstall.
Maintenance After Use:
If the appliance will not be used for a long time, be sure to drain the left-over water condensation by removing the water drain cap (Air Conditioner mode) located
on the lower backside of the air conditioner. Use a shallow pan to collect the water while draining.
To dry excess moisture, run the unit in fan mode for 30 minutes before storing.
Clean and reinstall air filter.
Remove air hose and window bracket and store with the portable air conditioner.
WATER DRAINAGE
Your machine is equipped with two drain plugs on the backside, De-humdifier mode and Air Conditioning
mode. Water will need to be drained only in two conditions :
De-humidifier mode
Air Conditioning mode, when ambient humidity is very high
Whenever there is excess water accumulation inside the unit, and it needs to be drained. The machine will stop running and will show an error message. This error message indicates that the water needs to be drained out using below given procedures :
Water Drain (Air Conditioning Mode)
Your machine is equipped with an Auto-Evaporation System, due to which no water needs to be drained in Air Conditioning Mode.
However in high humidity areas, you may need to drain water from
this drain plug.
In order to drain water from this drain plug, please open the cap andplace a water tray under the drain plug.
Water will drain out automatically and will be collected in this tray.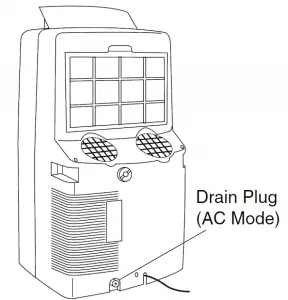 Continuous Water Drain (De-humidifier Mode)
When the unit is running in de-humidifier mode you have to keep
emptying the water stored inside the water tank.
The unit has a threaded drain connection located on the back side
(refer to fig.).
Remove the drain plug, install the drain connector(5/8″ universal
female mender) with 3/4″ hose(locally purchased).
Once a hose is attached the water drains into the hose. The hose can
then be directed away from the dehumidifier into a floor drain.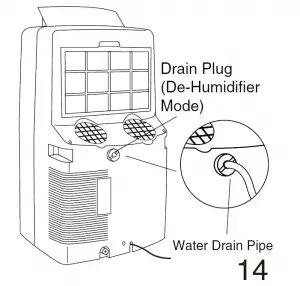 TROUBLESHOOTING GUIDE
The following troubleshooting guide addresses the most common problems and is by no means exhaustive. If problems persist, call customer service. A certified electrician or air
conditioning technician should complete any service work. Unplug and disconnect the appliance from the power source before attempting to troubleshoot any of the following problems.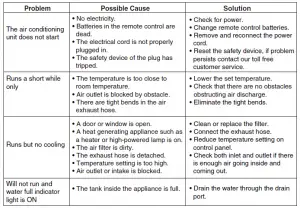 TECHNICAL SPECIFICATIONS
Results may vary according to application in different environments. Result will vary on practical operation.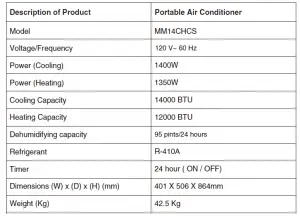 Waste electrical products should be properly disposed.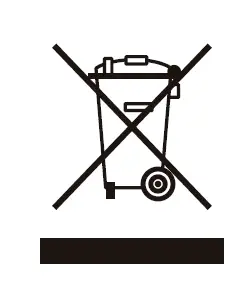 Please recycle where facilities exist. Check with your local authority
or retailer for recycling.
SERVICE AND WARRANTY
5-YEAR LIMITED WARRANTY
Read all the instructions before attempting to use this product.
1 year parts and labor, 5 years on all parts of the sealed system, consisting of the compressor,
evaporator, condenser and factory connected refrigerant tubing.
At its option, JMA NORTH AMERICA LLC will repair or replace this product if it is found to be
detective in material or workmanship.
A. This warranty does not cover damage resulting from any unauthorized attempts to repair or from any use not in accordance with the instruction manual.
This warranty does not apply to any damage resulting from commercial, abusive, unreasonable use or supplemental damage. Defects that are the result of normal wear and tear will not be considered manufacturing defects under this warranty.
JMA NORTH AMERICA LLC IS NOT LIABLE FOR INCIDENTAL OR CONSEQUENTIAL
DAMAGES OF ANY NATURE. ANY IMPLIED WARRANTY OF MERCHANTABILITY OR
FITNESS FOR A PARTICULAR PURPOSE ON THIS PRODUCT IS LIMITED IN DURATION
TO THE DURATION OF THIS WARRANTY.
Some jurisdictions do not allow the exclusion or limitation of incidental or consequential damages or limitations on how long an applied warranty lasts, so the above limitations or exclusions may not apply to you. This warranty gives you specific legal rights, and you
also may have other rights which vary from jurisdiction to jurisdiction. This warranty applies only to the original purchaser of this product from the original date of purchase.
SERVICE AND WARRANTY
Please read the Instruction Manual carefully before setting up or using this product. If you believe this product to be suffering from a manufacturing fault, or if you have inquiries about this product, please contact our Customer Support:
CUSTOMER SUPPORT
JMA North America LLC
Ramsey, New Jersey, 07446.
Phone : 1-800-474-2147
Email : [email protected]
When contacting our Customer Support, please have the information below along with the proof of purchase. All warranty requests must be accompanied by a proof of purchase, which is a copy of the original receipt.