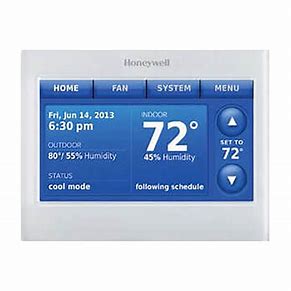 YTHX9421R5101WW/U
YTHX9421R5127WW/U
YTHX9421R5085WW/U
YTHX9421R7001WW/U
YTHX9421R5101WW/U
THX9421R5021WW/U
Guide[pdf]: 69-2811EF
Interface Module [pdf]: Prestige IAQ 2.0 with Equipment Interface Module
Interface Module [pdf]: Prestige IAQ with Equipment Interface Module
installation Guide [pdf]: THX9321 Prestige 2.0
Why is my Prestige IAQ thermostat starting the heat or cool before the program time?
The thermostat has a feature called Adaptive Intelligent Recovery(AIR) or Smart Response or Early Start. This allows the thermostat to "learn" how long the heating and cooling system will take to reach the programmed temperature settings. So the temperature is reached at the time you set.
Can I connect more than one Portable Comfort Control to a single Prestige IAQ Thermostat?
No. Each thermostat can only be controlled by one Portable Comfort Center. But you can connect up to 16 different thermostats to one Portable Comfort Center to easily control multiple zones.
Is it possible to see outside temperature and humidity on my thermostat?
Yes. When connected with an Outdoor Sensor, select thermostats and devices will display the outdoor temperature and humidity on the screen.
Does Honeywell manufacturer a thermostat that will allow me to control my humidifier as well as the heating and cooling equipment?
The Prestige IAQ thermostat kit can control humidification, dehumidification, ventilation, heating and cooling. The RCH9310WF, RCH9300WF, TH8732WF and the TH8732WFH can control humidity as well as heating and cooling. The H6062, H8908 and DG115 control a humidifier but not heating or cooling.
Prestige IAQ 2-wire Thermostat With Redlink
| | |
| --- | --- |
| Thermostat Type | Programmable, Communicating, Digital, Low Voltage, RedLINK |
| WiFi Specifications | Internet Gateway THM6000R7001/U Provides WiFi Capabilities |
| Color | White |
| For Use With | THM5421R1021 Equipment Interface Module and RedLINK® accessories |
| Program Modes | 7-Day Programmable, Manual / Not Programmed |
| Utility Rewards | No |
| Display Type | Touch Screen |
| Fan Function | Cycled, Continuous |
| Power Supply | Hardwired |
| Product Height | 3.5 in, 88 mm |
| Product Length | 4.5 in, 115 mm |
| Product Width | 0.88 in, 22 mm |
| Warranty | 5 Years |
| Energy Star Certified | Yes |
| Stages | 4 Heat/2 Cool Heat Pumps, 3 Heat/2 Cool Conventional Systems, See Equipment Interface Module |