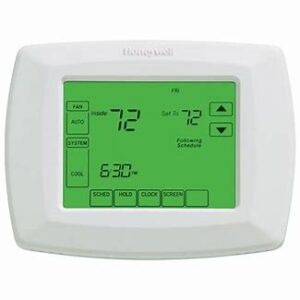 RTH7500D1049/U1
What is Smart Response?
When going from an energy savings temperature to a comfort temperature, the smart response feature allows the heating or cooling equipment to turn on earlier than the comfort program temperature setting, ensuring the indoor temperature will match the set-point at the scheduled time.
What is Smart Response in my Lyric thermostat?
The Lyric thermostat is designed to ensure that your home reaches your preferred temperatures when you have scheduled it to. This feature, called Smart Response or Adaptive Recovery, enables the thermostat to "learn" how long your heating system and air conditioner take to reach the programmed temperature settings. It will then start the system early enough for it to reach that preferred temperature on schedule. To turn off Smart Response for a location, go to the home screen of your Lyric app and tap the icon for the thermostat you'd like to adjust. Press the gear wheel in the upper right-hand corner. Tap "Advanced," then slide the "Adaptive Recovery" toggle to the off position.
SPECIFICATIONS

Smart Response 7-Day Programmable Thermostat

| | |
| --- | --- |
| Thermostat Type | Programmable |
| Display Type | LCD Screen |
| Warranty | 1 Year |