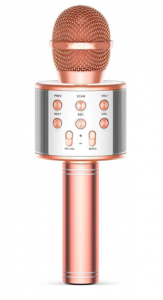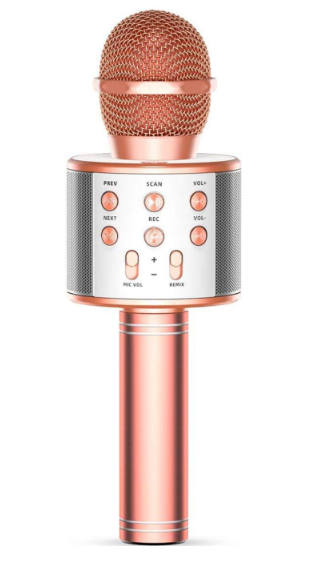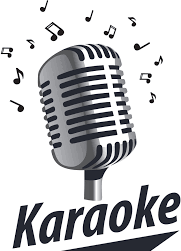 WS-858 Wireless Karaoke Microphone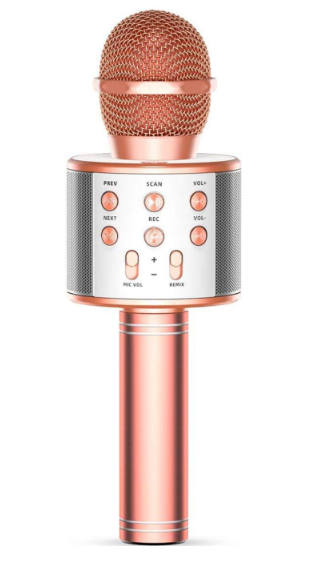 WS-858 Wireless Karaoke Microphone
Overview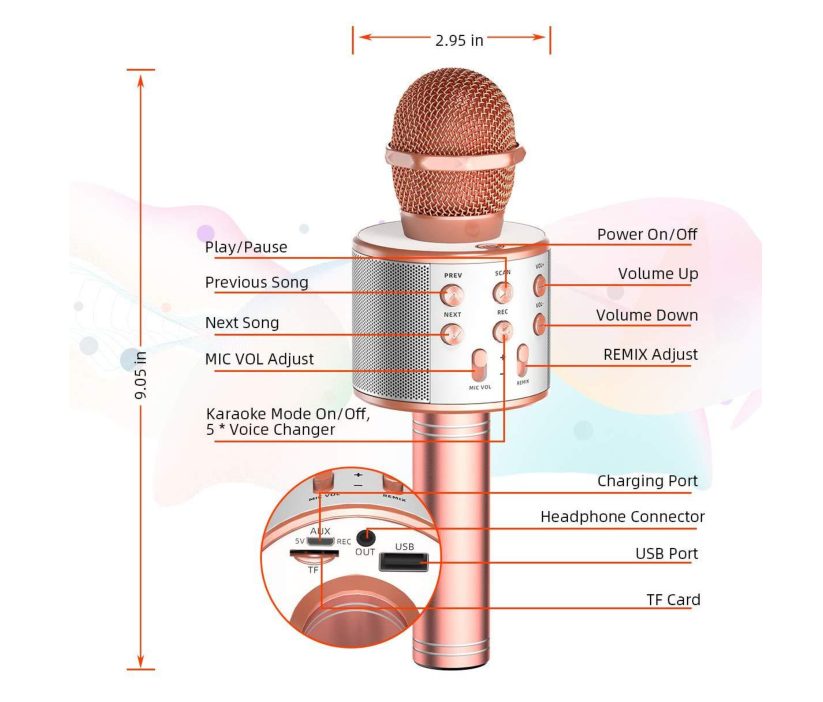 INSTRUCTIONS
HOW TO USE
Switch on/off: Press the power button, the blue light will be on/off
Bluetooth connection: Turn on Bluetooth on your mobile phone, and search the Bluetooth name 'WS-858', click and pair.
Playing music: Tum on mobile phone music app, download your favorite songs or accompaniment songs, volume could be adjusted by cellphone.
Adjusting sound: Adjust voice volume or echo in suitable place.
Start singing and have fun!
HOW TO RECORD
Connect the audio cable, plug the micro USB port into pocket and 3.5mm audio port into cellphone.
Open recording app like Apple Music and follow the using process, Start recording.
PS: Bluetooth will automatically disconnect when audio cable plug in.
FAQS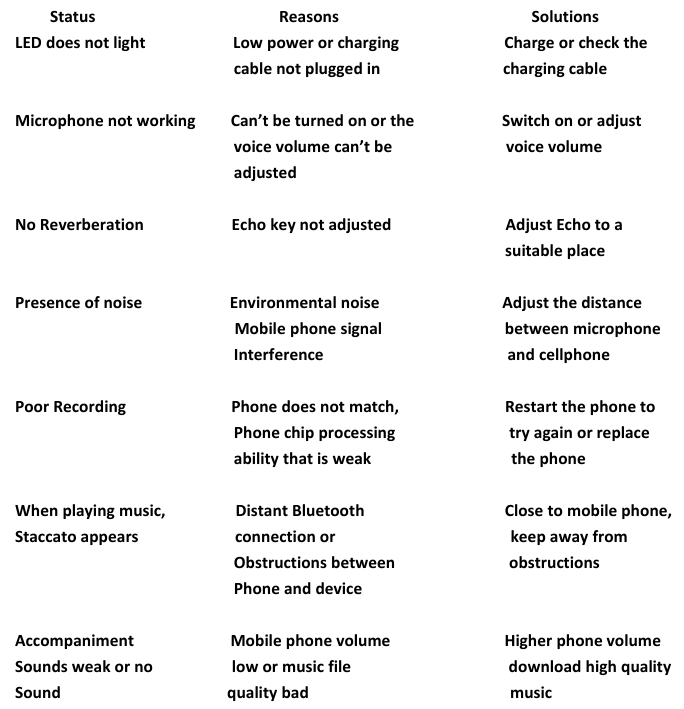 HOW TO CHARGE
When the battery voltage is too low, the product will automatically turn off;
Using USB cable to connect with mobile phone standard jack, then the red light will be on;
Normal charging 4 hours, charging is completed, the red light is automatically extinguished
Normal conditions work 4 hours.
SPECIFICATIONS
Microphone: Capacitance
Output power:5W/6W (Speaker Output)
Frequency Range:100Hz-10Hz
Maximum sound pressure level:>115dB 1KHz THD<1%
Reverb Mode :Echo sound reverberation
Power Supply: Build-in-Li-ion Battery
Battery Capacity:1800mAh
Charging Voltage: DC 5V=1A
SERVICE DESCRIPTION
If you have any problems with the microphone, please don't hesitate to contact us, we have 24-hour friendly customer service for you at:
FCC Requirement
changes or modifications not expressly approved by the party responsible for compliance could void the user's authority to operate the equipment.
This device complies with Part 15 of the FCC Rules. Operation is subject to the following two conditions:
this device may not cause harmful interference, and
this device must accept any interference received, including interference that may cause undesired operation.
Note: This equipment has been tested and found to comply with the limits for a Class B digital device, pursuant to Part 15 of the FCC Rules. These limits are designed to provide reasonable protection against harmful interference in a residential installation. This equipment generates, uses, and can radiate radio frequency energy, and if not installed and used in accordance with the instructions, may cause harmful interference to radio communications. However, there is no guarantee that interference will not occur in a particular installation. If this equipment does cause harmful interference to radio or television reception, which can be determined by turning the equipment off and on, the user is encouraged to try to correct the interference by one or more of the following measures:
Reorient or relocate the receiving antenna.
Increase the separation between the equipment and receiver.
Connect the equipment into an outlet on a circuit different from that to which the receiver is connected.
Consult the dealer or an experienced radio/TV technician for help.
FAQ'S
Does it come with a microphone?
Yes,it comes with a microphone.
Does it support SD card?
Yes,it has an SD card slot.
What is the difference between this one and the other one?
This one is wireless and the other one is not.
How do I connect my karaoke microphone to my phone?
Connect a Microphone to a Phone
The first way you can try, is using a micro-USB connection (android) or lighting (Apple). If you're using a USB compatible microphone then you simply plug the USB connection into the mic and then plug the other end into the charging port of your phone.
How do I connect my karaoke microphone to my Laptop?
If your receiver has got antennas. Turn it to 90 degrees. Now simply turn on the receiver. As soon as you connect the receiver to the laptop you should get this message in my laptop.
How do I connect karaoke to my TV?
First, turn on the bluetooth discovery setting your karaoke machine. Then go into your TV settings and go into the bluetooth section, and search for devices. Your karaoke machine will show up in the list of options, press pair (or connect to this device) and your karaoke machine and TV will be connected.
Do wireless microphones need speakers?
As mentioned above, a microphone works independently of any loudspeakers, headphones, or other playback systems
Do I need a mixer for karaoke?
There are two main ways of setting karaoke up. Usually only the DIY setup requires a mixer. This is because if you choose to get a karaoke machine instead, then it will function as your mixer.
Can I use home theater speakers for karaoke?
If you want a karaoke system setup with your home theater, an audio input should be available to accommodate it. Removing the audio input jacks from your TV or other sources every time you need to use your karaoke is time-consuming. Most karaoke machines also have their own PA speakers.
Do you need an amplifier for karaoke?
To run audio through any set of speakers, the sound needs to be amplified. Therefore an amplifier is always a necessary component. For most, this is built into the receiver, however, systems with standalone amplifiers can be built using separate, extra components in place of the receiver.
Can I use karaoke music on YouTube?
To sing karaoke using YouTube, you will need either a karaoke machine, or a smart device and a microphone. Connect your microphone and smart device or karaoke machine together, and go to YouTube to select a song. For best results, use an external speaker to improve the audio quality. What is this?
Which is the best way of setup karaoke?
For this setup I want you to make sure that you have Wi-Fi at your home a smart TV would be best but if you don't have one you can use chromecast.