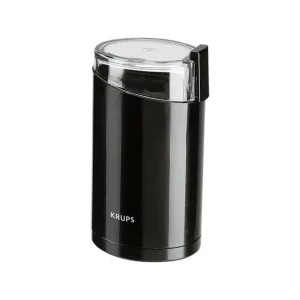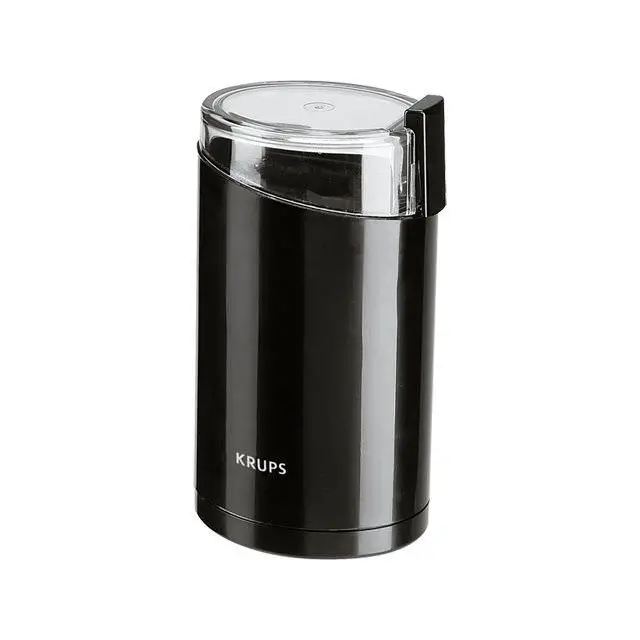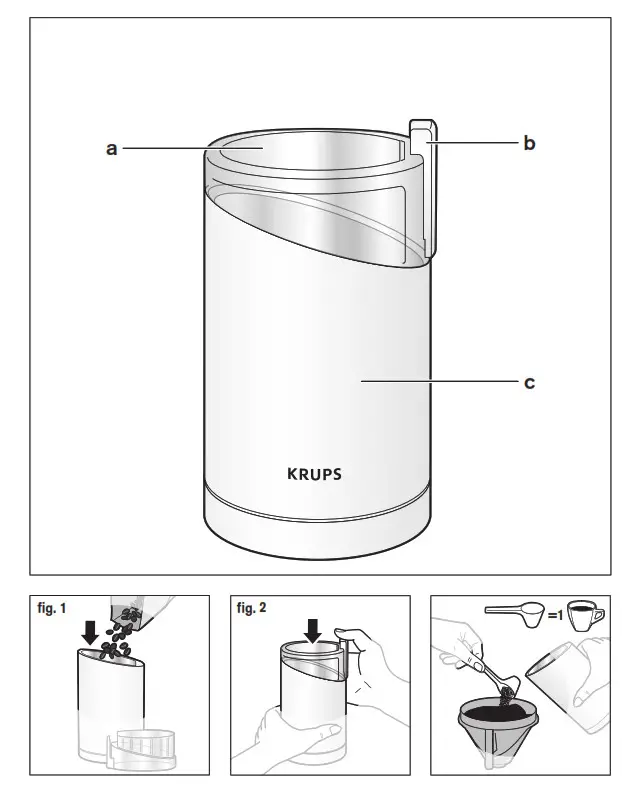 IMPORTANT SAFEGUARDS
When using electrical appliances, basic safety precautions should always be followed to reduce the risk of fire, electric shock, and/or injury to persons including the following :
Read all instructions carefully before using the coffee grinder.
To protect against the risk of fire, electric shock, and injury to persons, do not immerse cord, plug, or appliance in water or other liquids.
This appliance is not intended for use by persons (including children) with reduced physical, sensory or mental capacities, or lack of experience and knowledge unless they have been given supervision or instruction concerning the use of the appliance by a person responsible for their safety. Children should be supervised to ensure that they do not play with the appliance.
This appliance is not intended for use by children.
Do not remove the lid until the blade has stopped completely. After releasing the push button the blade will come to a stop within 2 to 3 seconds.
Unplug from outlet when not in use, before putting on or taking off parts, and before cleaning. Allow to cool down before putting on or taking off parts, before cleaning the appliance, and before storing.
Do not operate any appliance with a damaged cord or plug or after the appliance malfunctions, or has been dropped or damaged in any manner. Return the appliance to the nearest authorized KRUPS Service Center for examination, repair, or adjustment.
To reduce the risk of injury do not drape the cord over the countertop or tabletop where it can be pulled on by children or tripped over unintentionally.
Do not let the cord hang over the edge of a table or counter, or touch hot surfaces.
Do not use the outdoors.
Do not place on or near a hot gas or electric burner, or in a heated oven.
To disconnect, remove the plug from wall outlet. Do not yank cord, instead grasp plug and pull to disconnect.
Do not use the appliance for other than intended use.
Check grinding chamber for the presence of foreign objects before using
Blades are sharp. Handle them carefully.
Make certain the voltage of the appliance is in accordance with your domestic supply.
SAVE THESE INSTRUCTIONS
CAUTION
This appliance is for household use only. Any servicing other than cleaning and user maintenance should be performed by the nearest authorized KRUPS Service Center.
Do not immerse the appliance in water.
To reduce the risk of fire or electric shock, do not dismantle the appliance. Repair should be done by an authorized KRUPS Service Center only.
SHORT CORD INSTRUCTIONS
Regarding your Cord Set :
A. A short power-supply cord is provided to reduce the risks resulting from becoming entangled in or tripping over a longer cord.
B. Extension cords should be used with caution.
C. If an extension cord is used, (1) the marked electrical rating of the extension cord should be at least as great as the electrical rating of the appliance, (2) if the appliance is of the grounded type, the extension cord should be of a grounded type and (3) the longer cord should be arranged so that it will not drape over the countertop or tabletop where it can be pulled on by children or tripped over.
This appliance has a polarized plug (one blade is wider than the other). To reduce the risk of electric shock, this plug is intended to fit into a polarized outlet only one way. If the plug does not fit fully in the outlet, reverse the plug. If it still does not fit, contact a qualified electrician. Do not attempt to modify the plug in any way.
DESCRIPTION
a Grinder lid
b Power button
c Motor base
INTRODUCTION
By purchasing whole beans and storing them properly at home you can maximize the potential flavor of your home-brewed coffee. Grinding your coffee beans just prior to brewing is a critical step in producing great-tasting coffee at home. The Krups F203 grinder is designed to quickly grind coffee beans and dispense them easily into your coffee filter for brewing.
OPERATION
Place the unit on a sturdy countertop.
Fill the grinding chamber with the amount of coffee needed for the number of cups you plan to brew.
Krups recommends 7 grams of ground coffee per 5 oz cup. The whole beans can be measured with a standard coffee scoop or 1 tablespoon measure. Use one heaping teaspoon per 5 oz cup of water.
Place the lid (a) on the grinder base.
Plug in the grinder. To start grinding, press the power button (fig.2). The power will only stay on as long as the button is pressed.
The coffee will be ground fine or coarse depending on the amount of grinding time. For example, a coarse grind would require less grinding time than a fine grind.
When grinding is complete, unplug the unit. Carefully remove the lid and pour the ground coffee into a bowl or canister, or directly into your coffee machine filter basket.

Caution
Wait until the blades have completely stopped before removing lid. The grinder should be unplugged before removing the lid.
CLEANING
Keeping your grinder clean is essential to achieve optimal taste results. Coffee beans contain oils that will collect in the grinder and quickly become stale. The stale oils can contribute unwanted flavors to your brewed coffee. It is best to clean the unit regularly.

Be sure that the grinder is unplugged before cleaning!
Remove all coffee grounds after each use. A small soft brush or cloth is helpful in removing ground coffee from lid and blades.
Wipe inside of grinder lid and blades very carefully with a damp cloth.
Base unit can be wiped down with a damp cloth. NEVER immerse base unit in water or any other liquid!
Lid can be washed in warm water, using a mild detergent, or be placed in the top rack of the dishwasher and used on gentle cycle.
COFFEE BREWING GUIDE
THE COFFEE
Choose your beans wisely. It is best to use premium whole beans from a trusted brand or roaster.
Arabica beans provide the best flavors and have less caffeine and while Robusta beans are easier to grow and less expensive, they have less flavor and higher caffeine content. Robusta beans are sometimes used in blends to add a particular bitterness to the brew.
Beans can be roasted very lightly to provide a smooth aromatic taste or roasted dark to provide stronger flavors, and anywhere in between.
A good roaster will be able to describe the flavors that the beans will impart to your brewed coffee.
Note: Experiment with different beans and different roasts to identify one or several that suit your tastes.
Air, light, and moisture are damaging to the delicate oils that give the coffee beans their great flavor
Buy your beans in small batches to always have the freshest possible beans available.
Store the coffee in an opaque, airtight container and keep in a cool dry place.
THE RATIO
The amount of ground coffee must be carefully measured against the volume of water for each brew cycle. It is important to use enough coffee to avoid over-extraction. A small amount of coffee would be overwhelmed by a large volume of hot water. Krups recommends using 7 grams of ground coffee per 5 oz cup of water. 7 grams can be measured in one rounded tablespoon. If the resulting brew seems too strong you can adjust by using slightly less ground coffee.
If you prefer a much lighter taste it is best to brew at the recommended ratio and dilute the resulting brew with a measure of hot water. This allows the best flavor to be extracted from the beans while avoiding over-extraction of too small an amount of ground coffee.
THE WATER
The water is a critical factor in the taste of your brewed coffee. Filtered water is normally the best choice to help avoid the minerals and chlorine that can be found in municipal water systems. However, if your water tastes good then it should be good for your coffee.
THE GRIND
For espresso coffee:
The Krups Fast-touch (F203) is acceptable for grinding beans for boiler-type or steam espresso machines. We do not recommend using the Fast-Touch to grind beans for use with pump espresso machines. Pump espresso machines require a burr-type grinder such as the KRUPS GVX series or a similar professional style espresso grinder.
Burr grinders will prevent the introduction of coffee dust which can impede the flow of water through the espresso machine.
MANUFACTURER'S WARRANTY
With a strong commitment to the environment, most of Krups products are repairable during and after the warranty period. Before returning any defective products to the point of purchase, please call Krups consumer service directly at the phone number below for repair options. Your help to sustain the environment is appreciated!
After-sales service
The appliance isn't user-serviceable. If it's not working properly, check that:
– You've followed the instructions correctly;
– The main supply fuse/circuit breaker hasn't blown/tripped.
If it still doesn't work, consult your retailer.
The Warranty
This product is warranted by Krups for a period of 2 years against any manufacturing defect in materials or workmanship, starting from the initial date of purchase.
The manufacturer's warranty by Krups is an extra benefit that does not affect consumer's Statutory Rights.
The Krups warranty covers all costs related to restoring the proven defective product so that it conforms to its original specifications, through the repair or replacement of any defective part and the necessary labor. At Krups's choice, a replacement product may be provided instead of repairing a defective product. Krups's sole obligation and your exclusive resolution under this warranty are limited to such repair or replacement.
Conditions & Exclusions
The Krups warranty only applies within USA, Canada & Mexico, and is valid only on the presentation of proof of purchase. The product can be taken directly in person to an authorized service centre or must be adequately packaged and returned, by recorded delivery (or an equivalent method of postage), to a Krups authorized service centre. Full address details for each country's authorized service center are listed on the Krups website (www.krups.com) or by calling the appropriate telephone number listed below to request the appropriate postal address. Krups shall not be obliged to repair or replace any product which is not accompanied by a valid proof of purchase.
This warranty will not cover any damage which could occur as a result of misuse, negligence, failure to follow Krups instructions, use on current or voltage other than as stamped on the product, or a modification or unauthorized repair of the product. It also does not cover normal tear and wears maintenance or replacement of consumable parts, and the following:
-using the wrong type of water
-scaling (any de-scaling must be carried out according to the instructions for use);
-ingress of water, dust or insects into the product;
-mechanical damages, overloading
-damages or bad results due to wrong voltage or frequency
-accidents including fire, flood, lightning, etc
-professional or commercial use
-damage to any glass or porcelain ware in the product
This warranty does not apply to any product that has been tampered with, or to damages incurred through improper use and care, faulty packaging by the owner or mishandling by any carrier.
The Krups manufacturer's warranty applies only for products purchased and used in USA, Canada & Mexico. Where a product purchased in one country and then used in another one:
a) The Krups warranty duration is the one in the country of usage of the product, even if the product was purchased in another listed country with different warranty duration.
b) The Krups warranty does not apply in case of non conformity of the purchased product with the local standards, such as voltage, frequency, power plugs, or other local technical specifications
c) The repair process for products purchased outside the country of use may require a longer time if the product is not locally sold by Krups
d) In cases where the product is not repairable in the new country, the Krups warranty is limited to a replacement by a similar product or an alternative product at similar cost, where possible.
Consumer Statutory Rights
This Krups manufacturer's warranty does not affect the statutory rights a consumer may have or those rights that cannot be excluded or limited, nor rights against the retailer from which the consumer purchased the product. This warranty gives a consumer specific legal rights, and the consumer may also have other legal rights which vary from State to State or Country to Country or Province to Province. The consumer may assert any such rights at his sole discretion.
Additional information
Accessories, Consumables, and end-user replaceable parts can be purchased, if locally available, as described in Krups's internet site.