Logitech G304 LIGHTSPEED Wireless Gaming Mouse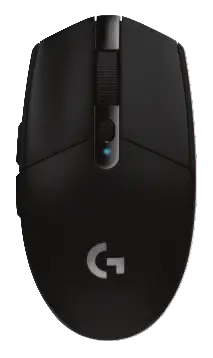 WHAT IS IN THE BOX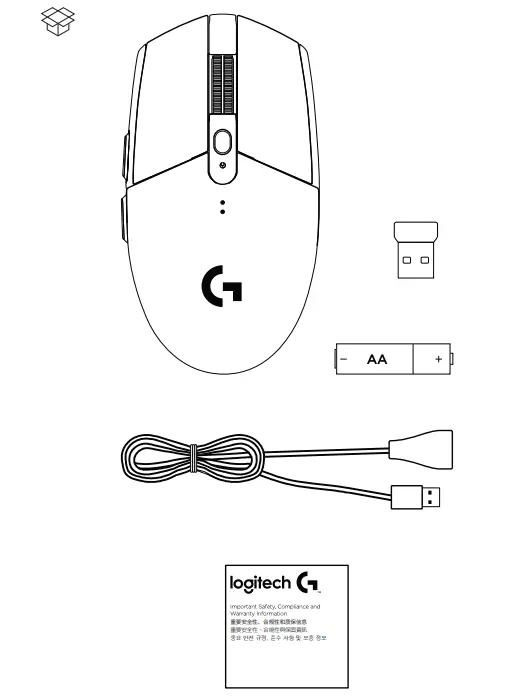 SETUP INSTRUCTIONS
Remove the battery cover by pressing the top of the cover and pulling it downwards
Remove the receiver
Insert the battery
Close the battery cover
Make sure the mouse is turned on via the switch on the bottom of the mouse

Recommended: Insert receiver into the receiver extension cable Insert extension cable into your USB port.
Alternatively, insert receiver directly into your USB port
Download the G HUB software

Tips:
To make your mouse lighter, a lithium AA battery (not included) can be used
Keep the mouse and receiver 2 m+ away from wireless routers or other 2 4GHz wireless devices to minimize environmental noise
G304 / G305 has a wireless range of up to 10 meters To ensure optimal performance in noisy wireless environments, it is recommended to keep the receiver within 20 cm of the mouse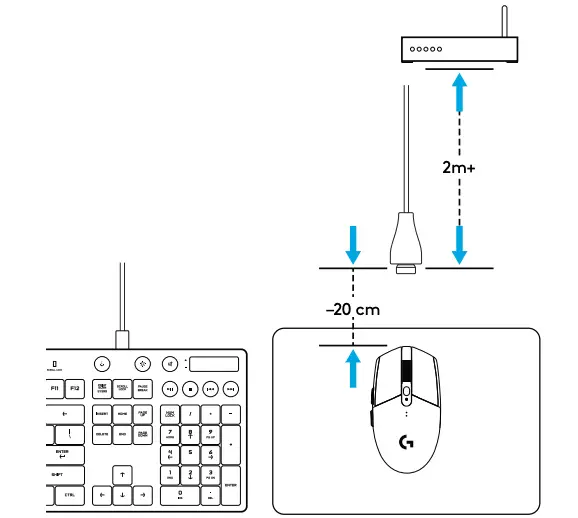 6 FULLY PROGRAMMABLE BUTTONS
Left (Button 1)
Right (Button 2)
Wheel click (Button 3)
Forward (Button 4)
Back (Button 5)
DPI cycle (Button 6)
On/Off switch (bottom of mouse, not programmable)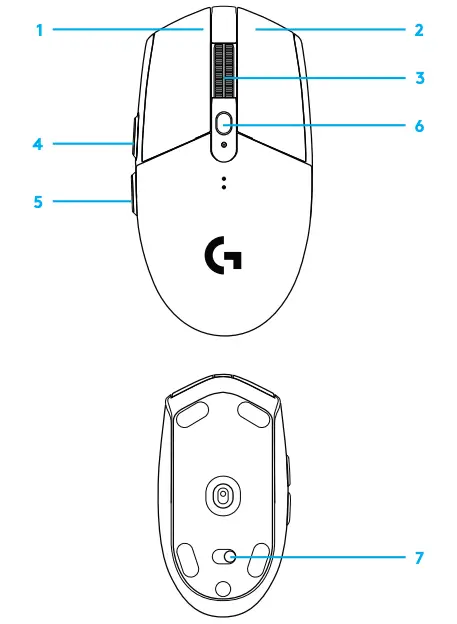 LED INDICATOR
Battery life
Flashing red: battery <15%
DPI
Yellow: step 1 – 400 DPI
White: step 2 – 800 DPI (default)
Orange: step 3 – 1600 DPI
Magenta: step 4 – 3200 DPI
Blue: step 5 – 6400 DPI (Step 5 can be activated via software only)
Mode
Cyan: performance mode (default)
Green: endurance mode (can be activated via software only)
Tips:
Activating endurance mode will degrade tracking performance but improve battery life
G HUB SOFTWARE
You can customize the onboard profile settings using the G HUB These settings include button programming, report rate, performance/endurance modes and tracking behavior G304 / G305 allows up to 5 DPI settings
By default, G304 / G305 has the following settings:
DPI: 400/800/1600/3200
Report rate: 1ms
Performance mode
©2020 Logitech Logitech, Logitech G, Logi, 罗技、罗技 G and their respective logos are trademarks or registered trademarks of Logitech Europe S A and/or its affiliates in the U S and other countries All other trademarks are the property of their respective owners Logitech assumes no responsibility for any errors that may appear in this manual Information contained herein is subject to change without notice
WEB-621-001066 003
FAQS
PC does not have bluetooth can i still use it?
Yes there is no required Bluetooth connectivity I'm also using without Bluetooth
What is the range?
Approximately 2 meters in Performance mode and in Regular/PowerSaver mode it is nearly 5 meters. I always keep it in Performance mode at distance of 1.5 from receiver with direct line of sight and works fine for me. Although your condition may vary due to exact distance, position and line of sight.
Does it have also g hub detecting problem like g102?
It would not have, but incase of any issues please call our Toll free customer care number mentioned on the product page of any Logitech product in Amazon.
What is it's click span??
Its been tested for 10 million clicks
why the price is up and When the white colour will be available?
Due to shortage in supply because of ongoing pandemic, prices are up for many products.
Does it use logitech unifying receiver?
No. It uses it own lightspeed receiver.
What is the best deal on this mouse?
If you are looking for wireless yes, if wired then their can be plenty of alternatives
Do the mouse shows what battery percentage is?
The Logitech G304 uses Logitech G HUB software which will notify you when 15% of battery remains. Also, the mouse has an LED indicator that starts flashing red when baterry is below 15%.
can it be used on any surface ?
Better use a mousepad or the skates of the mouse can get damaged.
So we can operate this mouse with either dongle or a single AA cell?
both required
What are the dimensions?
Height- 116.6 mm (4.6 inches), Width-62.15 mm (2.5 inches), Depth- 38.2 mm (1.5 inches), Weight- 75g (2.61 ounces) (Without battery) and 99g (3.49 ounces) (With 1x AA battery)
Do i need to Charge the battery? if yes than how? what does it mean 250 hour battery life?
One AAA BATTERIE
One signal receiver
Usb cable included but it is usb extender cable for the reciever
VIDEO