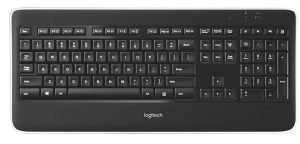 Logitech K800 Illuminated Wireless Keyboard Setup Guide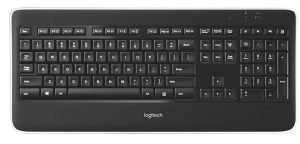 WHAT'S IN THE BOX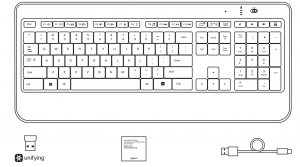 SET UP
Software installation logitech.com/options
KEYBOARD FEATURES

Application zone
+ F1 Launch Internet browser
+ F2 Launch e-mail application
+ F3 Launch Search
+ F4 Flip
Convenience zone
+ F5 Backlight down by 25%
+ F6 Backlight up by 25%
+ F7 Battery check
+ F8 Sleep mode
Multimedia navigation zone
+ F9 Launch media
+ F10 Previous track
+ F11 Play/Pause
+ F12 Next track
Multimedia
volume zone
Mute
Volume down
Volume up
Calculator
key
Automatic light sensor (ALS)
Battery status indicator
Keyboard power switch.
RECHARGING
Recharging the keyboard
Typically, you can expect about 10 days of battery life before you will need to recharge the keyboard battery.* If the backlighting level is set to 100%, you have about 15 hours of battery life.
To recharge the keyboard, connect it to your computer using the USB recharging cable. A full battery recharge takes about 5 hours and only 3 hours if the keyboard has been switched off.
Battery life varies with usage, backlighting level, and computing conditions. Heavy usage usually results in shorter battery life.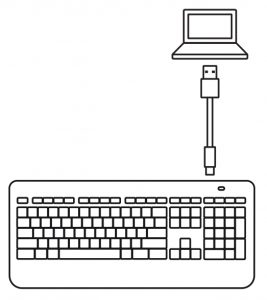 UNIFYING
Logitech® Unifying technology connects up to six compatible
Logitech mice and keyboards to the same receiver, using only one USB port for multiple devices.
To learn more, visit:
www.logitech.com/support/unifying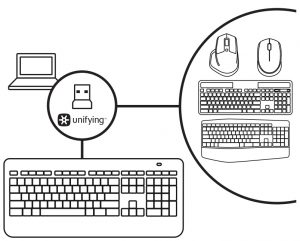 TROUBLESHOOTING
Keyboard not working?
Slide the keyboard's Off/On switch to Off and then On. The keyboard's battery status indicator LEDs should light up.
Confirm that the keyboard is charged. The battery status indicator is red when the battery is low.
Try plugging the Unifying receiver into another USB port.
Move the Unifying receiver closer to the keyboard.

Try reconnecting the keyboard and Unifying receiver using the Logitech Unifying software (see the Unifying section).
Restart the computer.
BATTERY REMOVAL INFORMATION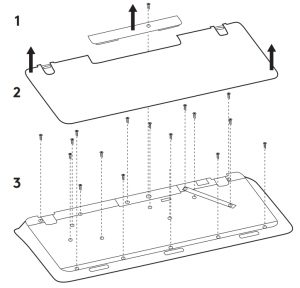 Remove 1 screw and battery door.
Remove bottom panel.
Remove 17 screws.

Remove top case.
Remove 6 screws.
Remove keyframe, light guide panel and metal plate.
Remove tape, then disconnect the battery cables from the main circuit board, remove battery from the bottom case.
Dispose of the battery and product according to local laws.
© 2020 Logitech. Logitech, Logi, 罗技 and the Logitech Logo are trademarks or registered trademarks of Logitech Europe S.A. and/or its affiliates in the U.S. and other countries. All other trademarks are the property of their respective owners. Logitech assumes no responsibility for any errors that may appear in this manual. Information contained herein is subject to change without notice.
WEB-621-001837.002