The Masterbuilt 30″ Digital Electric Smoker is a great option for those who enjoy smoking meat and other foods. The smoker comes with two adjustable chrome-coated cooking grids that are easy to adjust, 2 side shelves, and a water pan for moist heat. The unit includes an instruction manual, recipes booklet, smoker cover which doubles as a work table extension, 4 wood chip baskets which you can use to add flavor by adding chips during the cooking process. The cooking times section is a very useful one for those who want to smoke their food to perfection.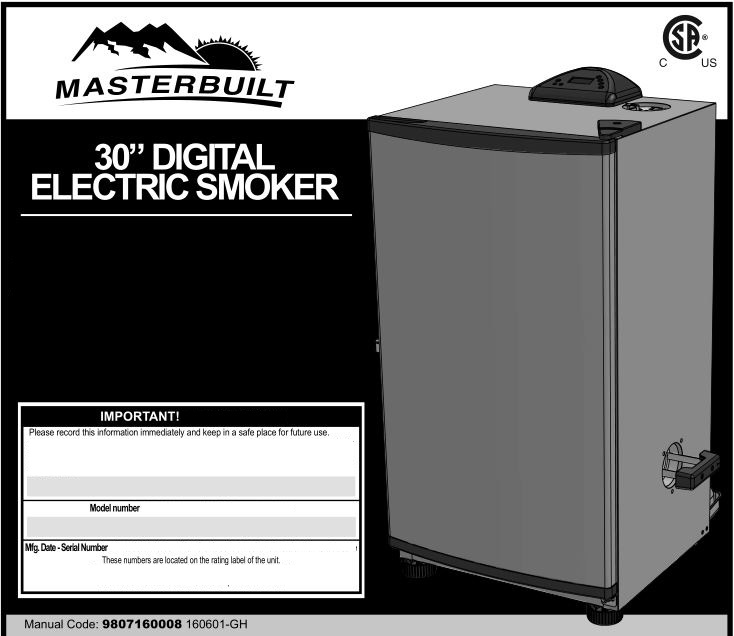 THIS PRODUCT IS FOR OUTDOOR USE ONLY.
ASSEMBLY, CARE & USE MANUAL WARNING & SAFETY INFORMATION
Tools needed for assembly: Adjustable Wrench and Phillips Head Screwdriver
Approximate assembly time: 25 minutes *Actual product may differ from picture shown
WARNING
This manual contains important information necessary for the proper assembly and safe use of the appliance.
Read and follow all warnings and instructions before assembling and using the appliance.
Follow all warnings and instructions when using the appliance.
Keep this manual for future reference.
CARBON MONOXIDE HAZARD
Burning wood chips gives off carbon monoxide, which has no odor and can cause death.
DO NOT burn wood chips inside homes, vehicles, tents, garages or any enclosed areas. Use only outdoors where it is well ventilated.
Failure to follow these instructions could result in fi re, explosion or burn hazard, which could cause property damage, personal injury or death.
WARNING
CALIFORNIA PROPOSITION 65
Combustion by-products produced when using this product contain chemicals known to the State of California to cause cancer, birth defects, and other reproductive harm.
This product contains chemicals known to the State of California to cause cancer, birth defects or other reproductive harm.
GENERAL WARNINGS AND SAFETY INFO
READ ALL INSTRUCTIONS
Unit is for OUTDOOR USE ONLY.
Never use inside enclosed areas such as patios, garages, buildings or tents.
Never use inside recreational vehicles or on boats.
Never operate the unit under overhead construction such as roof coverings, carports, awnings, or overhangs.
Never use unit as a heater (READ CARBON MONOXIDE HAZARD).
Maintain a minimum distance of 10ft (3m) from overhead construction, walls, rails or other structures.
Keep a minimum 10ft (3m) clearance of all combustible materials such as wood, dry plants, grass, brush, paper, or canvas.
Keep this appliance clear and free from combustible materials such as gasoline and other flammable vapors and liquids.
Use the unit on a level, non-combustible, stable surface such as dirt, concrete, brick or rock.
Unit MUST be on the ground. Do not place unit on tables or counters. Do NOT move unit across uneven surfaces.
Do not use unit on wooden or flammable surfaces.
Do not leave unit unattended.
Never use unit for anything other than its intended use. This unit is NOT for commercial use.
Keep a fire extinguisher accessible at all times while operating unit.
Before each use check all nuts, screws and bolts to make sure they are tight and secure.
Use of alcohol, prescription or non-prescription drugs may impair user's ability to properly assemble or safely operate unit.
Keep children and pets away from unit at all times. Do NOT allow children to use unit. Close supervision is necessary should children or pets be in area where unit is being used.
Do NOT allow anyone to conduct activities around unit during or following its use until it has cooled.
Avoid bumping or impacting unit.
Never move unit when in use. Allow unit to cool completely (below 115°F (45°C)) before moving or storing.
The unit is HOT while in use and will remain HOT for a period of time afterward and during the cooling process. Use CAUTION. Wear protective gloves/mitts.
Do not touch HOT surfaces.
Do not use wood pellets.
Never use glass, plastic or ceramic cookware in unit. Never place empty cookware in unit while in use.
Accessory attachments not supplied by Masterbuilt Manufacturing, Inc. are NOT recommended and may cause injury.
Wood tray is HOT when unit is in use. Use caution when adding wood.
Be careful when removing food from unit. All surfaces are HOT and may cause burns. Use protective gloves or long, sturdy cooking tools.
Always use unit in accordance with all applicable local, state and federal fi re codes.
Dispose of cold ashes by placing them in aluminum foil, soaking with water and discarding in a non-combustible container.
Do not store unit with HOT ashes inside unit. Store only when all surfaces are cold.
When using electrical appliances, basic safety precautions should always be followed including the following:
Do not plug in the electric smoker until fully assembled and ready for use.
Use only approved grounded electrical outlet.
Do not use during an electrical storm.
Do not expose the electric smoker to rain or water at any time.
To protect against electrical shock do not immerse cord, plug or control panel in water or other liquid.
Do not operate any appliance with a damaged cord or plug, or after appliance malfunctions or has been damaged in any manner. Contact Masterbuilt Customer Service for assistance at 1-800-489-1581.
Longer detachable power-supply cords or extension cords are available and may be used if care is exercised in their use.
If a longer detachable power-supply cord or extension cord is used: 1. The marked electrical rating of the cord set or extension cord should be at least as great as the electrical rating of the appliance; and 2. The cord should be arranged so that it will not drape over the countertop or tabletop where it can be pulled by children or tripped over unintentionally.
The extension cord must be a grounding-type 3-wire cord.
Outdoor extension cords must be used with outdoor use products and are marked with suffix "W" and with the statement "Suitable for Use with Outdoor Appliances."
CAUTION – To reduce the risk of electric shock, keep the extension cord connection dry and off the ground.
Do not let cord hang on or touch hot surfaces.
Do not place on or near a hot gas or electric burner, or in a heated oven.
Fuel, such as charcoal briquettes or heat pellets, are not to be used in electric smoker.
To disconnect, turn control panel "OFF" then remove plug from outlet.
Unplug from outlet when not in use and before cleaning. Allow unit to cool completely before adding/removing racks, drip tray or water bowl.
Drip tray is only for the bottom of electric smoker. Do not put drip tray on rack. This may damage electric smoker.
Do not cover racks with metal foil. This will trap heat and cause severe damage to electric smoker.
Do not clean this product with a water sprayer or the like.
SAVE THESE INSTRUCTIONS
STRUCTURAL PROXIMITY AND SAFETY USAGE
REMINDER: NEVER OPERATE THIS SMOKER UNDER ANY OVERHEAD CONSTRUCTION. MAINTAIN A MINIMUM DISTANCE OF 10 FEET FROM OVERHEAD CONSTRUCTION, WALLS OR RAILS.
WARNING: ELECTRIC POWER CORD IS A TRIP HAZARD