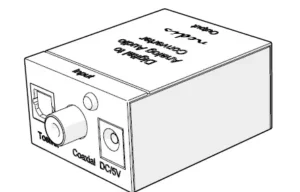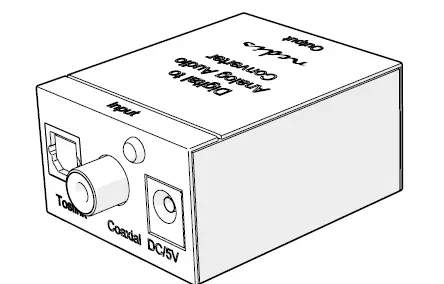 nedis Digital to Analogue Audio Converter User Guide
Quick start guide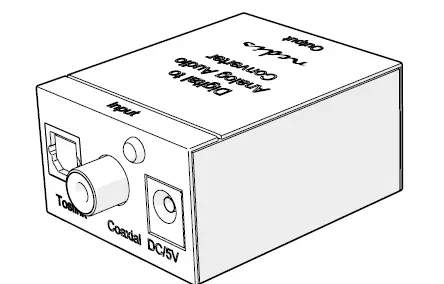 Digital to Analogue Audio Converter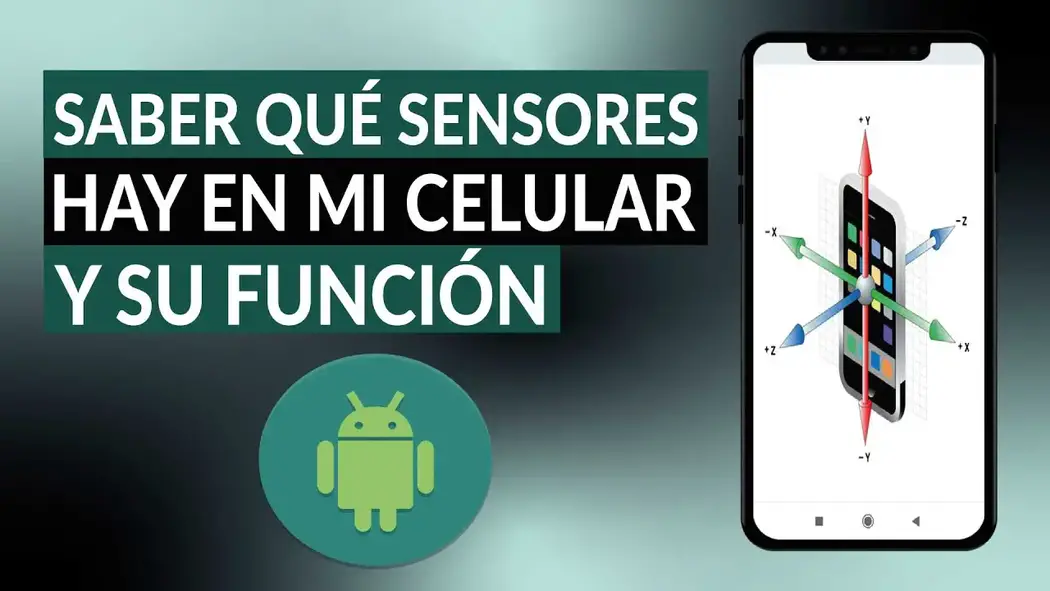 For more information see the extended manual online: ned.is/acon2510bk
Intended use
This product is a converter for coaxial or toslink digital audio to analog L/R audio. The product is intended for indoor use only. Any modification of the product may have consequences for safety, warranty and proper functioning.
Specifications
Product
Digital to Analogue Audio Converter
Article number
ACON2510BK
Dimensions (l x w x h)
51 x 41 x 26 mm
Weight
78g
Power input
5.0 VDC ; 2.0 A
Operating temperature
0 °C – 70 °C
Operating humidity
10 % – 85 % (RH)
Storage humidity
-10 % – 85 % (RH)
Power consumption
0.5 W
Supported bitrates
32 kHz 24-bit

44.1 kHz 24-bit 48 kHz 24-bit 96 kHz 24-bit
Main parts (image A)
R/L output
AUX output
Power indicator LED
Coaxial input
Toslink female input
DC power port
Power cable
Safety instructions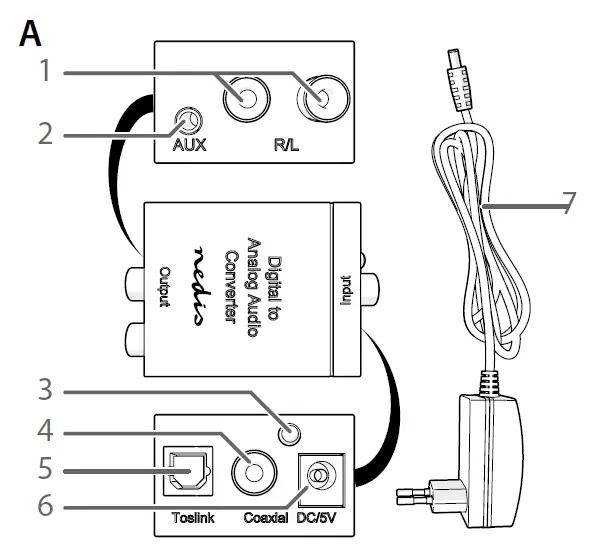 Ensure you have fully read and understood the instructions in this document before you install or use the product. Keep the packaging and this document for future reference.
Only use the product as described in this document.
Do not use the product if a part is damaged or defective. Replace a damaged or defective product immediately.
Do not drop the product and avoid bumping.
Do not expose the product to water or moisture.
Only use the provided power cable.
Disconnect the product from the power source and other equipment if problems occur.
Do not unplug the product by pulling on the cable. Always grasp the plug and pull.
This product may only be serviced by a qualified technician for maintenance to reduce the risk of electric shock.
Installing the product

Make sure all the devices you want to connect have been switched off.
Plug a twin R/L cable (not included) into the R/L output A1 or plug an AUX cable or headphone (not included) into the AUX output A2.
Plug the other end of the cable into your audio output device.
Plug a coaxial cable (not included) into the coaxial input A4 or plug a Toslink cable (not included) into the Toslink female input A5.
Plug the other end of the cable into your audio output device.
Using the product
Plug the power cable A7 into the power port A6.
Plug the other end of A7 into a power outlet. The product switches on. The power indicator LED A3 lights up.
Switch on the connected audio devices.