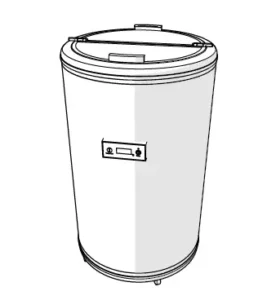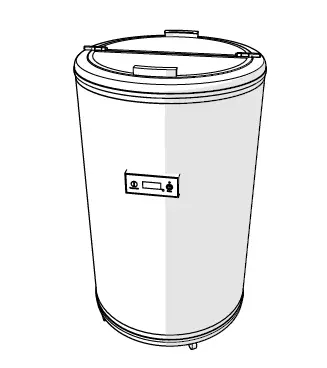 nedis Party Cooler 50 L User Guide
Quick start guide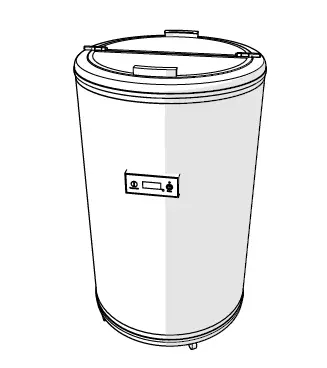 Party Cooler
For more information see the extended manual online: ned.is/kapc100ss
Intended use
The product is not intended for professional use. Any modification of the product may have consequences for safety,
warranty and proper functioning. The product is intended for indoor use only.
Main parts (image A)
Lid
Basket
Thermostat button
Display
Power button
Wheels
Safety instructions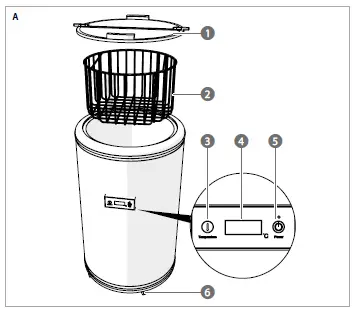 WARNING
Read the instructions before use.
Only use the product as described in this manual.
Close supervision is necessary when the product is used by or near children, animals or infirm persons. Do not allow children to play with it or touch it.
Do not unplug the power supply by pulling on the cable. Always grasp the plug and pull.
Do not use the product if a part is damaged or defective. Replace a damaged or defective device immediately.
Do not block ventilation openings and make sure that there is enough space around the product.
Do not use mechanical products or other means to accelerate the defrosting process, other than those recommended by the manufacturer.
Do not puncture or heat any part of the refrigerant circuit.
Do not use electrical products inside the food storage compartment, unless recommended by the manufacturer.
Do not store explosive substances, such as aerosol cans, with a flammable propellant in this product.
This product is intended to be used in household and similar applications such as kitchen areas.
Make sure the power cable is not trapped or damaged.
Do not place multiple portable power outlets behind the product.
Before cleaning or moving, switch off the product and disconnect the power.
Do not operate the product in the presence of explosive fumes.
Connect to a grounded outlet only.
When using an extension cord, use one that is as short as possible, fully extended, 1.5 mm2 size, approved.
Do not use the product where splashing of water might occur, e.g. bathroom, swimming pool or close to a washbowl.
Do not expose the product to direct sunlight, naked flames or heat.
Do not expose the product to water or moisture.
The product is intended for indoor use only.
Store the unit indoors.
Installing the product

Place the product on a stable and flat surface.
Clean the product with a damp cloth.
Dry thoroughly before use.
If the product has been tilted, allow it to stand upright for 20 to 30 minutes before plugging it in.
Plug the power plug in a working power outlet.
Press A5 to turn on the product.
Press A3 to adjust the cooling temperature.
4 A4 flashes during the adjustment.
4 The temperature in the product depends on the temperature in the surrounding area, the contents of the product and how often and how long the lid is opened.
4 For better cooling, keep the lid closed.
Specifications
| | |
| --- | --- |
| Product | Party Cooler |
| Article number | KAPC100SS |
| Dimensions (l x w x h) | 46 x 46 x 83 cm |
| Power supply | 220-240V~50Hz/ 0.40 A |
| Cooling temperature | 0 °C – 16 °C |
| Weight | 22.5 kg |
| Operating temperature | ~43 °C |
| Climatic class | SN / N / ST |
| Refrigerant | R600a / 31g |
| Insulating gas | Cyclopentane (C5H10) |