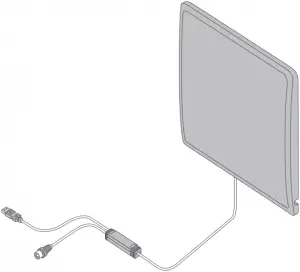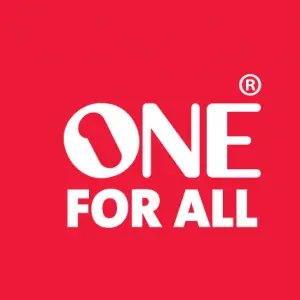 Before returning this product please call us for support
Customer Support:
Imported into the US by:
Universal Electronics Inc.
UEI Technical Support Services,
Suite 301
26250 Euclid Ave.
Euclid, OH 44132
One For All is a registered trademark of UEI
Made in Taiwan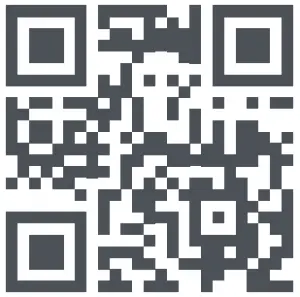 www.oneforall.com/assistantapp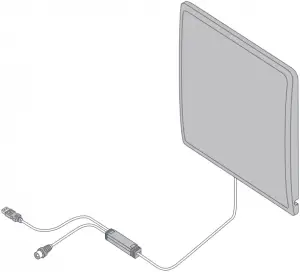 – Avoid metal surfaces (like a metal stand)
– Move the antenna close to or in a window
– Position the antenna as high as possible
WARRANTY / GUARANTEE INFORMATION
1 Year Limited Warranty against defects in material and workmanship can be found at www.oneforall.com/warranty, or you may request a hard copy by calling 855-569-6595, or via mail to UEI Technical Support Service, Suite 301, 26250 Euclid Ave., Euclid, OH 44132.
Please include your full name, product information, and contact information in your request communication.
LIMITED WARRANTY
Warranty: Universal Electronics Inc. warrants this product to be free from defects in material and workmanship for a period of one year from the date of purchase. This warranty does not apply to damage caused by shipping or handling, or damage caused by accident, abuse, misuse, misapplication, ordinary wear, improper maintenance, failure to follow instructions or as a result of any unauthorized modifications. The foregoing warranty shall apply only to the original buyer, and is and shall be in lieu of any and all other warranties, whether expressed or implied and of all other obligations or liabilities on the part of Universal Electronics Inc. neither assumes responsibility for, nor authorizes any other person purporting to act on its behalf to modify or to change this warranty, nor to assume for it any other warranty or liability concerning this product. The maximum liability for Universal Electronics Inc. under all circumstances for any warranty issue shall be limited to a replacement of the defective product. It is recommended that the customer check their equipment on a regular basis for proper operation.
Remedies: Your exclusive remedy under this Limited Warranty is that Universal Electronics Inc., at its option, will repair or replace, without charge for parts and/or labor, the product found to be defective.
Service Procedure: To obtain warranty service, visit www.oneforall.com/warranty and complete the form with your full name, contact information, product serial number, and description of the issue along with a legible copy/ image of your sales receipt showing date of purchase.
Disclaimer: THE FOREGOING LIMITED WARRANTY IS THE SOLE AND EXCLUSIVE WARRANTY BY UNIVERSAL ELECTRONICS INC. WITH RESPECT TO THE PRODUCTS. THERE ARE NO OTHER REPRESENTATIONS OR WARRANTIES, EXPRESS OR IMPLIED, EXCEPT AS REQUIRED BY APPLICABLE LAW. ANY IMPLIED WARRANTIES REQUIRED BY LAW ARE LIMITED IN DURATION TO WARRANTY PERIOD PROVIDED HEREIN. SOME STATES DO NOT ALLOW LIMITATIONS ON HOW LONG AN IMPLIED WARRANTY LASTS, SO THE ABOVE LIMITATIONS MAY NOT APPLY TO YOU.
IN NO EVENT SHALL UNIVERSAL ELECTRONICS INC. OR ANY OF ITS AFFILIATES BE LIABLE FOR ANY INCIDENTAL, SPECIAL, INDIRECT, CONSEQUENTIAL, OR MULTIPLE DAMAGES, INCLUDING BUT NOT LIMITED TO, LOST PROFITS, LOST OR DAMAGE TO SOFTWARE OR DATA, OR DAMAGE TO EQUIPMENT ARISING OUT OF THE USE OF ANY PRODUCT, EVEN IF ADVISED OF THE POSSIBILITY OF SUCH DAMAGES. THIS STANDARD WARRANTY GIVES YOU SPECIFIC LEGAL RIGHTS, AND YOU MAY ALSO HAVE OTHER RIGHTS, WHICH MAY VARY FROM STATE TO STATE. SOME STATES DO NOT ALLOW THE EXCLUSION OR LIMITATION OF INCIDENTAL OR CONSEQUENTIAL DAMAGE, SO THE ABOVE LIMITATIONS MAY NOT APPLY TO YOU.
Reception quality and the numbers of channels received are dependent on multiple factors like distance from TV broadcast tower, broadcast power, line of sight, terrain, metal construction materials and other environmental factors.
LEGAL NOTICES
This equipment has been tested and found to comply with the limits for a Class B digital device, pursuant to part 15 of the FCC Rules. These limits are designed to provide reasonable protection against harmful interference in a residential installation. This equipment generates, uses and can radiate radio frequency energy and, if not installed and used in accordance with the instructions, may cause harmful interference to radio communications. However, there is no guarantee that interference will not occur in a particular installation. If this equipment does cause harmful interference to radio or television reception, which can be determined by turning the equipment off and on, the user is encouraged to try to correct the interference by one or more of the following measures:
– Reorient or relocate the receiving antenna.
– Increase the separation between the equipment and receiver.
– Connect the equipment into an outlet on a circuit different from that to which the receiver is connected.
– Consult the dealer or an experienced radio/TV technician for help.
This device complies with part 15 of the FCC Rules. Operation is subject to the following two conditions: (1) This device may not cause harmful interference, and (2) this device must accept any interference received, including interference that may cause undesired operation.
Caution: Changes or modifications not expressly approved by the party responsible for compliance could void the user's authority to operate the equipment.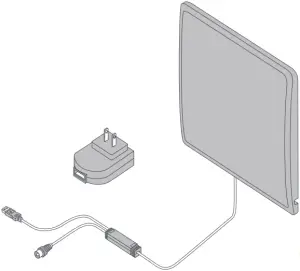 (x2)

(x2)
1
FIRST connect the USB cable to the power adapter. Alternatively you can plug the USB cable in one of your USB ports on the side or back of your TV (if available).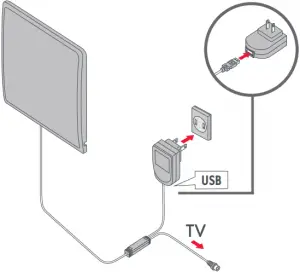 OR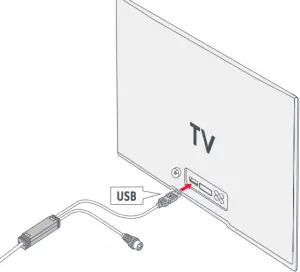 2
Then connect the coaxial cable attached to the ANTENNA IN connector at the back w the TV or set-top box.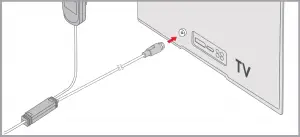 3 Decide how you would like to position the antenna:
WALL MOUNTED or FLAT.
Decide how you would like to position the antenna: FLAT or WALL MOUNTED. When mounting to a wall, you will have to drill 2 holes in your wall whereas the distance between the center of the holes should be 140 mm. Put the plugs in the holes and put the screws in the plugs.
We do suggest you to FIRST finalize this set up before drilling holes, since you might need to re-position the antenna for best reception.
Position the antenna as high as possible and move close to or in a window and facing the directions of the TV towers for best reception. A / B or C. If you are not sure in which direction your TV towers are, please check www.channelchecker.com and it will tell you in 3 simple steps.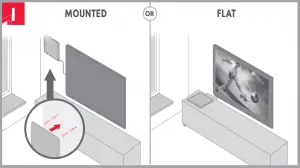 IMPORTANT!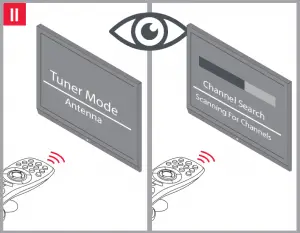 For detailed instructions on how to perform a channel scan, please see the manual provided with your TV.
In order to improve the reception performance you might look for a different position of the antenna by moving closer to or in a window and facing the direction of the TV towers.
You can also rotate the antenna while lying flat or standing for finetuning in order to improve reception even more.
IMPORTANT!