Using this onn 55" 4K LED Roku Smart TV (model number 100012586) user guide you can learn how to set the TV up and get the most out of it. It contains information on mounting or using the stand correctly as well as what the buttons on the remote control do.

55" 4K UHD TV Model: 100012586
*Roku, Roku TV, and the Roku logo are the trademarks of Roku, Inc. All other trademarks and logos herein are the property of their respective own
What's in the Box?
Check to make sure you have everything below.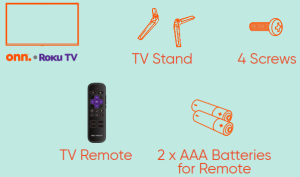 What you need
These are all of the items you will need to assemble your new on Roku smart TV.
Installing the Stands
Do not install the stands if you want to wall mount your TV. See your wall mount instructions or chat live at www.onntvsupport.com.
You will need: a Phillips screwdriver (not included
Place the TV screen down on a clean, flat, soft surface (e.g.: blanket) to prevent scratches or damage to the screen
Use a Phillips screwdriver to attach each strand with the provided screws.
Place the TV upright on a stable, level surface.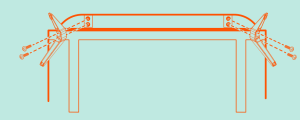 Grab your remote
The TV remote should feel right at home in your hand. Power your TV remote by inserting the included It was designed to be incredibly intuitive for watching TV and navigating on-screen menus. batteries carefully matching (+) and (-) indicated inside the battery compartment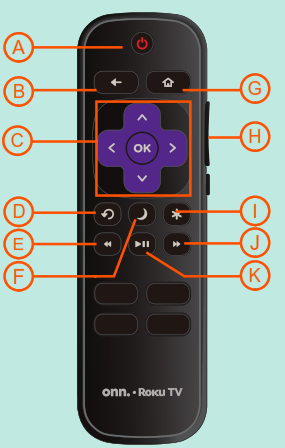 A Power
B back
C Directional keypad
D Channel recall
E Rewind
F Sleep
G Home
H Volume
I View more options
J Fast forward
K play/ pause
Visit go.roku.com/tvmanual for the complete Roku User Guide.
Connecting to Power
After connecting all your devices, connect the power cord to a power outlet. The TV enters standby mode and its indicator light turns red.
*Actual placement of TV ports may vary by model.
Setup and Activation
Tip: Have your wireless network name and password handy.
Follow the on-screen instructions on your onn.™ • Roku TV. If you aren't ready to connect your TV to a wireless network, you can still use it as a regular TV.
Activate your onn.™ • Roku TV using your computer, smartphone, or tablet to link to a Roku account. You need a Roku account to activate your onn.™ • Roku TV and access entertainment across thousands of streaming channels.
Note: Roku doesn't charge for activation support – beware of scams.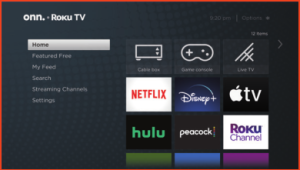 Endless Entertainment
Stream what you love, including free TV, live news, sports, and more. Never miss the most talked-about events, award-winning shows, latest blockbuster hits, and more. It's easy to stream what you love and cut back on cable bills with access to 500,000+ movies and TV episodes across thousands of free and paid channels.*
*Content resolution is based on TV compatibility and may vary by channel. Channels are subject to change, vary by region, and may require payment.
Customer Support and Warranty
Online Chat: www.onntvsupport.com
Customer Support:
844-334-2355
9am – 9pm EST daily
Visit go.roku.com/tvmanual for the complete Roku User Guide.
We recommend keeping your TV box for the duration of your warranty. See your product warranty for details.
© 2020 Walmart
onn. is a trademark of Walmart
All Rights Reserved.
2 YEAR WARRANTY
Text "ONN REGISTER" to "888111"
1-year manufacturer warranty with purchase or 2-year warranty with product registration. Message and data rates may apply.