You can learn in this guide how to correctly stup and use your onn 10.1" 64GB Tablet Pro (model number 100026203). It contains information on charging and accessing features such as Google Kid's Space and Voice Assistant.
onn 100026203 10.1 Inch 64GB Storage 3GB RAM Tablet Pro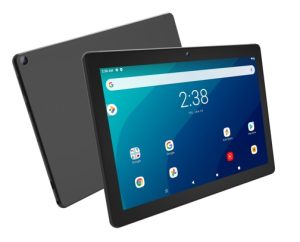 What's in the Box?
Check to make sure you have everything below.
Tablet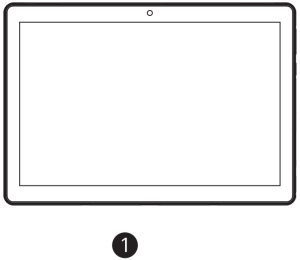 USB Cable
Charger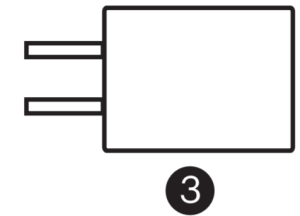 User Manual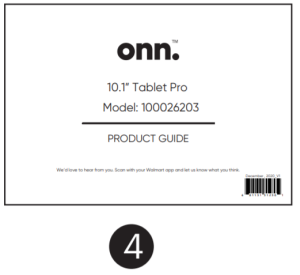 Quick Start Guide
Getting to Know Your Tablet

Camera(Rear)
Micro SD Card Slot
Earphone
Volume Control
Power On/Off
Speaker
USB Type C
Camera(Front)
Charging your tablet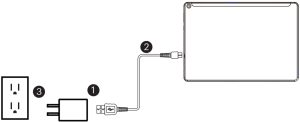 It is recommended to fully charge the tablet before first use.
To charge the tablet, plug the USB cable in to the AC adapter.
Attach the other end to the USB Type C input on the tablet.
Plug the AC adapter in to a wall outlet.
Turning on Your Tablet for the First Time
Press and hold the Power button 4-5 seconds until onn. logo appears.
Select your desired language, then tap START.
Follow the onscreen instructions to configure your tablet.

At the Start-up screen, slide your finger up to unlock.
Connection to Wi-Fi Networks
In order to connect to the internet, you will need the following:
A wireless router or an access point with a broad- band internet connection.
The name of your network(SSID), as well as then password or other credentials, if your network is secure.
The wireless router must support Wi-Fi 802.11 a/b/g /n /ac connections.
Go to

Settings > Network & internet > Wi-Fi Tap on Wi-Fi to activate wireless connectivity. The Tablet will scan for available Wi-Fi networks within range. Secured networks will require a password. Once you have successfully entered your information the tablet will remember your settings.
Connecting to Bluetooth Devices
Your Tablet is compatible with Bluetooth capable devices. Once your tablet searches and finds the Bluetooth device, follow on-screen instructions to initiate the pairing of the device with the Tablet. Add or "pair "a Bluetooth compatible device with your Tablet as follows:
Turn on the compatible Bluetooth device and make it discoverable.
Open the Settings > Connected devices.
Tap on Pair new device view available devices.
Set up Google Assistant
Your device supports Google Assistant. You can access Google Assistant at any time, even while your screen is off ; by saying "Hey Google". To get started follow the below steps. Note: Please make sure you are connected to Wi-Fi and signed into your Google account before setting up your Google Assistant.
Tap Google App > More > Settings > Voice > Voice Match.
Tap the slider to turn on Access with Voice Match, then tap > "Next" > "I Agree" > "Finish".
Tap Retrain voice model and follow the instruction to say "Hey Google" to record your voice, when the screen sho , tap "Next" > "I Agree" > "Finish" to finish set up.
Set up Google Kids Space
Follow the steps below to set up Google Kids Space.
When asked who is going to use the device, tap A child. (If you've previously set up the tablet, tap on the Google Kids Space icon )
Sign into your child's existing Google Account or follow the prompts to create a new Google Account for your child under 13 (or the applicable age in your country).
When prompted to set up Google Kids Space, tap Set Up.
Edit your child's settings and interests.
Remove Kids Space
In the bottom right, press and hold the Parent menu > Device Settings.
Go to Accounts to remove the account from the device. More details about Kids Space on g.co/KidsSpace
Swipe Right for Entertainment Space
After you have connected to Wi-Fi, from the home screen, slide your finger to the right to start Entertainment Space.
Select your content services from multiple providers and apps.
Enjoy millions of games, tv shows, movies, and books from your favorite free and paid services and apps.
The Fine Print
Walmart warrants this product against defects in material or workmanship for a period of one(1) year from the original date of purchase. During this period, Walmart will replace a defective part with a new or refurbished part without a charge to you. If your unit is deemed unrepairable, onn. will replace the unit with a new or refurbished unit at Walmart's sole discretion. The customer is responsible for transportation cost and insurance charges(if applicable) to Corporate. It is the customer's responsibility to retain the original packaging or provide like packaging in order to facilitate the warranty process. Walmart will incur no liability whatsoever to provide packaging for warranty items. Should the product be damaged due to insufficient packaging, the warranty may be voided.
You must receive a return authorization number (RMA #) before sending the unit in for service. Service that is provided is warranted for the duration of the original warranty or 45 days whichever is greater.
Your Responsibility
It is strongly recommended to make a backup copy of the contents on your hard drive in case of operational failure. Walmart will not be held liable for content that is on the device. Retain a copy of the bill of sale to provide proof of purchase. The warranty extends only to defects in materials or workmanship as limited above and does not extend to a cracked screen, damaged USB or DC port, cosmetic damage, or any other products, parts or accessories that have been lost, discarded, damaged by misuse or accident, neglect, acts of God such as lightning, voltage surges in the home, improper installation, or serial number rendered illegible.
Please contact Customer Support directly at 1-888-5162630. Hours of operation are from 7:00AM-to 9:00PM. You will be instructed on how your claim will be processed so have information available including the date of purchase, serial number and the problem with the product. Should a problem be determined to be within the limits of the warranty you will be provided with an(RMA) authorization number and instructions. Proof of purchase must be confirmed before any warranty service can be provided. Should a claim not be covered by the limited warranty, you will be asked whether you wish to have service provided for a fee.
Model # 100026203