Learn how to pair your onn Bluetooth FM Transmitter (model number 100079037) using this handy guide.

Wireless FM Transmitter and Car Charger
What's in the Box?
Check to make sure you have everything below.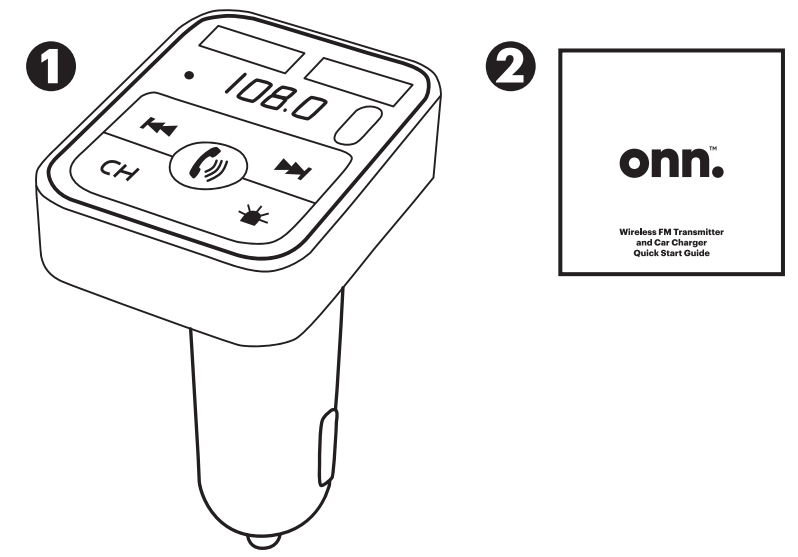 Wireless FM Transmitter and Car Charger
Quick Start Guide
Get to Know Your Bluetooth FM Transmitter
Controls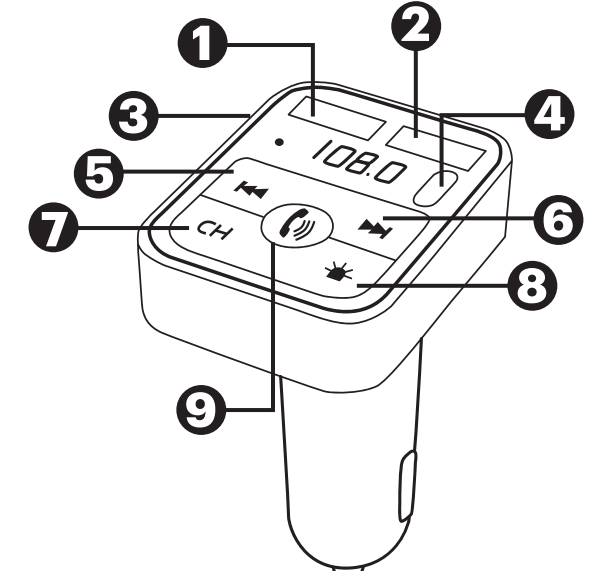 USB Music Drive 5V/1A Charging Port
5V/3.1A Charging Port
TF Card Reader
USB Type-C 5V/3.1A Charging
Reverse
Forward
FM Channel Selection on Button
Color Changing Selection Button
Bluetooth€ Hands-Free Button
Connecting to your vehicle's radio:
Insert the transmitter into your vehicle's 12V or 24V accessory port to power it on. Tune your car radio to an FM channel where there is no transmission. Press the CH button on the transmitter and use Forward or Reverse buttons the set the transmitter to the same FM frequency.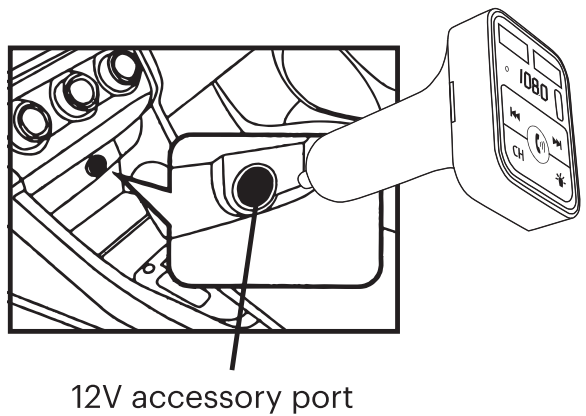 Pairing with your Bluetooth device
Activate your smartphone or other device's Bluetooth interface and connect to the transmitter. Look in the Bluetooth settings for "one. Car FM Transmitter." Your Bluetooth device will now play over your car stereo.
Open your device's music player and stream music to your device, or insert a USB drive with music. The MP3 audio files will be automatically recognized and the music will play or insert a TF card with music. The MP3 files will be automatically recognized and the music will play.

Bluetooth Hands-free Usage
A quick and simple button will allow you to keep your eyes on the road and your hand on the wheel. Press the hands-free button once to answer or hang up a call.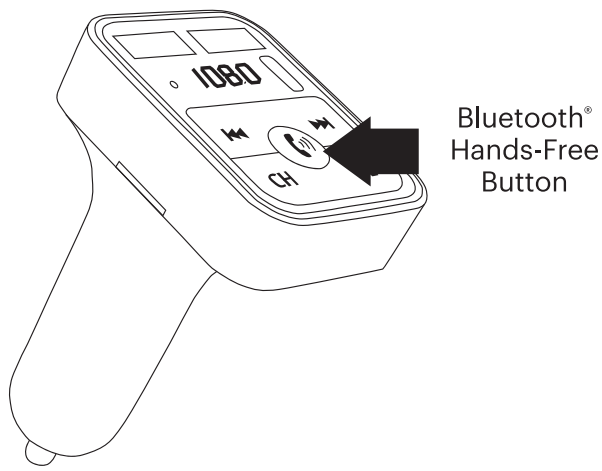 Charging your Device
Connect your device's charging cable to one of the three charging ports. Note: for the fastest charging connect to the 3.1 A USB port or to the USB Type-C port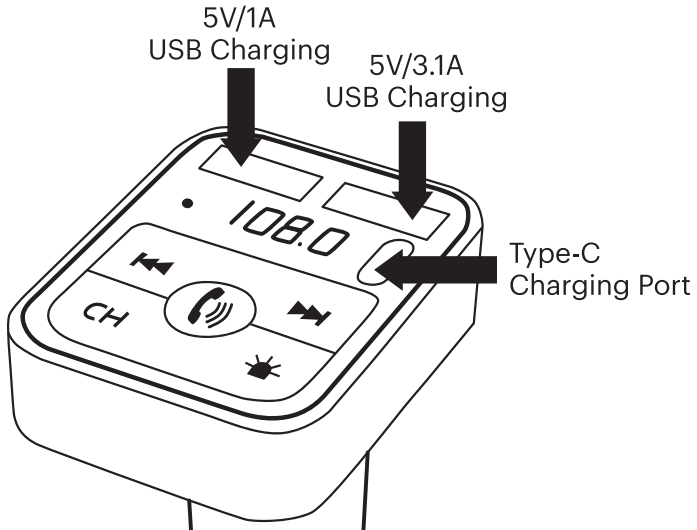 But Wait … There's More!
Battery health check! When first activated the product will display the vehicle's battery voltage.
The Fine Print
This device complies with Part 15 of the FCC. Operation is subject to the following two conditions: (1) this device may not cause harmful interference, and (2) this device must accept any interference received, including interference that may cause undesired operation. Changes or modifications not expressly approved by the party responsible for compliance could void the user's authority to operate the equipment. This equipment has been tested and found to comply with the limits for a Class B digital device, pursuant to part 15 of the FCC Rules. These limits are designed to provide reasonable protection against harmful interference in a residential installation. This equipment generates uses and can radiate radio frequency energy and, if not installed and used in accordance with the instructions, may cause harmful interference to radio communications. However, there is no guarantee that interference will not occur in a particular installation. If this equipment does cause harmful interference to radio or television reception, which can be determined by turning the equipment o and on, the user is encouraged to try to correct the interference by one or more of the following measures:
Reorient or relocate the receiving antenna.
Increase the separation between the equipment and receiver.
Connect the equipment into an outlet on a circuit different from that to which the receiver is connected.
Consult the dealer or an experienced radio/TV technician for help.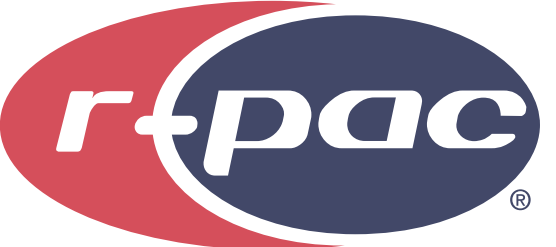 WM_ONN Xtreme 100079037
BT FM trans feature
QSG OPT01 12/24/2021