The onn Bluetooth Earphones (model number ONN24715) can be used with a smart device to listen to and control music. You can also use the Bluetooth earbuds once paired to your smartphone to answer phone calls.

24715 Wireless Earphones User Guide
Get to Know Your Wireless Earbuds
Model: 100024715
Speaker Diameter: 7mm
Speaker Impedance: 32Ω±10%
Sensitivity : 109±3dB at 1KHz
Speaker Driver Rating Power: 3mW
Charging Cable : 25cm
24 hours of total playtime in normal mode (with charging case)
IPX5 waterproof rating applies to the earphones, not to the charging case.
What's in the Box?
Check to make sure you have everything below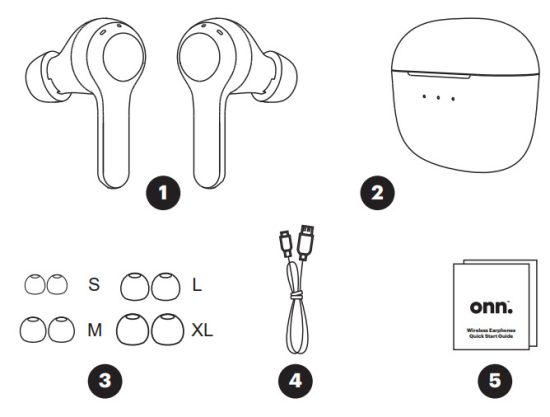 Earphones x1 pair
Charging case x1
Eartips x5 pairs, memory foam ear tips installed
USB-C charging cable x1
Quick Start Guide x1
First Time Setup

Place earphones into the charging case for initial activation and close the lid to fully charge.

Open the charging case lid; pairing mode is automatically initiated.
Connect to your device through Bluetooth wireless technology: Search for the entry "onn. True Wireless ANC" on your device.
Power On/ Power Off and Pairing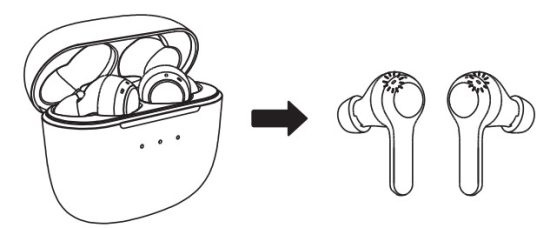 Open the charging case lid, earphones will Power On automatically and connect to the last paired device

Place earphones back into the charging case and close the lid, earphones will Power Off automatically and disconnect to the paired device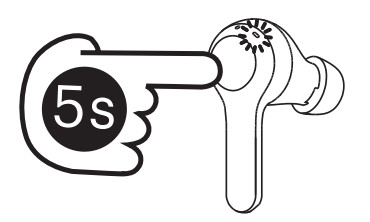 Press & Hold for 5 seconds, earphones will be manually Power On/ Power Of.
(If you are carrying the earphones without a charging case)

If you want to pair with another device, please turn of Bluetooth from your last paired device if it is nearby, then open the charging case cover for pairing, it takes about 6~8 seconds to search for another device
Enjoy your music and Take a Clear Phone Call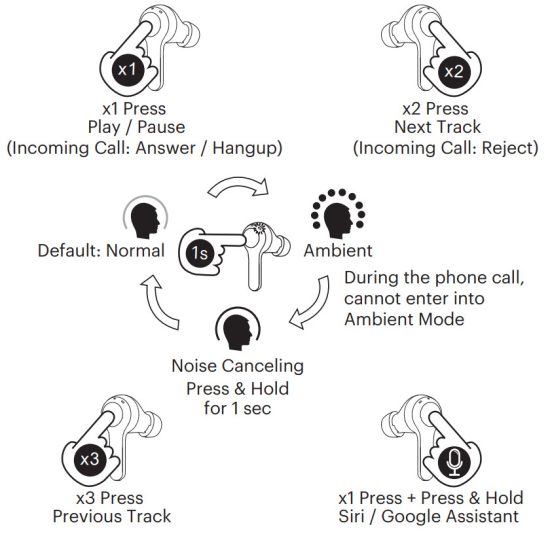 Charging Your Earphones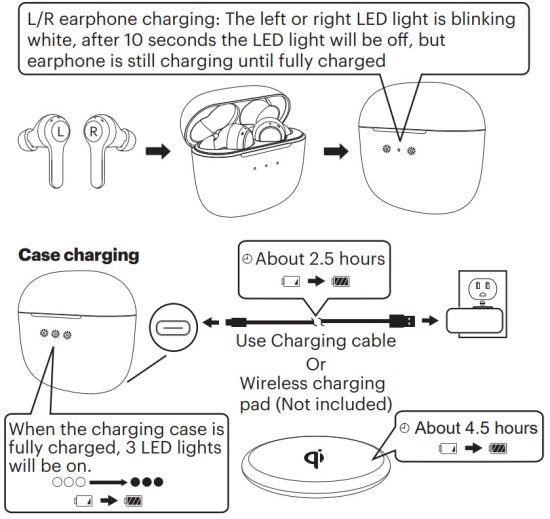 The Fine Print
FCC Statement
This equipment has been tested and found to comply with the limits for a Class B digital device, pursuant to Part 15 of the FCC Rules. These limits are designed to provide reasonable protection against harmful interference in a residential installation. This equipment generates uses and can radiate radio frequency energy and, if not installed and used in accordance with the instructions, may cause harmful interference to radio communications.
However, there is no guarantee that interference will not occur in a particular installation. If this equipment does cause harmful interference to radio or television reception, which can be determined by turning the equipment off and on, the user is encouraged to try to correct the interference by one or more of the following measures:
Reorient or relocate the receiving antenna.
Increase the separation between the equipment and receiver.
Connect the equipment into an outlet on a circuit different from that to which the receiver is connected.
Consult the dealer or an experienced radio/TV technician for help. This device complies with part 15 of the FCC Rules. Operation is subject to the following two conditions: ( 1 ) This device may not cause harmful interference, and (2) this device must accept any interference received, including interference that may cause undesired operation.
Warning:
Changes or modifications to this unit not expressly approved by the party responsible for compliance could void the user´s authority to operate the equipment.
Need help?
We're here for you every day from 7 a.m.-9 p.m. CST. Give us a call at 1-888-516-2630.
Produced for Walmart Inc.,
Bentonville, AR 72716