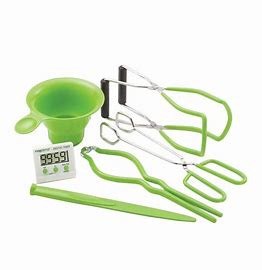 7-Function Canning Kit
Set Includes:
Use to precisely count down processing times. (See Operating Instructions enclosed in timer package.)
Use to easily fill regular and wide-mouth canning jars.
Use flat end to gently release trapped air bubbles from liquid in jars. Use magnetic end to assist in removing canning lids from hot water.
Use to safely and easily place jars in canner before processing and then remove hot jars from canner after processing.
Use to safely handle hot foods during preparation for canning.
Use to help remove screw bands that have become stuck in place due to liquid loss during canning. (Always remove screw bands after the jars have cooled completely, 12 to 24 hours after processing, and before storing.)
Cleaning Instructions:
Wash the lid lifter, jar lifter, kitchen tongs, and jar wrench in warm, soapy water. These utensils are not dishwasher safe.
The canning funnel may be washed in the dishwasher on the rack farthest from the heating element.
Wipe the timer with a damp cloth.
Consumer Service Information
If you have any questions regarding the operation of your Presto® Canning Kit, contact us by any of these methods:
Call 1-800-877-0441 weekdays 8:00 AM to 4:30 PM (Central Time)
Email us through our website www.GoPresto.com/contact
Write to National Presto Industries, Inc., Consumer Service Department, 3925 N. Hastings Way, Eau Claire, WI 54703-3703
Inquiries will be answered promptly by email, telephone, or letter. When emailing or writing, please include a phone number and a time when you can be reached during weekdays if possible. Be sure to indicate date of purchase and a description of defect when sending a product. Send products to:
Canton Sales and Storage Company, Presto Factory Service Department, 555 Matthews Dr., Canton, MS 39046-3251
Presto® Limited Warranty
This quality Presto® product is designed and built to provide many years of satisfactory performance under normal household use. Presto pledges to the original owner that should there be any defects in material or workmanship during the first year after purchase, we will repair or replace it at our option. Our pledge does not apply to batteries, if any, or to damage caused by shipping. Outside the United States, this limited warranty does not apply.
To obtain service under the warranty, please call our Consumer Service Department at 1-800-877-0441. If unable to resolve the problem, you will be instructed to send your Presto® product to the Presto Factory Service Department for a quality inspection; shipping costs will be your responsibility. When returning a product, please include your name, address, phone number, and the date you purchased the product as well as a description of the problem you are encountering with the product.
We want you to obtain maximum enjoyment from using this Presto® product and ask that you read and follow the instructions enclosed. Failure to follow instructions, damage caused by improper replacement parts, abuse, misuse, disassembly, alterations, or neglect will void this pledge. This warranty gives you specific legal rights, and you may also have other rights which vary from state to state. This is Presto's personal pledge to you and is being made in place of all other express warranties.
National Presto Industries, Inc. Eau Claire, WI 54703-3703
©2021 National Presto Industries, Inc. Form 72-867B