This is the digital version of the included user guide that came originally with your SAMSUNG Galaxy Watch4 Classic.

SAMSUNG Galaxy Watch4 Classic User Guide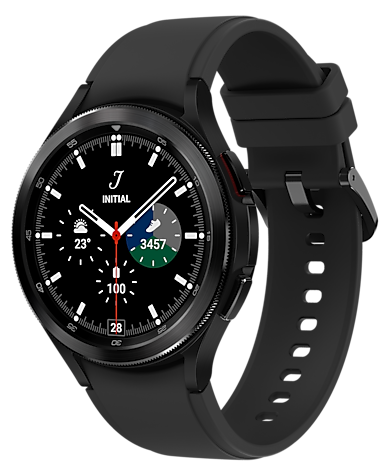 Get to know your device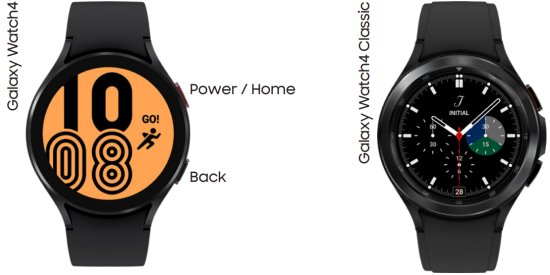 Galaxy Wearable

Tips and user manual
Get connected
Download the Galaxy Wearable app to connect your device and smartphone.
Activate your Galaxy Watch
The Galaxy Watch4 Classic (SM-R885U & SM-R895U) and the Galaxy Watch4 (SM-R865U & SM-R875U) are 4G LTE-enabled. Get texts, make and receive calls, even when you leave your phone behind. Consult your service provider for details about activation.
APPROVED FIRMWARE VERSIONS
This device will only operate with firmware versions that have been approved for use by your wireless carrier and the device manufacturer. If unauthorized firmware is placed on the device it will not function.
INFORMATION ABOUT SAFEGUARDING DEVICES
We encourage customers to take appropriate measures to secure their devices and invite them to take advantage of the features available on this device to help secure it from theft and/or other unauthorized access and use. This device has a locking function (e.g., user-defined codes or patterns) that can serve as a first line of defense against unauthorized use or access to stored information. Reloaded security applications that allow customers to track or locate misplaced devices can be found on several devices. Lost or stolen devices should be immediately reported to your wireless carrier so that proper measures can be taken to protect accounts. For additional information, visit your wireless carrier's Privacy Policy.
Terms and Conditions
Important legal information
Read this document before operating the mobile device, accessories, or software (defined collectively and individually as the "Product") and keep it for future reference. This document contains important Terms and Conditions. Electronic acceptance, opening the packaging, use, or retention of the Product constitutes acceptance of these Terms and Conditions.
Arbitration Agreement – This Product is subject to a binding arbitration agreement between you and SAMSUNG ELECTRONICS AMERICA, INC. ("Samsung"). You can opt out of the agreement within 30 calendar days of the first consumer purchase by emailing or calling 1-800-SAMSUNG (726-7864) and providing the applicable information.
The full Arbitration Agreement, Standard One year Limited Warranty, End User License Agreement (EULA), and Health & Safety Information for your device are available online at www.samsung.com/us/support/legal/mobile
If your device required Federal Communications Commission (FCC) approval, you can view the FCC certification on the watch by opening Settings > About watch > Device.
Samsung Knox
For more information about Knox, please refer to: www.samsung.com/us/knox
Specific Absorption Rate (SAR)
For information about SAR, visit:
Samsung mobile products and recycling
WARNING! Never dispose of batteries in a fire because they may explode. Do not disassemble, crush, puncture, heat, burn or reuse. For more recycling information, go to our website:
www.samsung.com/recycling or call 1-800-SAMSUNG.
FCC Part 15 information and notices
This device complies with part 15 of the FCC Rules. Operation is subject to conditions:
This device may not cause harmful interference, and
this device must accept any interference received, including interference that may cause undesired operation.
Emergency calls
Emergency calls may not be possible on all wireless mobile device networks or when certain network services and/or mobile device features are in use. Check with local service providers. If certain features are in use (e.g. call blocking) you may first need to deactivate those features before you can make an emergency call.
Exposure to Radio Frequency (RF) signals
For information, go to www.samsung.com/us/support/legal/mobile>Health and Safety Information > Exposure to Radio Frequency (RF) signals.
For additional Health & Safety information, including Samsung's Knox security platform, Maintaining Dust & Water Resistance, Navigation, GPS, AGPS, and Wireless Emergency Alerts (WEA), see
English
www.samsung.com/us/support/legal/mobile
Spanish:
www.samsung.com/us/support/legal/mobile-sp
Use only Samsung-approved charging devices and accessories. Using other accessories may void your warranty and may cause damage.
Need support?
Samsung Care+
Get coverage for repairs and 24/7 dedicated support.
Visit Samsung.com/us/support/samsung-care-plus
Samsung Support
Get direct access to FAQs, tips and tricks, videos, and more.
Visit samsung.com/us/support
Samsung Care - YouTube
Check out the latest support videos to help you with your Samsung product.
Visit Youtube.com/samsungcare
Samsung Electronics America, Inc
85 Challenger Road
Ridgefield Park, New Jersey 07660
Phone: 1-800-SAMSUNG (726-7864)
Internet: www.samsung.com
© 2021 Samsung Electronics America, Inc. Samsung & Samsung Galaxy are registered trademarks of Samsung Electronics Co., Ltd. Other company and product names mentioned herein may be trademarks of their respective owners. Screen images simulated. Appearance of device may vary. Images shown are for reference only. If you use a screen protector, make sure it allows for use of touch-screen features.
FAQS
What is Samsung Galaxy Watch4 Classic?
The Samsung Galaxy Watch4 Classic is a smartwatch from the company's Galaxy Watch series. It features a 1.2-inch circular Super AMOLED display with 360 x 360 resolution, a rotating bezel, and a water-resistant design. The device runs on Tizen OS 4.0 and is powered by Exynos 9110 Dual core 1.15GHz processor with 768MB of RAM.
What are the key features of Samsung Galaxy Watch4 Classic?
The key features of the Samsung Galaxy Watch4 Classic include 4G LTE connectivity, IP68 dust and water resistance, rotating bezel, heart rate sensor, barometer sensor, accelerometer, gyroscope, GPS/Glonass/Beidou/Galileo sensors, 512MB RAM, 768MB storage space and 300mAh battery capacity.
How much does the Samsung Galaxy Watch4 Classic cost?
The price of the Samsung Galaxy Watch4 Classic in India ranges from Rs 28,990 to Rs 32,990 depending on the colour variant you choose. It comes in Black colour option.
Where can I buy the Samsung Galaxy Watch4 Classic?
You can buy the Samsung Galaxy Watch4 Classic from Amazon or Flipkart .
How waterproof is the watch?
Secondly, a lot of people seem to be answering without having a single shred of evidence of even the right information. Like saying that Samsung says that you can use the watch no more than five (5) meters while in fact it's fifty (50) that's quite a difference.
That watch has a waterproof of 5 ATM + 68
ALSO I WILL QUOTE :
"Water-resistant up to 50 meters per ISO standard 22810:2010. Not intended for scuba diving. Avoid excessive, sudden temperature changes and high-velocity activities. Rinse in fresh water/dry after use in sea water or chlorinated water."
so now you get the right information!
Does the watch support indoor cycling?
Yes
Does this watch work for golfers ?
No, if the watch detects a golf club nearby it will shut off.
Can you purchase this watch with my health spending account
That's a good question for you fsa Manager
What is the size of the band?
20 mm
Can you record voice memos?
Yes. And you can record up to 10 minutes of converted speach to text.
Is this the samsung electronics galaxy watch 4 classic 46mm that came out in 2021?
Yes
does Samsung watch 4 measure bp?
No
Where is this watch made?
In a Samsung factory
What is the privacy policy like? Does the watch require an app? Does Samsung share the information gathered about health and the phone?
Sure your information is shared! Every company that collects your data will share it at some point. And yes you need a separate app to use the health features of the watch. (Samsung Health)
Does it track the steps you walk?
Yes, very accurate.
Can it upload your activities to Strava?
Yes
When will the galaxy watch 4 monitor B.P.
It does monitor BP. Just have to dl the app to go with it.