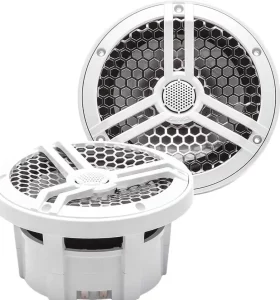 Skar Audio SK65M 6.5″ 2-Way Marine Full Range 320 Watt Coaxial Speakers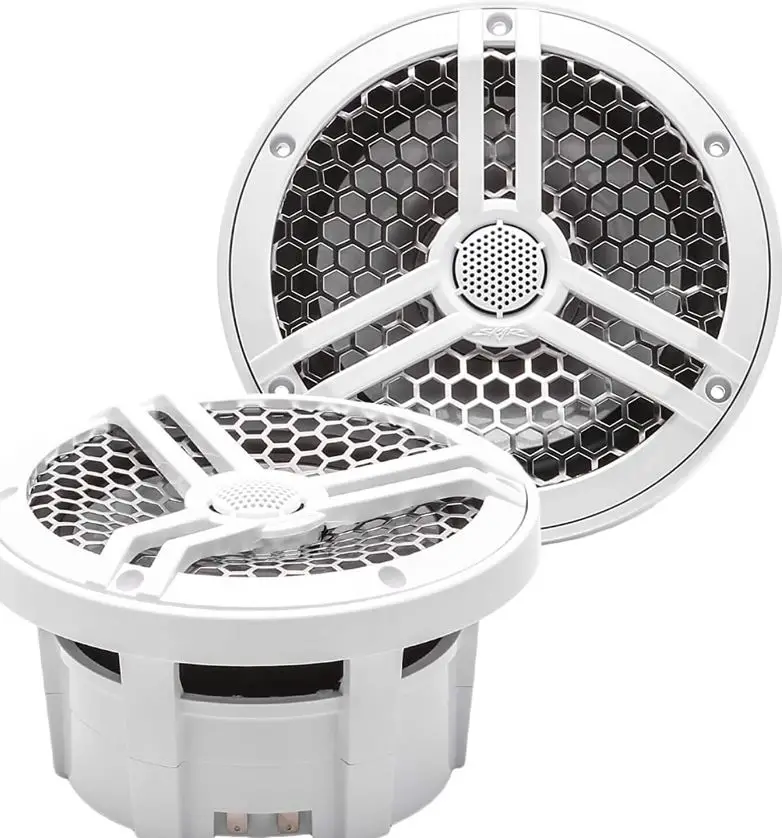 Specifications
DIMENSIONS: ‎7 x 7 x 4.25 inches
WEIGHT: 9.7 pounds
PEAK POWER: 320 Watts (Pair)
RMS POWER: 160 Watts (Pair)
IMPEDANCE: 4 Ohm
FREQUENCY RESPONSE: 57 Hz – 20 kHz
SENSITIVITY: 88 dB
BRAND: Skar Audio
Introduction
Skar Audio SK65M is a two-way marine full-range coaxial speaker with a diameter of 6.5 inches. The speaker pair have the capability to provide a peak power of 320 watts and a rms power of 160 watts. The SK65M are the best sounding speakers for boats in the water. These coaxial speakers have the ability to bring incredibly loud and clear audio, making your day on the water even better. The speakers are specifically designed for watercraft. They have the ability to produce maximum volume and sound clarity. These speakers can endure tough and hardest conditions due to their strong design. The speakers use a 1.2" voice call which provides maximum sound output.
The SK65M speaker pair features a premium microfiber mineral-filled mid-woofer cone and an impedance of 4 ohms. The frequency response of these speakers ranges between 57 Hz to 20kHz.
What's in the Box?
Skar Audio SK65M Marine 6.5″ 2-Way 320-Watt Coaxial Speakers, Pair (White)
Mounting Hardware
Instruction Manual
Mounting Specifications
Mounting Depth: 3.25″
Cutout Diameter: 5.75″
Bolt Hole Circle Diameter: 6.10″
Magnet Cover: 5.30″
Overall Height: 4.25″
Outside Diameter: 7.00″
FREQUENTLY ASKED QUESTION
Is 6.5″ the diameter of the speaker bezel? What is the diameter of the mounting hole?
The diameter of the mounting hole is about 3.25 inches.
Will they fit in a 6.5-inch wakeboard tower can?
If the diameter of the cut out of the tower can is 5.57 inches, these speakers will fit perfectly.
How loud do they get before distortion?
They produce high quality sound without getting any distortions up to a very high volume.
Can the speaker grills be removed?
No, the speaker grills can't be removed and they come as one whole unit
Can you get different color covers for these?
You can't get different color covers, however, the speaker themselves come in black and white color.
Are they 9.65 lbs. per speaker or 9.65 lbs. total shipping weight as a pair?
9.65 lbs. is the weight of the total shipping pair.
Will the magnet cover come off? I'm going to install them in a tight space.
No, the magnet cover doesn't come off.
Are these Bluetooth speakers?
No, the Skar SK65M are not bluetooth speakers, they are coaxial speakers that require to be wired to the head unit/amplifier.
What is the Mounting depth?
The mounting depth of these speakers is about 3.25".
What is the recommended Wire size?
14-gauge wire.
Are the mounting screws stainless steel?
Yes, they are stainless steel.
Can I use marine speakers in a car?
Yes, you can use the marine speakers in a car. The major difference between the two types of speakers is that marine speakers can handle more moisture as compared to car speakers.
What is the rms on these speakers?
The RMS power of these speakers in 160 watts.
Are these speakers hard-wired or Bluetooth?
They are coaxial speakers and don't use Bluetooth for connectivity.
Do you haft to have a marine amp for an amp to work on them?
No, it isn't necessary.
Do I need an amp to use these speakers?
The SK65M speakers don't require amp to function, however, in order to get the best quality audio on the output, it is recommended to use them with an amplifier.
Do they come with a template for the cut out?
Yes, these speakers come with a template, a seal for each speaker's cut out and stainless mounting hardware.