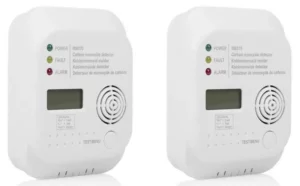 smartware Carbon Monoxide Detector User Manual

GENERAL INFORMATION
Thank you for purchasing this Smartwares carbon monoxide alarm!
Please read these instructions carefully before using the carbon monoxide alarm. Retain this information in a safe and easily accessible place for future use and maintenance. If you have anyquestions or if you are looking for additional information about your carbon monoxide alarm or prevention of carbon monoxide poisoning, please visit our website www.smartwares.eu.
Make/model number: FA370
Description: Battery powered carbon monoxide alarm with an electrochemical Figaro sensor with a lifetime of 7 years. This apparatus contains a 3 x DC 4,5V AA 1,5VDC LR6 Alkaline batteries with a lifetime of 1 year and is supplied with a wall plug and screw.
Function: Carbon monoxide alarm device intended to alert persons in case of carbon monoxide leakage to give them time to react properly to the danger.
Scope of application: Carbon monoxide alarm for buildings with residential function.
PRODUCT OVERVIEW
IMPORTANT
The alarm is designed in order to detect carbon monoxide; it cannot prevent a leakage!
The carbon monoxide alarm may not be painted or covered because this may cause loss of functionality.
The carbon monoxide alarm must be replaced no later than 7 years after initial activaton. Fill out the activation date on the rating label on the product and mark the replacement date in your calendar or register for free at smartreminder.eu.
WHAT IS CARBON MONOXIDE
Carbon Monoxide (CO) is an insidious poison that is released when fuels are burnt. It is a colorless, odorless, tasteless gas and therefore very difficult to detect with the human senses. CO kills hundreds of people each year and injures many more. It binds to the hemoglobin in the blood and reduces the amount of oxygen being circulated in the body. In high concentrations, CO can kill in minutes. CO is produced by the incomplete combustion of fuels such as wood, charcoal, coal, heating oil, paraffin, petrol, natural gas, propane, butane etc.
Examples of CO sources:
Running engine in garage : Gas appliances
Oil and Gas furnaces : Portable generators
Wood stoves : Gas or kerosene heaters
Barbecues : Clogged chimneys
Wood and gas fireplaces : Heating boiler
SYMPTOMS OF CO POISONING
The following symptoms may be related to CO poisoning (ppm = parts per million/ 1:1000.000):
| | |
| --- | --- |
| 35 ppm | The maximum allowable concentrati on for continuous exposure for healt hy adults in any 8 hour period |
| 200 ppm | Slight headaches, fatigue, dizziness, nausea after 2-3 hours. |
| 400 ppm | Frontal headaches within 1-2 hours, life threatening after 3 hours |
| 800 ppm | Dizziness, nausea and convulsions within 45 minutes. Unconsciousness within 2 hours. Death within 3 hours |
| 1600 ppm | Headache, dizziness and nausea within 20 minutes. Death within 1 hour. |
| 6400 ppm | Headache, dizziness and nausea within 1-2 minutes |
G THE CO ALARM
Carbon Monoxide alarm is designed to detect the toxic CO fumes that result from incomplete combustion, such as those emitted from appliances, furnaces, fireplace and auto exhaust. If your dwelling is on a single story, for minimum protection you should fit an alarm in the bedrooms or in the hallway of sleeping areas. Place it as near to the sleeping areas as possible and ensure the alarm is audible when the bedrooms are occupied. If your dwelling is multi-story, for minimum protection at least one alarm on each floor.
NOTE: For maximum protection an alarm should be fitted in or near every room that contains a fuel-burning appliance such as any gas fires, central heating boilers, room heaters, water heaters, cookers, grills, etc.
This alarm will only indicate the presence of carbon monoxide gas at the sensor. Carbon monoxide gas may be present in other areas.
a carbon monoxide alarm does not function as a replacement for a smoke or gas detector.
POSITIONING THE CO ALARM
Carbon monoxide (CO) has a similar density to warm air and, to ensure that the most effective use is made of the detector, it should be fitted as follows: In rooms with a fuel-burning appliance CO will mix with the warm air and rise up. Place the CO alarm at the wall, 15 – 80cm's below the ceiling but above the top of any doors or windows at a horizontal distance of 1-3 meters from the possible source of CO. In rooms where people may sleep or are present for a longer period of time (bedrooms, living room) place the CO alarm at breathing height. For more information and examples see www.smartwares.eu.
Areas to be avoided include the following:
Situations where the temperature may fall below 0°C or rise above 45°C
Any area where high levels of dusty, dirty or greasy emissions could contaminate or clog the sensor.
Behind drapes or furniture.
In the path of air discharged from a furnace / air conditioning vent or ceiling fan.
Outside the building.
Directly above a sink or cooker.
This carbon monoxide alarm is designed for indoor use only. Do not expose to rain or moisture. It will not protect against the risk of carbon monoxide poisoning when the battery has drained. Do not open or tamper with the alarm as this could cause malfunction and risk of electric shock.
INSTALLING THE CO ALARM (1)
This CO alarm is powered by a battery and requires no additional wiring. Make sure the alarm can be heard from all sleeping areas or place several alarms.
Wall mount installation:
Having established the mounting location ensure that there is no electrical wiring or pipe work in the area adjacent to the mounting surface.
Mark the mounting hole location, drill a ø 5mm hole in the marked position and insert the wall plug. – Insert the screw provided until the screw head is 5mm from the wall.
Insert the screw provided until the screw head is 5mm from the wall. Screw on the mounting bracket, do not overtighten.
Remove the plastic sealing from the batteries and insert them into the battery compartment. Make sure that you fit the batteries in accordance with the polarity markings (+ or -) within the battery compartment. If correctly installed, the alarm will give a short beep. Assemble the alarm onto the mounting plate.
This CO alarm will be activated automatically the first time it is placed on the screw.
Test whether the CO alarm is functioning properly by holding the test button on the front of the alarm for 2 seconds. The unit will sound 4 beep tones and the red LED will flash at the same time.
OPERATING YOUR CO ALARM (2) Normal Operation
When no carbon monoxide is present, the green "Power" indicator LED flashes every 45 seconds and is an indication that your alarm is powered and functional.
Fault indicator
If the unit chirps 2 times every 10 seconds and the yellow "Fault" LED flashes, the CO alarm is not functioning properly. The LCD display will show "Err". The CO alarm will not detect CO and you are not protected. Contact Smartwares for assistance.
Alarm Condition
When the unit detects dangerous levels of CO, it will emit an alarm signal of 4 beeps followed by 5 seconds of silence along with flashing of the red "Alarm" LED.
This will continue as long as there is a dangerous level of CO present. Should the CO levels return to normal, the unit will stop beeping and return to standby mode automatically.
| | |
| --- | --- |
| CO-LEVEL (PPM) | RESPONSE TIME (MIN) |
| 30 ppm | > 120 min. |
| 50 ppm | 60-90 min. |
| 100 ppm | 10-40 min |
| 300 ppm | < 3 min |
Returning to normal operation
When the carbon monoxide gas disperses and the unit has been reset, the alarm signal will stop. The green power lamp will continue to flash approximately twice every minute.
Low Battery Signal / End of life warning
When the battery is empty the alarm will beep 1 time every 45 seconds and the green "Power" LED will flash at the same time up for 7 days. The battery in the apparatus needs to be replaced as soon as possible. When your CO alarm needs replacing, the unit will beep 2 times and Red "Alarm" LED indicator and yellow "Fault" LED indicator will flash 2 times. The apparatus needs to be replaced as soon as possible with a new CO alarm.
TESTING YOUR CO ALARM
It is recommended that you test your CO alarm once a month to ensure the alarm is working correctly by pressing and holding the test button on the front of the alarm for 2 seconds. The alarm will sound 4 beep tones and the red LED will flash at the same time.
MAINTAINING YOUR CO ALARM
Your alarm will alert you to potentially hazardous CO concentrations in your home when maintained properly. To maintain your alarm in proper working order, it is recommended that you:
Test your alarm at least once a month.
Clean your CO alarm regularly to prevent dust build up. This can be done using a vacuum cleaner with the brush attachment once per month. Clean gently around the front grilled section and sides.
Never use cleaning solutions on your alarm. Simply wipe with a damp cloth.
Do not paint the alarm.
ATTENTION
When scouring or stripping a wooden floor, painting, wallpapering or using adhesive or aerosol, you should remove the carbon monoxide detector and keep it in a safe place to prevent damaging the sensor. High concentrations of the following substances can damage the sensor, which often results in a false alarm: methane, propane, isopropyl butane, ethylene, ethanol, alcohol, isopropyl alcohol, benzene, toluene, ethyl acetate, hydrogen, hydrogen sulfate and sulfur dioxide. Also aerosol sprays, alcoholic products, paint, solvents, adhesive, hair spray, aftershave, perfume and certain cleaning agents can cause damage
WHAT TO DO IN THE EVENT OF AN ALARM
In the event the CO alarm raises an alarm:
Immediately move to fresh air outdoor or open all doors/windows to ventilate the area and allow the carbon monoxide to disperse. Where possible turn off fuel burning appliance. Evacuate the building and do not re-enter the premises nor move away from the open door/window until emergency services responders have arrived, the premises have been aired out, and your alarm remains in its normal condition.
Seek medical help immediately for anyone suffering from the symptoms of headache, drowsiness, nausea, etc. Do not use the appliances again until they have been checked by a qualified technician and the fault located and cleared.
This product is not designed for use in a recreational vehicle or mobile home. The alarm should be installed by a competent person. This apparatus is designed to protect individuals from the acute effects of carbon monoxide exposure. It will not fully safeguard individuals with specific medical conditions. If in doubt consult a medical practitioner.
The installation of this CO alarm should not be used as a substitute for proper installation, use and maintenance of fuel burning appliances including appropriate ventilation and exhaust systems.
TECHNICAL DATA
Power Source: DC 4.5V Alkaline battery type : 3x LR6 1,5VDC
Sensor Type electrochemical sensor
Type of Gas sensed Carbon Monoxide
Sensor Lifetime 7 Years
Alarm activation 30 ppm (after 120 min.)

50 ppm (Between 60-90 min.)
100 ppm (Between 10-40 min.)
300 ppm (Within 3 minutes)

Operation Temperature 0°C~45°C (storage: -20°~50°C ± 2°C)
Ambient Humidity 0%~90% RH (storage: 0%~70% RH)
Horn Level >85 Decibels at 1 meter
Battery Life 1 year
Condition
Normal operation
Testing
Alarm
Malfunction
Low battery signal
End of Life
LED
Green LED flashes every 45 seconds
Red LED flashes rapidly
Red LED flashes rapidly
Yellow LED flashes
Green LED flashes every 45 seconds
Red and Yellow LED flashes 2 times
Sound
None
4 beeps followed by 5 seconds of silence
4 beeps followed by 5 seconds of silence
2 beeps every 10 seconds
1 beep every 45 seconds
2 beeps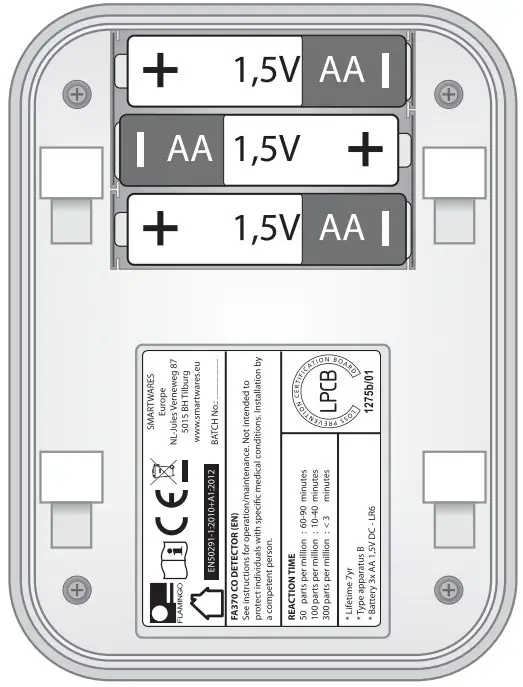 For indoor use only.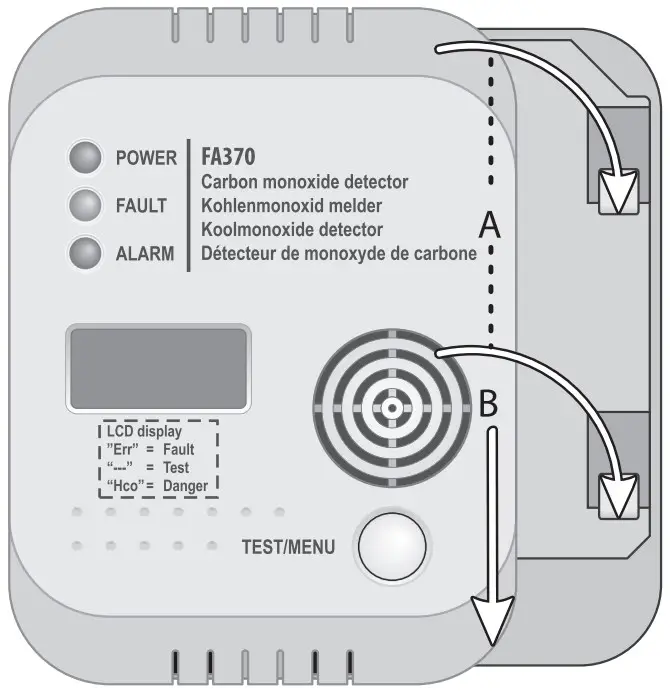 Please read manual before use, and store it carefully for future use and maintenance.