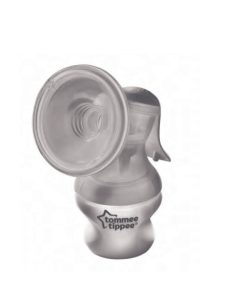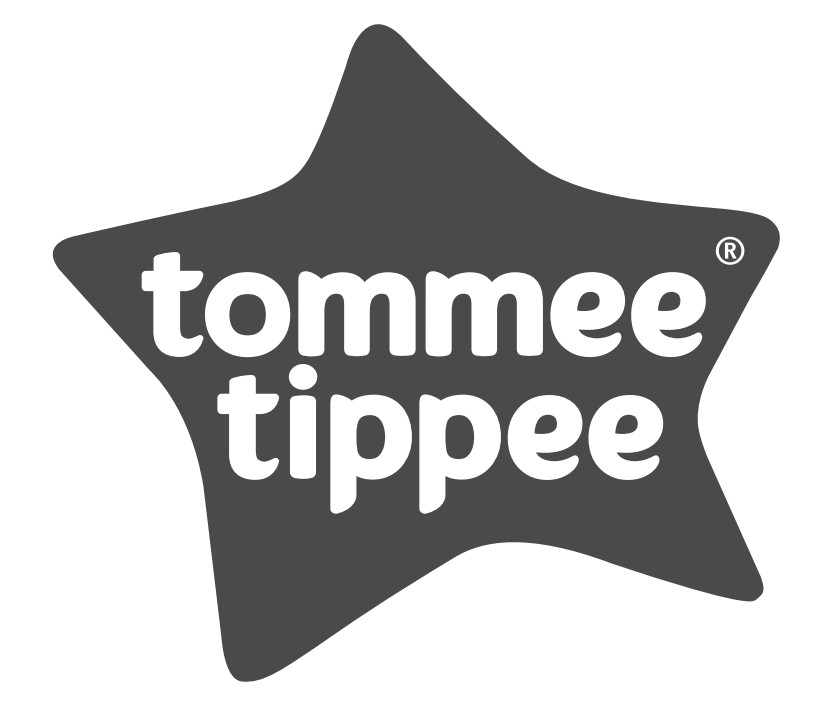 Manual Breast Pump
INSTRUCTIONS FOR USE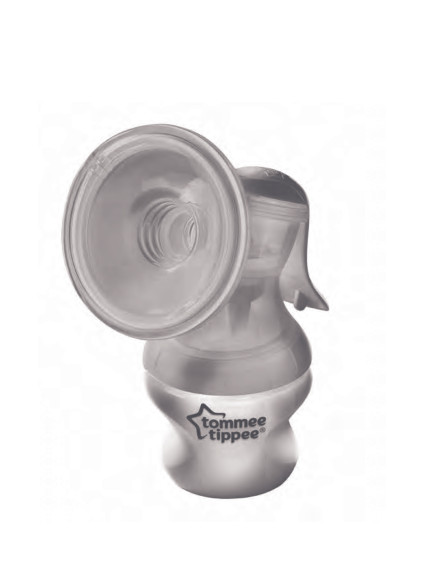 www.tommeetippee.cn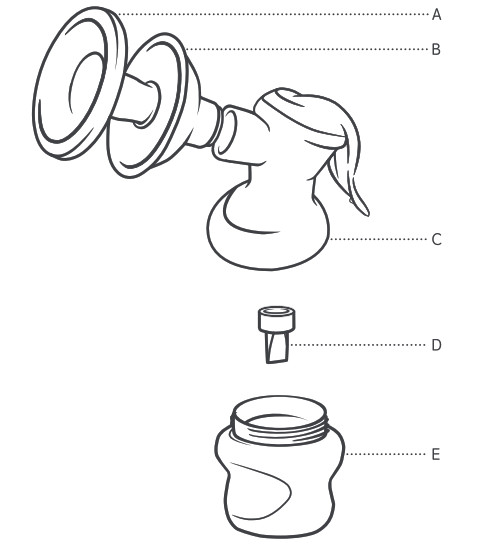 Parts Guide
A. Silicone insert
B. Horn
C. Pump Body
D. Valve (Spare included)
E. Bottle
closer to nature® manual breast pump
Please read and retain this important information for future reference.
Researched and developed by specialists and breastfeeding experts to express milk for storage and later use.
PARTS GUIDE (see diagram A)
How to put together your TommeeTippee* breast pump
A. Silicone insert
B. Horn
C. Pump body
D. Valve (spare Included)
E. Bottle
BEFORE USE ENSURE THE BREAST PUMP HAS BEEN DISASSEMBLED, WASHED AND STERILISED.
WARNING! Keep this Breast Pump away from children. Your child may choke on small parts.
DISASSEMBLING THE MANUAL BREAST PUMP
Unscrew bottle from the pump body.
Pull horn from pump body.
Pull off valve.
IT IS NOT ESSENTIAL TO TAKE THE SILICONE INSERT OUT OF THE HORN FOR CLEANING UNLESS MILK OR DIRT HAS BECOME TRAPPED INSIDE. IF SO, UNCLIP LIP FROM CUP AND PULL APART.
CLEANING AND STERILISING
Wash in warm soapy water and rinse in clean water or use a dishwasher (Top shelf only). Do not clean with solvents or harsh chemicals.
Do not allow product to come into contact with oil based foods (e.g. oil/tomato based sauces) as staining will occur.
Suitable for sterilisation by steam (electric or microwave), boiling or cold water tablet/liquid sterilisation. Follow the steriliser manufacturers instructions. If using the steriliser Box follow instructions in section "Using the Steriliser Box"
ASSEMBLING THE MANUAL BREAST PUMP
Ensure all parts of breast pump have been washed and sterilised.
Wash your hands thoroughly before handling the pump.
Push horn onto pump body.
Push valve into place at the bottom of the pump body.
Attach bottle to pump body. It is possible for the valve to seal closed during storage and cleaning.
USING THE MANUAL BREAST PUMP
Wash your hands before touching the breast pump or your breasts and avoid touching inside the breast pump or the storage pot.
Find a comfortable chair where you can relax.
Hold the pump in whichever hand is most comfortable. Press the cup firmly against your breast so that It creates a seal all the way round. IF AIR CAN GET IN THERE WILL BE NO SUCTION.
Gently squeeze the handle and you will feel the suction. Release the handle and allow it to return to Its resting position. Releasing the handle opens the valve so that the milk can flow Into the bottle. Try to Imitate the rhythm of your baby as he sucks. You won't need to squeeze hard – Just as much as Is comfortable. When you first start expressing mllk, use the pump for only 3-5 minutes on each breast. Over time you will be able to build up to 10-15 minutes on each breast.
You can help stimulate your milk flow by gently stroking your breast
Your milk will start to be released in drops and will gradually bulld up to a stream. First you will release yoursforemillt a thin yellowish liquid. This will be followed by your:thinemilk which resembles skimmed milk. Don't worry that it looks thin and watery – both fore and hind milk are ideal for your baby and rich in nutrients.
The amount of milk you express and the time Ft takes will vary – don't worry, thls is normal. Usually you will express 30-75m is (1-3oz) at a time, and it may take up to 30 minutes to drain a full breast. The first few times you express, the quantity may be less than this.
After use, take the pump apart and wash it to remove milk deposits. You do not need to sterilise your pump until you are ready to use it again.
Cover and store the expressed milk for later use.
FOR HYGIENE REASONS THIS PRODUCT CANNOT BE RETURNED ONCE OPENED UNLESS FAULTY.
HELPFUL ADVICE
The best time to use your breast pump Is after the first feed of the day (unless otherwise advised by your breastfeeding advisor)
Be comfortable and relax, e.g. watch the TV or have your favourite music playing.
Remember you are only trying to express milk from Just behind the nipple – strong suction is not necessary.
If water gets inside the pump body during sterilisation, simply lift the handle slightly and pour out the water.
There should be no pain using your breast pump. If you feel pain, try using the pump more gently. Then examine your breasts. If there are any red or hot areas contact your breastfeeding advisor as soon as possible.
Do not continue to use the pump once your milk has stopped flowing.
Wash all breastfeeding equipment after use and before sterilisation.
THE CLOSER TO NATURE' MANUAL BREAST PUMP CAN ONLY BE USED WITH TOMMEET1PPEE •CLOSERTONATURE •PPSU BOTTLES. A SEPARATE INSTRUCTION SHEET ON HOW TO CLEAN AND STERILISE THE TOMMEE YIPPEE' CLOSERTO NATURE • BOTTLE IS ENCLOSED. PLEASE READ AND RETAIN THIS IMPORTANT INFORMATION FOR FUTURE REFERENCE.
USING THE STERILISER BOX
The Sterilising box has been specifically designed to microwave steam sterilise all of your breastfeeding equipment quickly and efficiently.
To use:
Pour 100m1 of water into sterilising box
Load upturned bottle, disassembled breast pump and any accessories.
Securely fit box lid
Open valve, on lid of box
Place steriliser box in microwave
Follow instructions according to microwave output
CAUTION:To avoid risk of burning, a ways ensure box is cool to touch before lifting out
Immediately fit valve on lid to make box airtight and sterile.

For use with the Tom met Tipper closer to nature breast pumps
HOW TO USE
Ensure pot is clean and sterilised.
Place pot inside of bottle.
Screw bottle onto pump body and continue to follow assembly of breast pump instructions.
When the breast pump is fully assembled and in use, the pot will hold up to 60m1 / 2oz.
Once you have expressed 60m1 stop pumping, place lid on storage pot and remove from bottle.
Store pot in either the fridge or freezer. See storage guide.
If you want to continue expressing, either Insert another clean and sterilised pot or express directly into the bottle of the breast pump
STORAGE OF BREAST MILK
a. You will notice that stored milk separates out into layers. Shake to remix thoroughly before feeding.
b. When freezing milk, allow space at the top of the bottle for expansion. It is easiest to freeze milk in individual feed quantities of 60-12Sml (2-4 oz).
c. Thaw frozen milk in the fridge or by standing the bottle in lukewarm water until it has reached body temperature. d. If you want to take expressed milk with you when you are out make sure it stays cold or frozen until needed.


WARNING!
Always use this product with adult supervision. Accidents have occurred when babies have been left alone with drinking equipment due to the baby falling or if the product has disassembled.
Always check food temperature before feeding. Always stir heated food to ensure even heat distribution and test the temperature before serving. When making up a feed, follow the formula milk manufacturers instruction. Never use feeding teats as a soother. Continuous and prolonged sucking of fluids will cause tooth decay.Tooth decay in young children can occur even when non-sweetened fluids are used. This can occur if the baby is allowed to use the bottle for long periods through the day and particularly through the night when saliva flow is reduced or if it is used as a soother.
CLEANING AND STERILISING
Before first use clean the product.
Always wash the product immediately after use.
Clean before each use.
Before first use place in boiling water for 5 minutes. This is to ensure hygiene.
Wash in warm soapy water and rinse thoroughly with clean water or dishwasher (top rack only).
For cleaning other bottle parts, use a closer to nature teat and spout brush.
Once you have cleaned your bottles they are ready to sterilise.
All bottle components should be sterilised.
All bottle components are suitable for sterilisation by steam (electric or microwave) boiling or cold water tablet/liquid sterilisation.
Do not clean wit harsh chemicals.
Do not allow product to come into contact with oil based foods (e 9 oil/tomato based sauces) as staining will occur.
Do not turn the teat inside out for cleaning. Damage could result.
TAKE EXTRA CARE when cleaning the easl-vent valve. In order or ensure optimum venting the teat valve is manufactured using a thinner silicone than the teat itself and therefore care needs to be taken during cleaning to ensure no damage is caused.
DO NOT USE TEAT BRUSH or any other implements to clean the easi-vent valve/the feeding hole as damage such as slits and tears may occur. However, performance of the teat may be affected if the easi-vent valve is not cleaned thoroughly after each use. Ensure valve is flushed with the warm water during cleaning.
When assembling your bottle it is important that you can check that the slit in the silicone has not sealed closed. If it has been sealed closed, pinch it gently between your fingers to re-open. If the valve has sealed closed your bottle will not vent property.
STORAGE AND USE
Inspect before each use and pull the feeding teat in all directions. Throw away at the first signs of damage or weakness.
Keep all components not in use out of reach of children.
For safety and hygiene reasons it is recommended that the feeding teat is replaces at least every 2 months.
Do not store or leave in direct sunlight or near a source of heat or leave in disinfectant (sterilising solution) for longer than recommended, as this may weaken the teat.
Do not store with or allow to come into contact with solvents or harsh chemicals.
Not suitable for use in conventional oven or a combination microwave oven with the grill feature switched on
Materials listing:
TPE, PPSU, Polypropelene, silicone, tissue paper, wood pulp, super absorbent polymer, and polyethylene.
Tommee Tippee Closer to Nature bottles are only suitable for use with Tommee Tippee Closer to Nature teats.
Testing Standard:
GB 4806.7-2016 (ppsu bottle, screw ring , hood and milk storage pot)
GB 4806.2-2015 (Silicone Teat)
GB 4806.11-2016(Silicone Horn, valve )
GB 15979-2002 (Breast Pads)
Leaflet number:0300034
Copyright Jackel International Limited 2016
Jackel International Limited retains all intellectual property rights to this product and packaging, including all two and three dimensional designs, graphic images, logos and text. Any unauthorized manufacture, publication, reproduction, communication or adaption of any materials compromised in this product or its packaging is strictly prohibited and may constitute infringement of relevant laws.
Jackel International Limited is incorporated in England and Wales under company number 01894022
Tommee Tippee and Closer To Nature are registered trademarks of Jackel International Limited