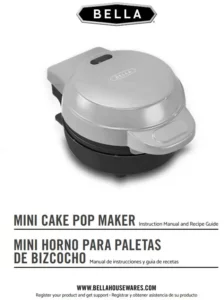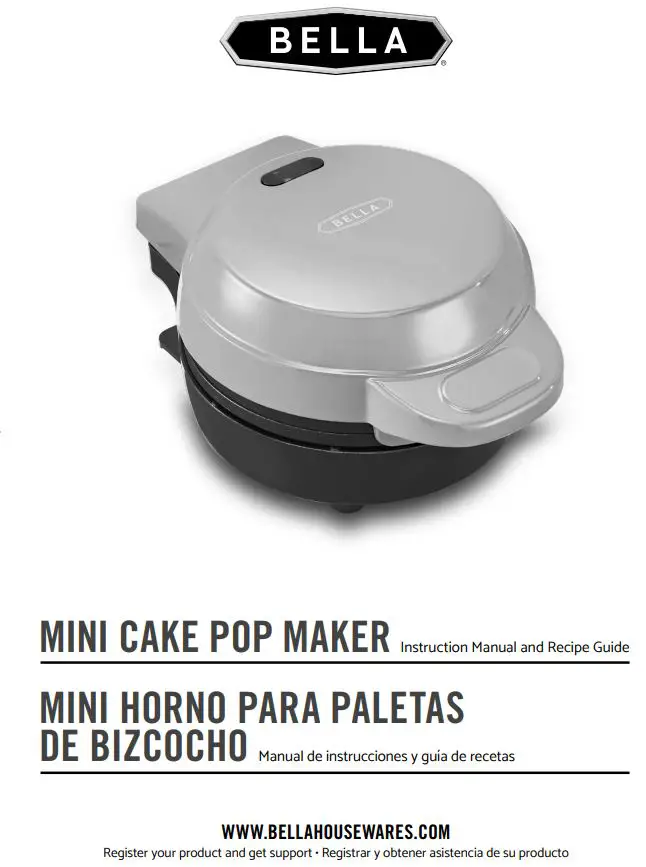 BELLA Mini Cake Pop Maker Instruction Manual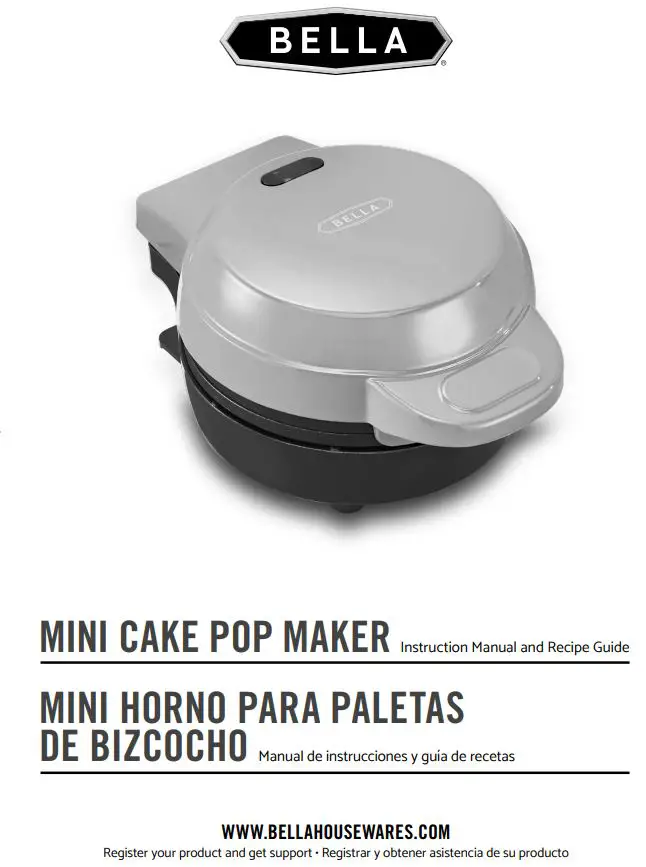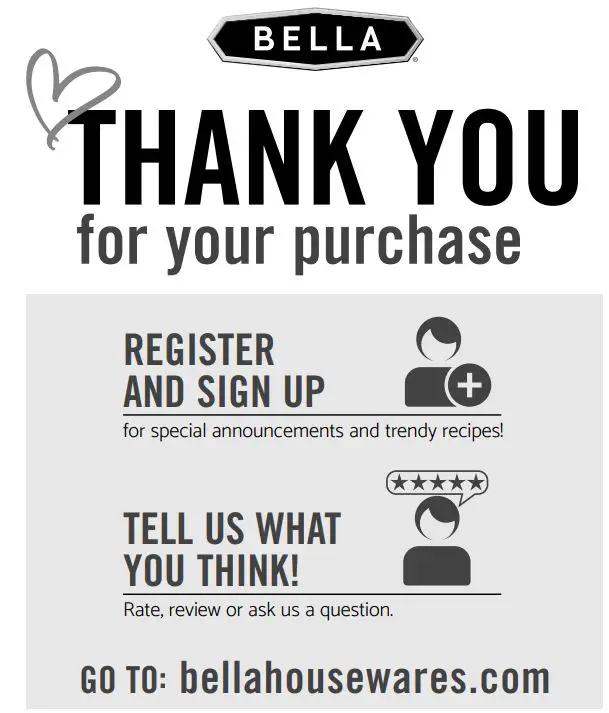 bellahousewares.com
#myBELLAlife
IMPORTANT SAFEGUARDS
WARNING: When using electrical appliances, basic safety precautions should always be followed, including the following:
READ ALL INSTRUCTIONS BEFORE USING APPLIANCE.
Do not touch hot surfaces. Use handles or knobs.
To protect against risk of electric shock, do not immerse or partially immerse the cord, plugs, or the entire unit in water or any other liquid.
This appliance is not intended for use by persons (including children) with reduced physical, sensory or mental capabilities, or lack of experience and knowledge, unless they have been given supervision or instruction concerning use of the appliance by a person responsible for their safety.
Close supervision is necessary when any appliance is used by or near children.
Unplug from wall outlet when not in use and before cleaning. Allow to cool before cleaning or storing this appliance.
Never yank the cord to disconnect the appliance from the outlet. Instead, grasp the plug and pull to disconnect.
Do not operate any appliance with a damaged cord or plug or after the appliance malfunctions or is dropped or damaged in any manner. Bring the appliance to a qualified service agent for examination, repair or electrical/mechanical adjustment to avoid hazard.
The use of accessories attachments not recommended by the appliance manufacturer may cause fire, electrical shock or injuries.
Do not use outdoors. This is for household only.
Do not use for commercial purposes.
Do not let the electrical cord hang over the edge of the table or counter, or touch hot surfaces.
Do not allow appliance to come into contact with any materials that are flammable such as draperies, walls, etc.
Do not place on or near a hot gas or electric burner or in a heated oven.
Use on a heat-resistant, flat level surface only.
Extreme caution must be used when moving an appliance containing hot food, hot water, hot oil or other hot liquids.
The cord to this appliance should be plugged into a 120V AC electrical outlet only.
A short power-supply cord is to be provided to reduce the risk resulting from becoming entangled in or tripping over a longer cord.
To disconnect, remove plug from outlet.
Always unplug after use. The appliance will remain ON unless unplugged.
CAUTION HOT SURFACES: This appliance generates heat during use. Proper precautions must be taken to prevent the risk of burns, fire or other damage to persons or property.
When using this appliance, provide adequate ventilation above and on all sides for air circulation. Do not allow this appliance to touch curtains, wall coverings, clothing, dish towels or other flammable materials during use.
Do not use appliance for other than intended use.
FOR HOUSEHOLD USE ONLY SAVE THESE INSTRUCTIONS
ADDITIONAL IMPORTANT SAFEGUARDS
CAUTION: This appliance is hot during operation and retains heat for some time after plugging OUT. Always use oven mitts when handling hot materials and allow metal parts to cool before cleaning. Do not place anything on top of the appliance while it is operating or while it is hot.
All users of this appliance must read and understand this Instruction Manual before operating or cleaning this appliance.
Do not leave this appliance unattended during use.
NOTES ON THE PLUG
This appliance has a polarized plug (one blade is wider than the other). To reduce the risk of electric shock, this plug will fit in a polarized outlet only one way. If the plug does not fit fully into the outlet, reverse the plug. If it still does not fit, contact a qualified electrician. Do not modify the plug in any way.
NOTES ON THE CORD
A. A short power-supply cord (or detachable power-supply cord) is to be provided to reduce the risk resulting from becoming entangled in or tripping over a longer cord.
B. Longer detachable power-supply cords or extension cords are available and may be used if care is exercised in their use.
C. If a long detachable power-supply cord or extension cord is used:
1. The marked electrical rating of the cord or extension cord should be at least as great as the electrical rating of the appliance;
2. If the appliance is of the grounded type, the extension cord should be a grounding-type3-wire cord; and
3. The longer cord should be arranged so that it does not drape over the countertop or table top where it can be pulled on by children or tripped over unintentionally.
PLASTICIZER WARNING
CAUTION: To prevent Plasticizers from migrating to the finish of the counter top or table top or other furniture, place NON-PLASTIC coasters or place mats between the appliance and the finish of the counter top or table top. Failure to do so may cause the finish to darken; permanent blemishes may occur or stains can appear.
ELECTRIC POWER
If the electrical circuit is overloaded with other appliances, your appliance may not operate properly. It should be operated on a separate electrical circuit from other appliances.
Getting to know your Cake Pop Maker
Product may vary slightly from illustration


Before Using For The First Time
Remove all parts included in the box.
Wash all the parts thoroughly (refer to Cleaning and Maintenance section for more information).
NOTE: Your Cake Pop Maker may emit a small amount of smoke and/or odor when you use it for the first time. This is normal and harmless, however we recommend that you do not eat the first cake pop you make with the Cake Pop Maker.
Using Your Cake Pop Maker
Plug the cord into your 120 V AC wall outlet.
The Red Ready Light will turn off when the appliance reaches proper cooking temperature. Once heated, ready times will be faster.
When the Red Ready Light turns off, using the handle, lift the top lid to the open position and apply a light layer of vegetable oil, olive oil or canola oil to the cooking plates. Pour and spread the cake pop batter evenly onto the lower plate so that the batter fills the lower plate and the peak areas of the plate are covered.
CAUTION: DO NOT USE COOKING SPRAYS. THEY CAN CAUSE A BUILD-UP ON THE COOKING PLATES AND MAY AFFECT THE NON-STICK PERFORMANCE OF THE PRODUCT.
Using the handle, lower the top lid.
Allow the Cake Pop Maker to cook for 2 – 3 minutes, according to recipe directions. The Red READY light will cycle on and off as the unit maintains baking temperature.
When the Red ready light turns OFF, using oven mitts gently open the lid by lifting the lid handle; if it pulls, continue baking for 30 seconds and test again. If the cake pops need to bake to a darker finish, close the lid and continue cooking at 20 second intervals until the desired color is achieved.
Wearing oven mitts, remove cake pops from the cooking plates using a non-metallic utensil. A wooden or heat-proof plastic spatula can be used to remove the cake pops.
CAUTION: To avoid damage to the non-stick surface, never use any sharp, pointed or metal objects.
WARNING: Cooking surfaces are hot, do not touch; use caution until cooking plates are cool.
To make more cake pops, close the Cake Pop Maker until the Red Ready Light appears off, then repeat from step 4.
When finished baking cake pops, remove plug from wall outlet.
After it has sufficiently cooled, the heating plates may be wiped clean.
Tips For Perfectly Baked Cake Pops
The exact amount of batter needed to make perfect full-sized cake pops depends on the typed and consistency of the batter. Use the same ladle or measuring cup each time to determine how much batter you need to fill the lower plate fully so as to cover the peaks in the plate.
To avoid cake pops with a moist base, kept the cake pops on a wire cooling rack. This will retain the crispness of the cake pops.
User Maintenance Instructions
This appliance requires little maintenance. It contains no user serviceable parts. Do not try to repair it yourself. Contact a qualified appliance repair technician if the product requires servicing.
Cleaning and Maintenance
Unplug the Cake Pop Maker, and allow it to cool down before cleaning.
You can easily remove any excess oils or crumbs without disassembling the appliance.
Never submerge the appliance in water or place it in the dishwasher.
Use only plastic or wooden utensils on the heating plates. Metal may damage the plates.
Use a soft cloth on the heating plates and occasionally a metal polish intended for stainless steel on the outer housing. Never use abrasive scouring pads or steel wool.
If there is hardened batter on the plates, pour a little oil and let it sit for about 5-7 minutes. You can then wipe clean with a paper towel.
Do not use the Cake Pop Maker for anything other than making cake pops
Preparing Cake Pops
WHAT YOU WILL NEED
Cake mix (or homemade)
FIRST COVERING
Prepared cake frosting (or homemade) Candy melts, various colors Chocolate chips (any flavor/color, including butterscotch) Jam, jelly, preserves, honey
FUN TOPPINGS
Colored sprinkles Chopped nuts Shredded sweetened coconut Small colored candies such as M&M®'s Colored icing tubes Cinnamon sugar Ginger sugar
CAKE POPS SUPPLIES
Lollipop sticks
Styrofoam form to stand pops
To prepare cake pops: Dip sticks into the melted candy or chips before inserting them into the cake pop. This will help to hold pops into place.
Stand the cake pops in a Styrofoam form to keep them from touching. Refrigerate for 20-30 minutes before decorating.
When you are ready to dip, take pops out of the refrigerator no more than 5 at a time.
Frost cake pops with your favorite frosting or combination of frostings. Then roll into toppings of your choice or press candies or nuts into coating.
If you are using liquefied candy melts or chips as the first covering:
Using a microwave-safe bowl, melt 1/4 to 1/2 cup candy melts or any chocolate or flavored
baking chips for 1 minute. Stir well. Microwave for an additional 15 seconds, if necessary.
NOTE: A double-boiler or a pan over boiling water can also be used.
If needed, add a splash of milk to chips before heating to thin dipping mixture.
Dip pops into the bowl, swirl cakes in the dipping mixture until it is covered. Use a
teaspoon to help drip candy over the cake. Work quickly as the chocolate will begin to get lumpy as it hardens.
Roll cake into toppings of your choice or press candies or nuts into wet coating.
HINT: When using melted white chocolate as the first coating, put some aside to use as a colored drizzle. Melt chocolate and add GEL food coloring until the desired color is achieved. Decorate using colored chocolate in a piping bag or a plastic bag with the corner snipped.
IMPORTANT: Never use liquid food coloring as it will harden immediately and ruin the chocolate.
6. If you are using jam, jelly, preserves or honey:
Place in microwave-safe bowl and heat on HIGH power for 10 seconds.
Brush pops with melted fruit.
Roll or dip cake pops into toppings of your choice..
Recipes
E-Z Scratch Chocolate Cake Pops
1/2 cup unsalted butter, softened
1 cup all-purpose flour
1 cup brown sugar
1/2 teaspoon cream of tartar
2 eggs
1/4 cup unsweetened cocoa powder
1 teaspoon vanilla extract
Preheat Cake Pop Maker.
In a large bowl, using a hand mixer, cream together the butter and brown sugar.
Beat in the eggs, one at a time, then stir in vanilla.
In a separate bowl, combine the flour, cream of tartar and cocoa powder; stir into the egg mixture until well blended.
Bake cake pops following the instructions outlined in Using Your Cake Pop Maker in this instruction manual.
Cool thoroughly before adding sticks or decorating.
Makes: 24 ­ 26 chocolate cake pops
Blondies Cake Pops
1 cup sifted all-purpose flour
1/4 cup butterscotch chips
1/2 teaspoon baking powder
6 tablespoons unsalted butter
1/4 teaspoon baking soda
1 cup packed brown sugar
1/2 teaspoon salt
1 egg
1/2 cup chopped cashews
2 teaspoons vanilla extract
1/4 cup semisweet chocolate chips
Preheat Cake Pop Maker.
Place flour, baking powder, baking soda, and salt in a medium bowl. Sift together.
Add chopped nuts and chips. Mix dry ingredients well and set aside.
Melt butter. Add 1 cup firmly packed brown sugar and mix well. Allow to cool slightly.
Beat egg in small bowl and add to wet ingredients. Add vanilla and mix until well blended.
Add dry ingredients slowly to the wet ingredients, mixing well. Batter will be thick.
IMPORTANT: Apply a generous coating of oil to both the upper and lower cooking plates before adding batter.
Bake cake pops following the instructions outlined in Using Your Cake Pop Maker in this instruction manual
Cool thoroughly before adding sticks or decorating.
Makes: 21 ­ 23 blondie pops
Limited TWO-YEAR Warranty
SENSIO Inc. hereby warrants that for a period of TWO YEARS from the date of purchase, this product will be free from mechanical defects in material and workmanship, and for 90 days in respect to non-mechanical parts. At its sole discretion, SENSIO Inc. will either repair or replace the product found to be defective, or issue a refund on the product during the warranty period.
The warranty is only valid for the original retail purchaser from the date of initial retail purchase and is not transferable. Keep the original sales receipt, as proof of purchase is required to obtain warranty validation. Retail stores selling this product do not have the right to alter, modify, or in any way revise the terms and conditions of the warranty.
EXCLUSIONS:
The warranty does not cover normal wear of parts or damage resulting from any of the following: negligent use of the product, use of improper voltage or current, improper routine maintenance, use contrary to the operating instructions, disassembly, repair, or alteration by anyone other than qualified SENSIO Inc. personnel. Also, the warranty does not cover Acts of God such as fire, floods, hurricanes, or tornadoes.
SENSIO Inc. shall not be liable for any incidental or consequential damages caused by the breach of any express or implied warranty. Apart from the extent prohibited by applicable law, any implied warranty of merchantability or fitness for a particular purpose is limited in time to the duration of the warranty. Some states, provinces or jurisdictions do not allow the exclusion or limitation of incidental or consequential damages, or limitations on how long an implied warranty lasts, and therefore, the above exclusions or limitations may not apply to you. The warranty covers specific legal rights which may vary by state, province and/or jurisdiction.
HOW TO OBTAIN WARRANTY SERVICE:
You must contact Customer Service at our toll-free number: 1-866-832-4843. A Customer Service Representative will attempt to resolve warranty issues over the phone. If the Customer Service Representative is unable to resolve the problem, you will be provided with a case number and asked to return the product to SENSIO Inc. Attach a tag to the product that includes: your name, address, daytime contact telephone number, case number, and description of the problem. Also, include a copy of the original sales receipt. Carefully package the tagged product with the sales receipt, and send it (with shipping and insurance prepaid) to SENSIO Inc.'s address. SENSIO Inc. shall bear no responsibility or liability for the returned product while in transit to SENSIO Inc.'s Customer Service Center.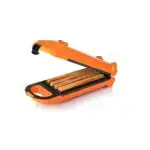 bellahousewares.com
For customer service questions or comments
1-866-832-4843 / [email protected]
Sensio Inc. New York, NY 10016/USA