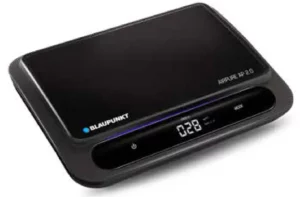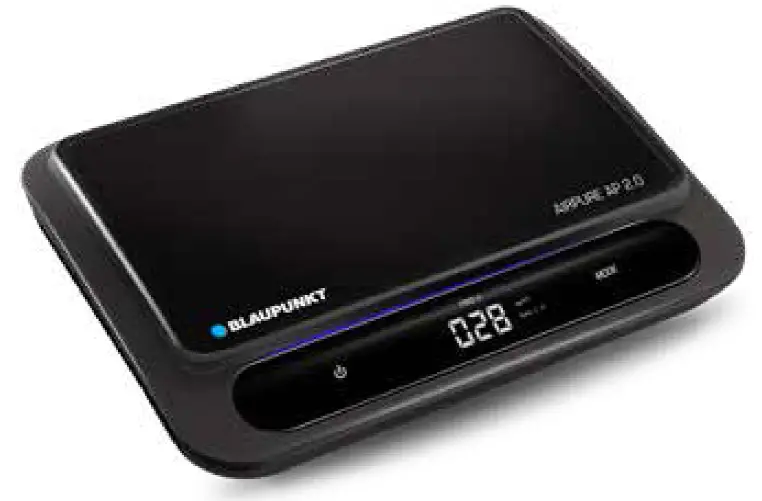 BLAUPUNKT Air Purifier

Safety Notes
Do not clean or spill liquids or flammable solvents on the device.
Clean with soft cloth only. Disconnect AirPure before cleaning.
Handle with care. Do not drop. Keep it away from electric & magnetic area.
Keep AirPure free of any object obstructing the air flow.
Do not let children play with air purifier.
Do not operate the device while driving.
Use the power cable provided only.
Do not wash the filter.
This manual may be updated from time to time without any notice.
Disclaimer
In no event shall Blaupunkt be liable for any direct, indirect, punitive, incidental, special consequential damages to property or life and whatsoever arising out of or connected with the use or misuse of our products.
USA & CANADA: This product is not intended for sale in the United States and Canada. If purchased in the U.S. or Canada, this product is purchased on as-is basis. No warranty, whether expressed or implied is provided in the U.S. or Canada.
STRUCTURE and FUNCTIONS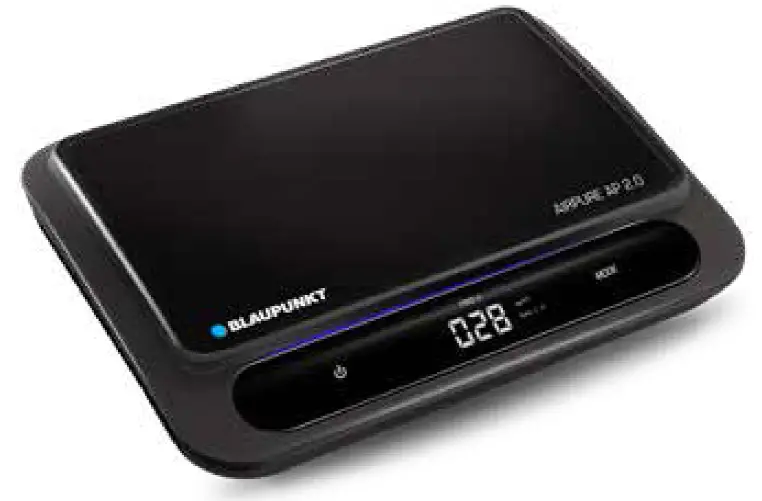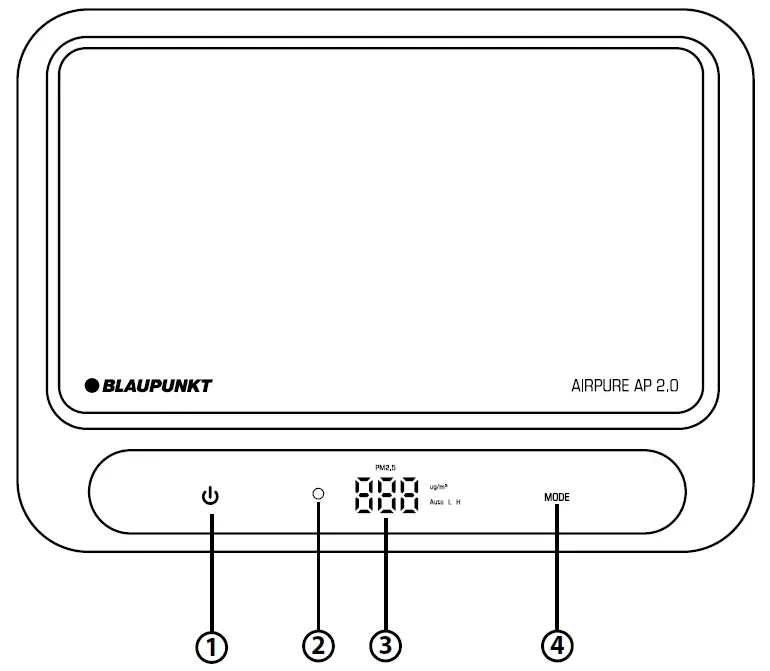 Functions
Touch Control (Power Button)
Filter Replacement Reminder
PM 2.5 Indicator
Fan Speed Control
Centrifugal Fan
APF2 (Pre Filter, HEPA Filter, Activated Carbon Filter)
PM 2.5 Sensor
SPECIFICATION
Indicator Display : PM 2.5 Level, Filter Replacement Reminder, Auto/ Manual Fan Speed
Pre-packed with Blaupunkt AirPure Filter (APF2)
Noise Level : 55dB
Fan Type : Centrifugal Fan
HEPA Filter Grade : H13
Applicable for Space : 5m3 – 10m3
Input Voltage : 5V
Current : 1A
Power : <7W
Dimensions : 200 x 150 x 55mm
Net Weight : 500g
Accessories : 4m USB Power Cable, Car Charger, Car Headrest Holder, Anti Slip Mat
TROUBLESHOOTING
If any of the following problem occur, please resort to Troubleshooting for the possible solutions. Consult Blaupunkt authorized dealer if problem persist.
| | | |
| --- | --- | --- |
| Problems | Possible Causes | Solutions |
| Air purifier does not power on | Air purifier is not connected to a power supply. | Ensure the USB cable is properly connected to USB power supply ports and air purifier's power input. |
| Airflow is significantly reduced | Exceed filter replacement cycle. | Replace with new filter. |
| Unusual noise while operating | Filter is not fitted properly. | Refer to operation instruction for correct filter replacement steps. |
OPERATION INSTRUCTION
Air Purifier
Connect USB charger to the 5V/1A power supply input of Air Purifier. Air purifier will have buzzing sound and blue illumination when turn on.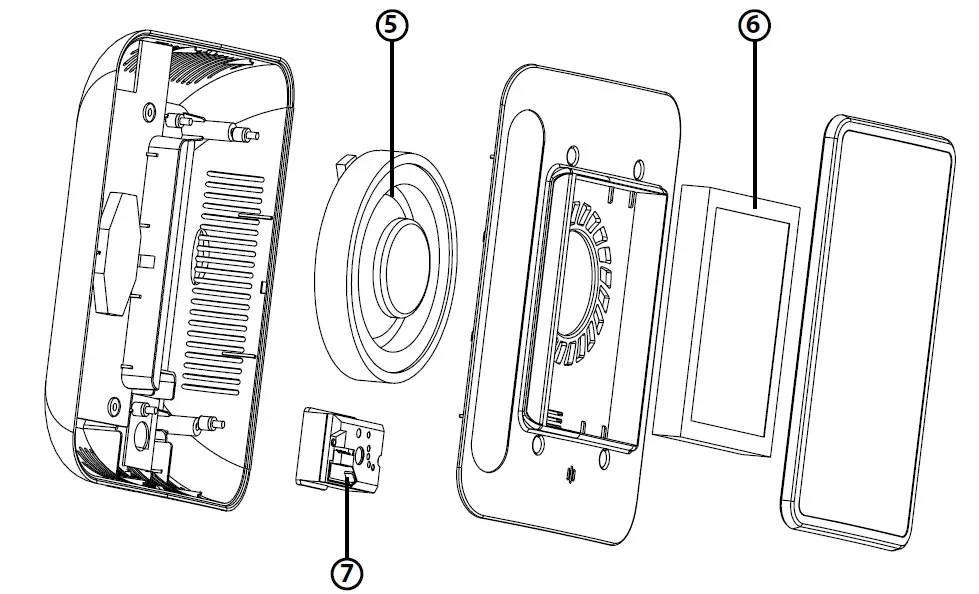 Power Button
Turn On/Off
• Press to manually turn on Air Purifier, press again to manually turn off.
After Filter Replacement
• Press and hold for 5 seconds on the power button to reset filter replacement reminder.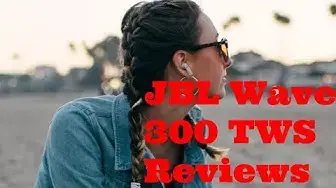 MODE Button
The fan speed of air purifier can be adjusted by pressing "MODE" button (Auto/L/H).
Auto : Smart fan will adjust fan speed according to air quality
L : Low fan speed
H : High fan speed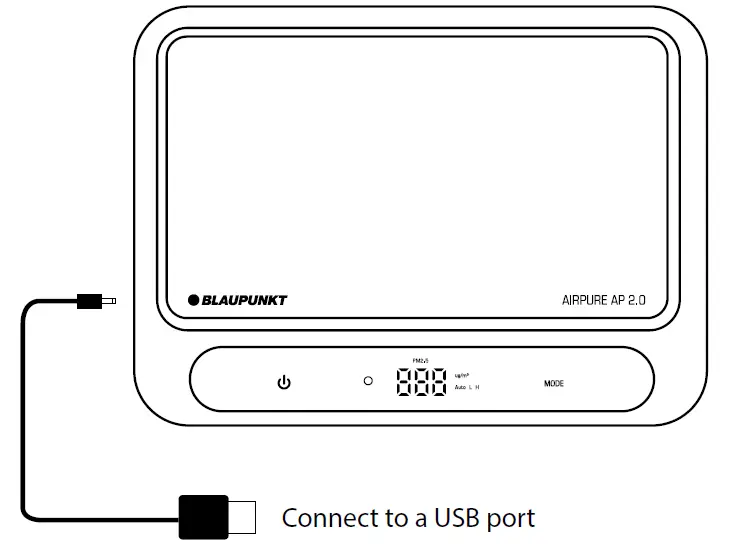 Filter Replacement
Remove the cover of air purifier.
Remove the dirty filter and replace it with the new filter (APF2).