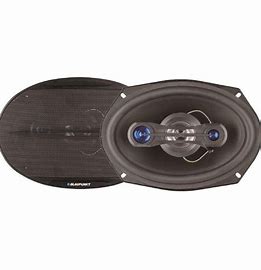 BLAUPUNKT Blaupunkt GTX691 Car Speaker 6″ x 9″ 4-Way Coaxial Speaker

Specifications
SPEAKER TYPE: Coaxial
BRAND: BLAUPUNKT
RECOMMENDED USES FOR PRODUCT: Car
MOUNTING TYPE: Coaxial, Car Mount
DIAMETER: 6″ x 9″
PEAK POWER: 700 Watts
IMPEDANCE: 4 Ohm
SENSITIVITY: 90dB
Introduction
BlauPunkt is a pair of car speakers which gives the best sound quality. These can give life to your car and make the interior alive. These are 6"*9" 4 ways speakers with 700 watts of power. These have high-quality pp cones with rubber edges. These speakers have a ferrite magnetic structure with high quality and steel basket.
Dear Customer
Congratulations on your purchase of a BLAUPUNKT subwoofer, we are devoted to making our musical reproduction the very best, and we are pleased you have chosen our product. Through years of engineering expertise, hand craftsmanship, and critical testing procedures, we have created a wide range of products that reproduce music with all the clarity and richness you deserve. For maximum performance, we recommend you have your BLAUPUNKT product installed by an authorized BLAUPUNKT dealer, as they have the knowledge, and skills that will maximize the performance of your subwoofer. Please read this manual, and keep your receipt, and original carton for possible future use. If after reading this manual, you still have questions regarding your product, we recommend that you see your nearest BLAUPUNKT dealer,
Mounting
NOTE: BLAUPUNKT strongly recommends that you operate your system at low volume levels prior to the completed installation of your BLAUPUNKT series speakers. This will allow for a test of the subwoofers before permanently securing it to a location.
IMPORTANT
Never cut any metal that is an integral part of the vehicle's safety or structural support system. Again, if you are unsure, it is best to have the speakers professionally installed. It could be a lot less expensive in the long run. Never sacrifice your safety for sound.
CHOOSING A LOCATION
It is always best to plan the complete installation prior to attempting to install any product. The routing of wires, power connections, and mounting locations should be planned first. As with any car stereo installation, all work performance should be checked thoroughly and carefully prior to the operation of the system. The placement of your BLAUPUNKT speakers within your vehicle will greatly a‑etc the overall performance of your audio system. Every model of car is different, so installation into particular locations of the vehicle may not be possible without modifications. Factory-provided locations are usually.
BLAUPUNKT speakers are designed to fit in almost any factory location. Again, if at all possible, it is recommended that you use a factory location. This applies mostly to later model cars. For those earlier models that do not have factory locations or are limited to just front speakers, it is recommended that you choose a location with a sufficient amount of air space. If you allow an insufficient amount of air space, the subwoofer may not produce low frequencies very well. It is recommended to mount the speaker in the door panels, kick panels, rear decks, etc. Ideally, the speakers should be mounted where it will be in enclosed airspace. This will allow for extended bass response.
Troubleshooting
If you start having problems with distorted sound or loss of performance after installing your subs, you can follow the instructions below to try and locate what is causing the problem.
If you have any distorted sound, loss of performance, or rattling from your subs, check the connections running from your amplifier or other processors to the box.
You will also want to check the connections inside the box to make sure no wires have become unhooked or are loose.
If the above does not solve the problem, check your enclosure thoroughly to see if there are any leaks, cracks, or broken pieces. Any loss of structural integrity of your enclosure can cause significant performance loss and distortion.
The next step you can take is to remove the subs and look for any burned wire leads or separated components. You can normally smell something burning when a sub blows or is going bad. Sometimes when you play subs to hard for too long, they will start to heat up.
If none of the above steps solve the problem, you will want to start looking at the other components in the vehicle. Start by checking all connections to and from the box, amplifier, source unit, or any other processors you may be using. You will need to refer to that particular manufacturer for any setting configurations or troubleshooting.
Warning
Investigate the layout of your automobile thoroughly before a drill or cutting any holes. Take care when you work near the gas tanks, gas lines, hydraulic lines, and electrical wiring. Attach the system securely to the automobile to prevent damage, particularly in the event of an accident. Do not mount the system so that the wire connections are unprotected or are subject to pinching or damage from nearby objects. The +12V DC power wire must be fused at the battery positive terminal connection. Before making or breaking power connections at the system power terminals, disconnect the +12V wire at the battery end. Confirm your radio/head unit or other equipment is turned o‑ while connecting the input jacks and subwoofer terminals. If you need to replace the power fuse, replace it only with a fuse identical to that supplied with the system. Using a fuse of a different type or rating may result in damage to this system.
Frequently Asked Questions
How effective are coaxial vehicle speakers?
In conclusion, coaxial speakers are considerably superior to the single-cone speakers featured on OEM vehicles in terms of sound quality and range coverage. Coaxial speakers can be 3-way as well, however, they are less popular than 2-way speakers.
What is a coaxial automobile speaker?
Coaxial speakers are two- or three-way speakers that have the tweeter or the tweeter plus a mid-range driver positioned in front of the woofer, partially covering it. The benefit of this design is that it may fit in a smaller space, which accounts for its use in automobile audio.
Do coaxial speakers require an amplifier?
The fact is that coaxial speakers don't require an amplifier. However, if you utilize one, you'll get even better sound, less distortion, and perhaps more enjoyment (and volume) from them. Up to a certain extent, car and home receivers have sufficient power to drive coaxial speakers with respectable loudness and clarity.
Are there tweeters on coaxial speakers?
Coaxial speakers employ a 2-way speaker design with a single speaker assembly housing a tweeter, woofer, and straightforward crossover. Unlike more affordable single-cone speakers, most have a woofer cone with a separate tweeter for good full-range sound quality and frequency coverage.
Do coaxial speakers need a crossover?
You generally don't need a second crossover if your automobile audio system uses coaxial speakers. The frequencies that reach each driver are already filtered by passive crossovers that are already present in full-range speakers. The built-in speaker crossovers should be more than plenty, even if you add an amplifier to the mix.
What distinguishes component speakers from coaxial speakers?
As was already noted, coaxial speakers have a built-in tweeter that allows them to produce a variety of sounds from a single pair of speakers. Component speakers work differently since they are built to handle a specific type of sound, therefore the quality is considerably greater.
Are two-way or three-way car speakers superior?
In conclusion, a 2-way speaker is preferable if you have a limited budget, while a 3-way speaker is fantastic if you enjoy music and care about sound quality. The professionals at El Cajon's Audio Shack will assist you if you're still not sure whether you want a 2-way or 3-way speaker system.
Can I use a single channel amp to power two subs?
You may also buy another one of those amps and push the 400w rms that it can handle by running one sub amp per amp at a load of 2 ohms. A single channel amplifier CAN power two speakers, but it will not provide enough power for your subwoofers.
Is it worthwhile to boost door speakers?
Even though it's not really necessary, acquiring an amp for these is strongly advised. It might not just be about getting the fantastic sound as you drive. Your door speakers' overall "health," optimal performance, and upkeep may all be benefited by an amplifier.
Can the tweeter on coaxial speakers be removed?
They are a component of the speaker. You can remove some coaxial tweeters that are mounted on a bridge. The best thing you can do is get some "factory add-on" style tweeters if you enjoy the sound of your speakers and don't want to replace them.