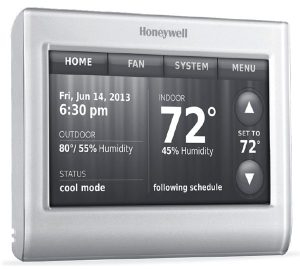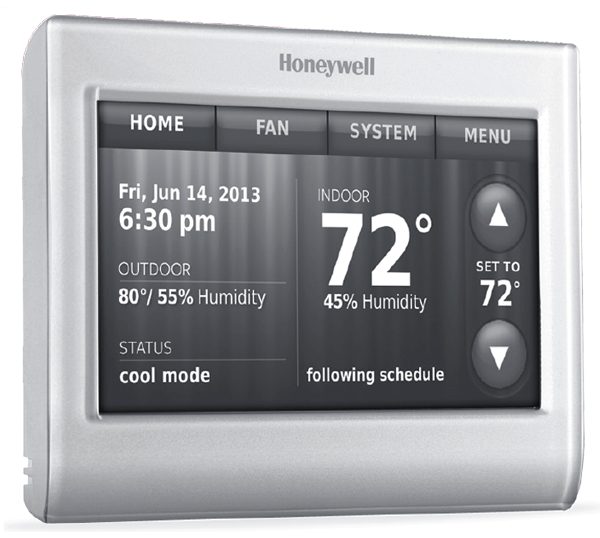 Installation Instructions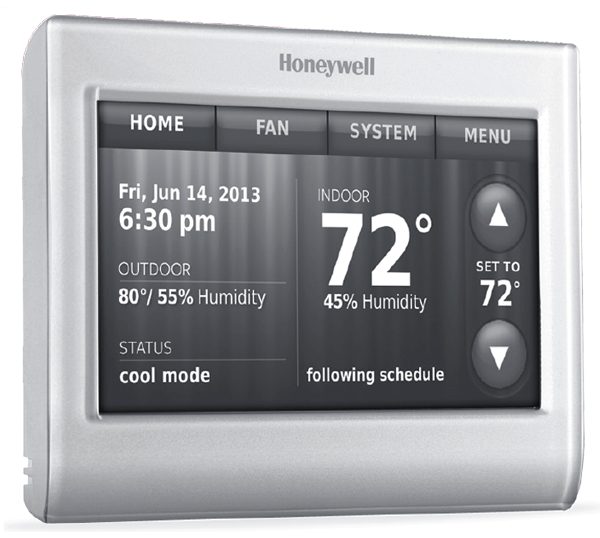 Honeywell Wi-Fi Color Touchscreen Programmable Thermostat
Model: RTH9580 Wi-Fi
Welcome
Getting set up and ready is simple.
Install your thermostat.
Connect your home Wi-Fi network.
Register online for remote access.
Before you begin

1. Install your thermostat
Switch OFF power to your heating/cooling system
Important! To protect your equipment, switch OFF the power to your heating/ cooling system at the breaker box or the system switch.
Confirm power is OFF. Try to turn on heating/cooling equipment by changing temperature on your old thermostat. Your power is OFF if your system does not turn ON.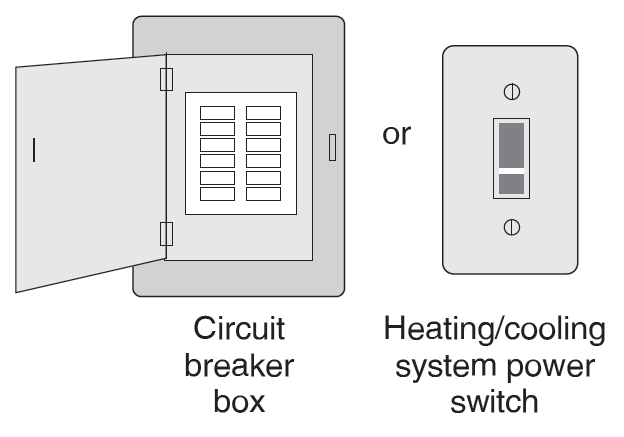 This thermostat works with common 24 volt systems such as forced air, hydronic, heat pump, oil, gas, and electric. It will not work with millivolt systems, such as a gas fireplace, or with 120/240 volt systems such as baseboard electric heat.
Remove old thermostat faceplate and leave wires connected
Take a picture of the wire connections for later reference.
If no wire is connected to a terminal labeled C or no C terminal exists on the old thermostat, view the Alternate Wiring videos at wifithermostat.com/videos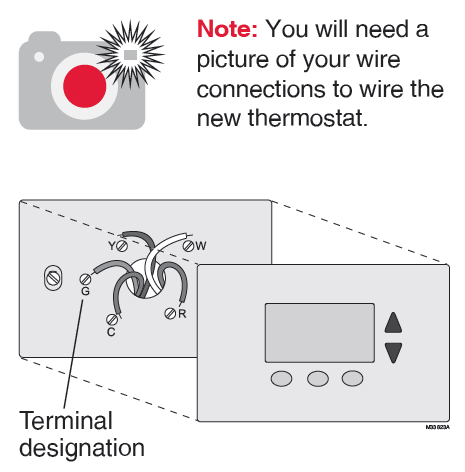 If you have an older thermostat with a sealed mercury tube, see warning page for proper disposal instructions.
Label wires
Do not label by wire color. Use the supplied sticky tags to label each wire as you disconnect it. Label wires according to old thermostat terminal designations, not by wire color.
Note: If no tag matches a terminal designation, write the appropriate letter on a blank sticky tag.
Note: Wrap the wires around a pencil to prevent them from falling back into the wall.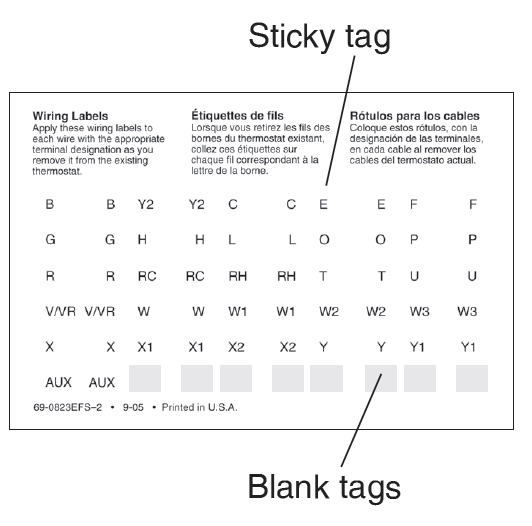 Remove wallplate
Remove the old wallplate from the wall after all wires are labeled and disconnected.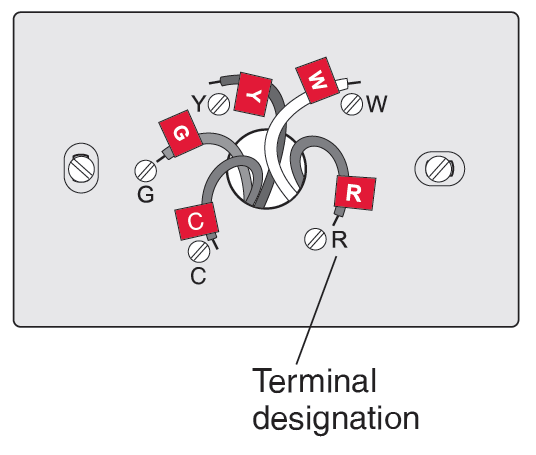 Mount wallplate for Wi-Fi thermostat Mount your new wallplate using screws and anchors included with the thermostat.
If necessary:
Drill 3/16-in holes for drywall
Drill 7/32-in holes for plaster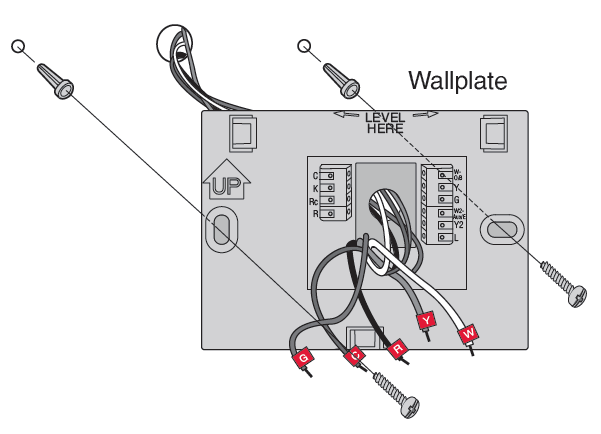 Note: You may be able to use your existing wall anchors. Hold the wallplate up to the existing anchors to check for alignment.
Connect wires
Important! C wire is required and is the power source. Without a C wire, your thermostat will not power up. View the Alternate Wiring videos at wifithermostat.com/videos
Starting with the C Wire, match the sticky tag on the wire to the terminal labels.
Straighten wire and gently slide into terminal hole until it clicks into place. (If you need to remove a wire, use a pen tip to press the terminal release and then pull the wire out.)
Refer to the wiring picture you took in Step 1.2.
To make it easier to slide the wire into place, use a pen tip to hold down the terminal release.
The wiring for your application might be different than the wiring shown below.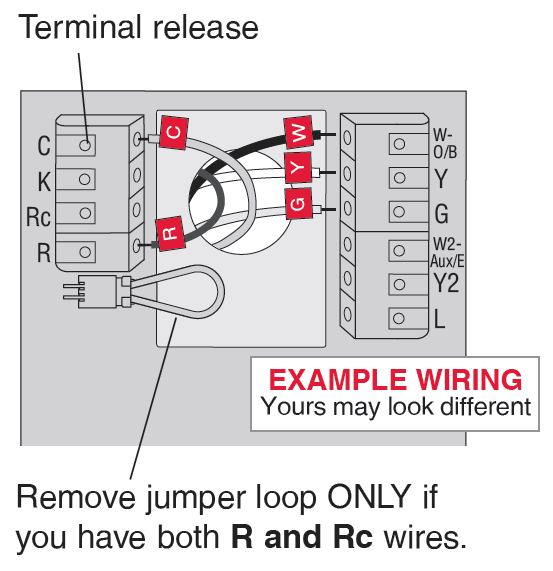 Labels don't match or have heat pump system?
See User Guide.
In the image on the right, check the box next to each connection. You will use this checklist in Step 1.9.
Verify wire is firmly secured by gently pulling on wire.
Repeat steps a–d for all other wires.
Push any excess wire back into the wall opening after all wires are installed.
The L terminal on the lower right is used only for Heat Pump systems.
If the old thermostat for Heat Pump System has separate wires on Aux and E, use a wire nut to attach both wires to a separate wire. Slide this third wire into the W2-Aux/E terminal.
Check the box for each wire you connect. You will need this information in Step 1.9.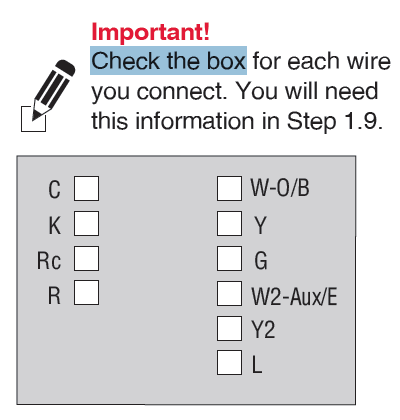 Labels don't match or have heat pump system?
See User Guide.
Attach thermostat to wallplate Align the thermostat with wallplate and snap into place.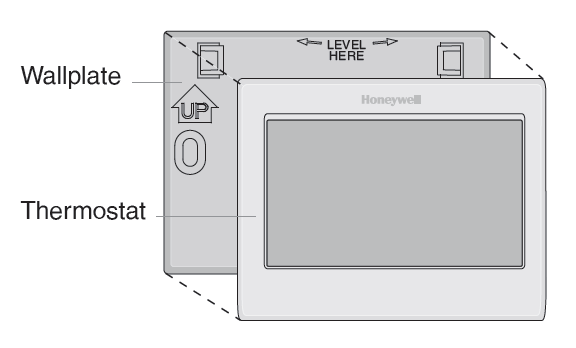 Switch heating/cooling system ON
Important!
Verify that the C wire is connected at the thermostat and at the heating/cooling system.
Make sure the heating/cooling system door is firmly secured.
Switch power back ON for your heating/cooling system at the breaker box or its power switch.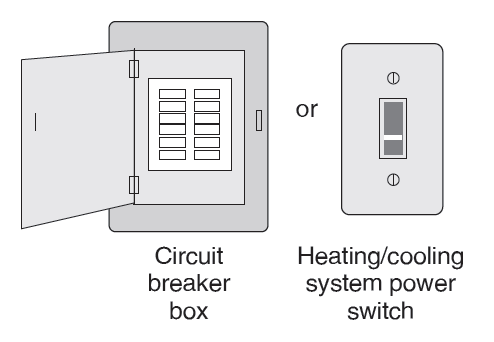 Select setup
Before connecting to your Wi-Fi network, you need to set initial thermostat options to define your heating/cooling system:
Language
Home or business
Follow prompts on the screen to select appropriate options.
Touch the language you want the thermostat to display, then touch Next.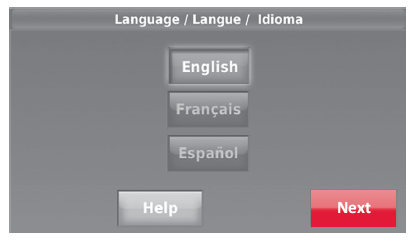 Select Home or Business application, then touch Next.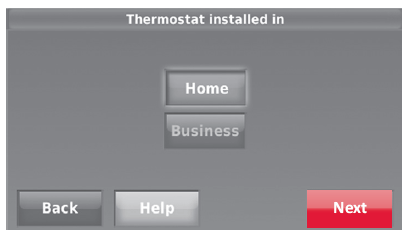 Touch Next or name the thermostat location—touch THERMOSTAT and follow the rest of the instructions.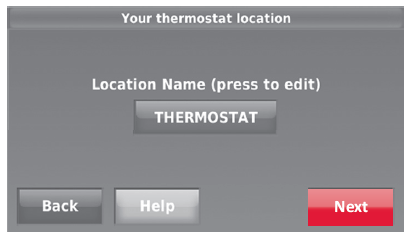 Select what your thermostat will control and touch Next.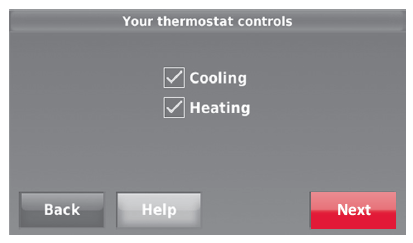 Select your system type and touch Next The system type determines other selection for completing initial setup. Use the checklist from Step 1.6 when making selections.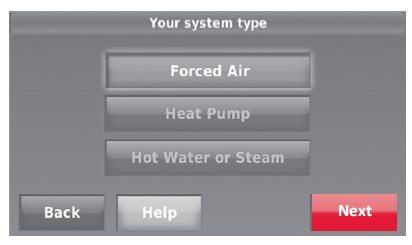 Touch Next after making selections on each screen.
Touch Done on the last screen. The thermostat displays an option to connect to your Wi-Fi network.