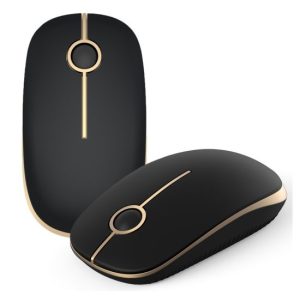 Jelly Comb MS001 2.4G Wireless Bluetooth Mouse User Manual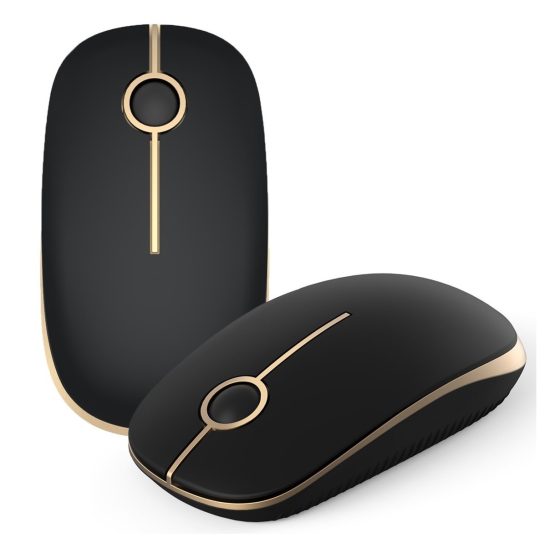 Overview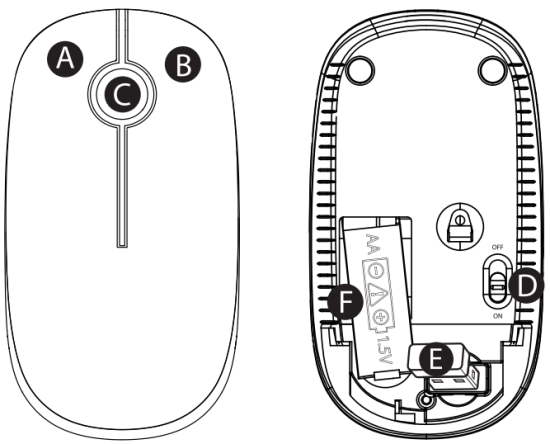 A. Left button
B. Right button
C. Scroll wheel & Middle
D. Power switch
E. USB receiver
F. Battery box
Take the battery cover off

Install the battery (please notice the place of anode and cathode
Switch on

Remove the receiver

Insert the usb receiver into the USB port of PC
Data parameter
Basic:
Data transmission:1 Mbps
Frequency: 2405MHz -2476MHz
Channel: 16
Engine: Optical
Distance: 20m
Voltage: 1.5V
Current: 11mA
Mouse Key life: Above 3 millions
Mouse Size: 110x60x31mm Mouse
Weight: 62g
Tracking performance:
Mouse Resolution: 1600DPI
Polling rate: 250Hz
System requirement:
Windows: 2000/ ME/
XP(x64)/ Vista/ 7/ 8/ 10
Workable USB port
Package included:
1 x Wireless mouse
1 x USB receiver (in battery storage)
1 x User guid
Trouble Shooting
If your wireless mouse can not work properly, please try the following steps to get it work:
Replace new batteries timely if the batteries have run out;
Disconnect and re-connect the nano receiver to the USB port to establish new connection for the mouse;
Move the mouse, more closer to the receiver if the devices is out of the optimum range;
Please press the scroll and the right button to match the code again;
Flip the on-off switch.
If problem still can not be solved, please email us at
[email protected] (us buyers only). we will get back to you with solution in 24 hours.
Other 2 ways to get contact with us:
Way 1:
Click the seller's name on a product page to get to the storefront.
Then dick the "Ask a question" link on the right side of the page.
Select the "An order I placed" option, select your reason, and then compose your message to us.
Way 2:
Sign in to your Amazon account, click the "Your Account" option, select "Your Orders".
Click the "Contact Seller" button next to an order, and then check the radio button next to "An Order I Placed".
On the "Select a Subject" pull-down menu, select the reason why you are contacting us.
Once done, dick the "Write Message" button to compose your message.
We will get back to you in 24 hours, and try our best to meet your satisfaction.