Looking to start using your onn Wireless Gaming Headset (model number 100025012) but have lost the user guide? These instructions will show you how to quickly get started with your headphones and connect them to your computer.

100025012 Wireless Gaming Headset
PRODUCT GUIDE
Federal Communication Commission Interference Statement
This equipment has been tested and found to comply with the limits for a Class B digital device, pursuant to Part 15 of the FCC Rules. These limits are designed to provide reasonable protection against harmful interference in a residential installation. This equipment generates, uses, and can radiate radio frequency energy and, if not installed and used in accordance with the instructions, may cause harmful interference to radio communications. However, there is no guarantee that interference will not occur in a particular installation. If this equipment does cause harmful interference to radio or television reception, which can be determined by turning the equipment off and on, the user is encouraged to try to correct the interference by one of the following measures:
Reorient or relocate the receiving antenna.
Increase the separation between the equipment and receiver.
Connect the equipment into an outlet on a circuit different from that to which the receiver is connected.
Consult the dealer or an experienced radio/TV technician for help.
This device complies with Part 15 of the FCC Rules. Operation is subject to the following two conditions: (1) This device may not cause harmful interference, and (2) this device must accept any interference received, including interference that may cause undesired operation.
FCC Caution: Any changes or modifications not expressly approved by the party responsible for compliance could void the user's authority to operate this equipment.
What's in the Box
1 Wireless Gaming Headset
1 USB Receiver
1 USB-A to USB-C® Braided Charging Cable 6 ft (1.8 m)
1 3.5 mm male to male audio cable 6 ft (1.8 m)
1 Quick Start Guide
1 User's Manual
Parts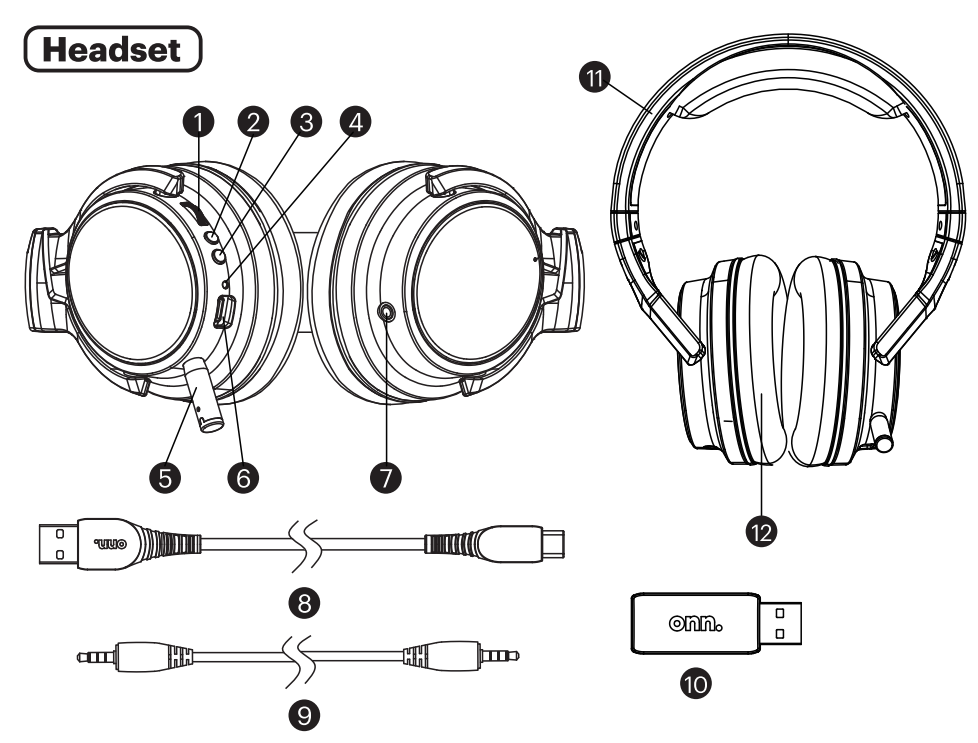 Volume Up / Down
Microphone On / Off (Pairing)
Power On / Off Switch
LED Indicator o Retractable Microphone
USB-00 Charging Port
3.5 mm Jack for Microphone and Headphone (CTIA)
USB-A to USB-C® Male Charging Cable (6 ft/1.8 m)
3.5 mm Male to Male Audio Cable (6 ft/1.8 m)
2.4 GHz wireless USB Receiver
Adjustable Headband
Soft Fabric Covered Earpads
USB.c is a registered trademark of USB Implementers Forum, Inc.
Specification
Rechargeable Wireless Gaming Headset with USB Receiver (stores in earcup when not in use)
Rechargeable with up to 12 hours of playtime per charge (at 50% volume )
Lightweight, flexible and adjustable headband
Ultra-soft, 90°rotatable earcups
50 mm speaker drivers
Retractable boom microphone
Earcup volume/mute/power controls
Windows and Mac compatible
Driver Impedance : 3251 +/- 15%
Driver Sensitivity : 115 +/- 3dB (at 1k Hz)
Driver Frequency Response: 20 Hz – 20 KHz
MIC Unit: Omnidirectional
MIC Sensitivity: -42 +/- 3dB (at 1K Hz)
MIC Frequency Response:100 Hz -10 KHz
Getting started
Charge your headset: charge it to 100% battery power Connect it to your computer with provided USB-A to USB-C® charging cable, LED indicator will light up in red during charging and go off when its done charging
Connect to your computer: press bumps to open ear cup, pull up the lower edge and remove ear cup, take out USB Receiver and insert it into your computer's USB port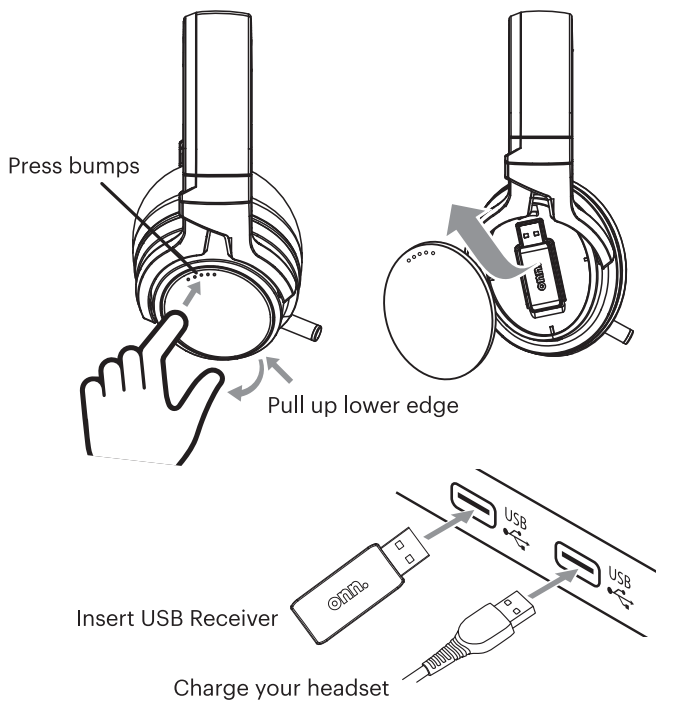 Turn on power switch: press power switch to turn on power, your computer should detect and connect to headset automatically (LED indicator will light up when power is on, press it again will turn off your headset)
Note 1: Don't forget to adjust the volume in software and hardware (volume wheel)
Note 2: Headset will turn off automatically after 15 minutes when no audio is playing to save battery life
Note 3:You can still play music when it's charging
LED Indicator:
| | |
| --- | --- |
| Searching/Paring | Slow flash in blue |
| Low battery | Fast flash in blue |
| Charging | Light up in red |
| Fully charged | Off |
| Power on | Light up in blue |
Note 4: Microphone will light up in red when it is OFF (press microphone button to the mute microphone)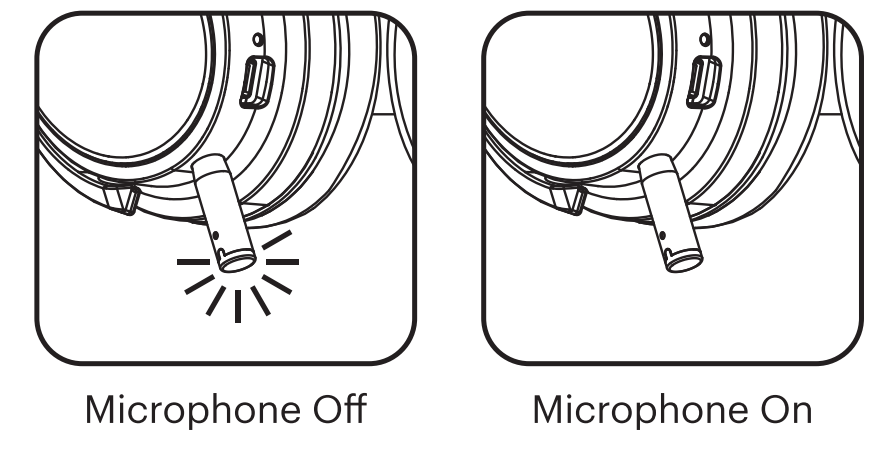 Troubleshooting
There is no sound?
Try pairing again. Turn off your headset, unplug and replug in USB Receiver and turn on the headset. The LED indicator will start flashing, press Microphone On / Off (Pairing) switch for pairing.
The LED indicator will stop flashing after pairing is completed
There is still no sound after successful pairing? Go to the notification area (lower right corner of Windows desktop) Right-click icon

Left-click "Open Sound settings" and set your headset as the main output device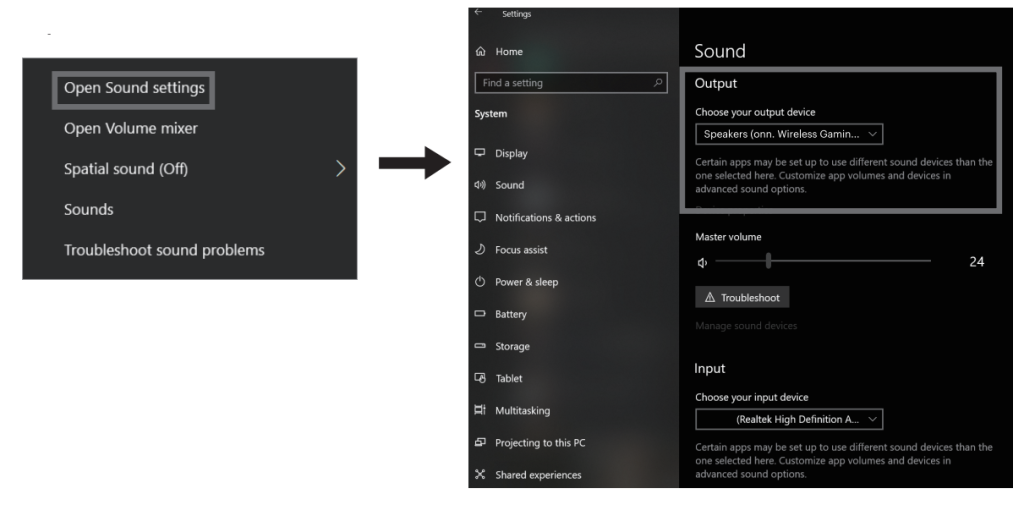 Volume is still low after finishing all steps above?
Make sure your volume is turned to the max including
Volume wheel on the headset
Software (application) that you are playing music with (e.g. games or music player etc.)
Also check "Volume mixer", browser like Google also has volume control, make sure turn that to the max as well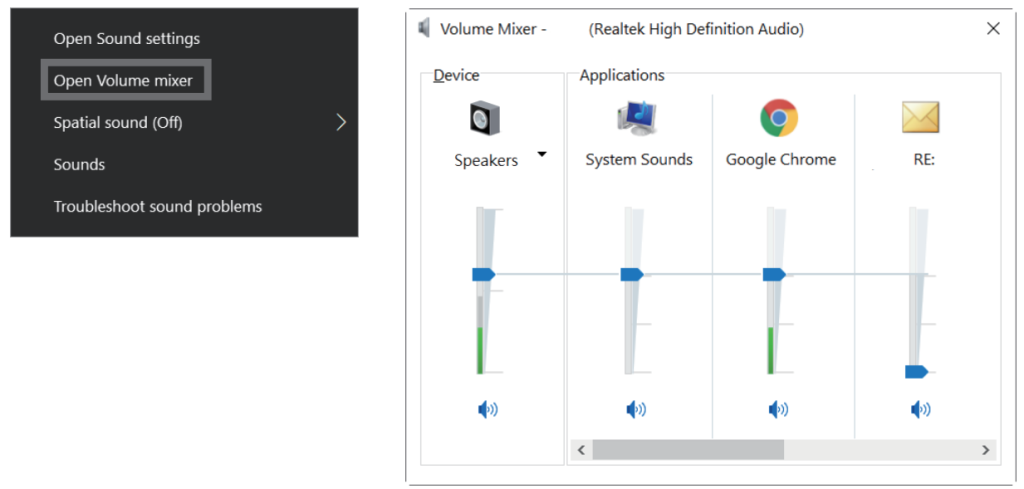 Protect your hearing
Listening at high volume for long time periods may affect your hearing. Try to take a break between each session. Always remember that for any audio product, reduce the volume to the lowest before trying it with an audio source at the first time.
Walmart Inc., Bentonville, AR 72716
Need help?
We're here for you every day from 7 a.m. – 9 p.m.
CST. Give us a call at 1-888-516-2630