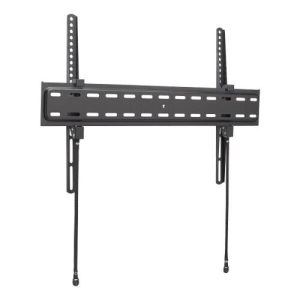 50″-86″ Tilting TV Wall Mount
Model: 100010113
Product Guide

Before getting started, let's make sure this mount is perfect for you!
Is your TV VESA equal to / greater than 75mm x 75mm (2.95′ x 2.951 and equal to / less than 600mm x 400mm (23.62″ x 15.75) ?
Does your TV (including accessories) weigh less than 120 lbs (54.4 kg)?

What is your wall made of?

Installation Tools (not included)

Safety Caution
Keep this Product Guide for future reference. Keep your original proof of purchase (store receipt).
? Need help? We're here for you every day from 7 a.m. – 9 p.m. CST. Give us a call at 1-888-516-2630
SAFETY WARNING:
Never let children climb on the product or play with the product.
Do not sit or stand on the product.
Do not fasten a TV that is heavier than the recommended load rating to the mount.
Use suitable concrete, stone, masonry wall or wood stud wall ONLY. Not suitable for metal studs or drywall alone.
Improper installation may cause property damage and/or personal injury.
Two people are recommended for this installation. The manufacturer is not liable for damage or injury caused by incorrect mounting, assembly or use.
Improper handling can result in cuts or lacerations. 1
Dimensions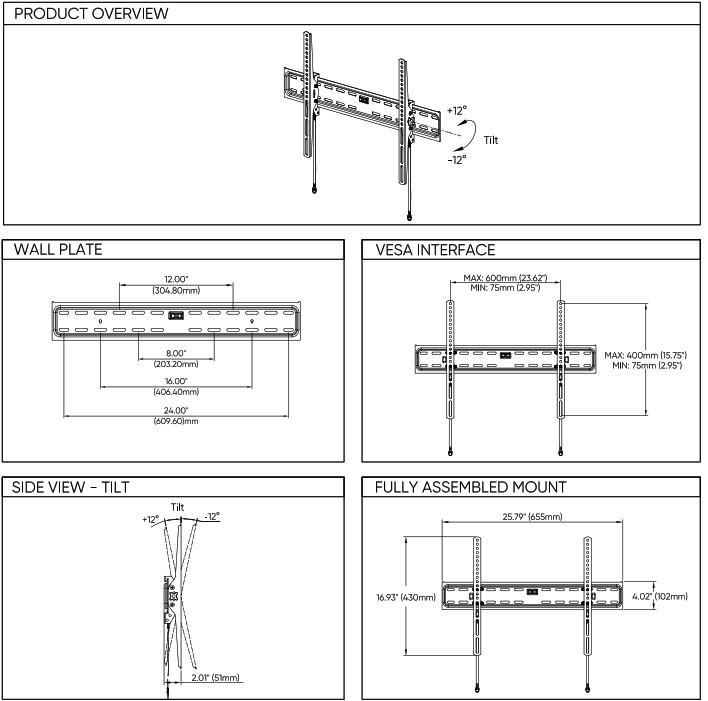 ASSEMBLY TIPS:
Carefully read the entire Product Guide before beginning your installation.
Make sure that all parts are in the box and in good condition.
Assemble the product on an open flat carton or a rug to protect the product and your floor.
Do not install on a sloping surface.
Two people are recommended for proper assembly.

CAUTION: This mount is intended for use with TV weights not exceeding the maximum weight capacity of 120Ibs. The wall itself must be capable of supporting 4X the standard weight. Do not over tighten screws to avoid any damage or injury. Use with products heavier than the maximum weight indicated may result in a collapse of the mount and its accessories causing possible injury.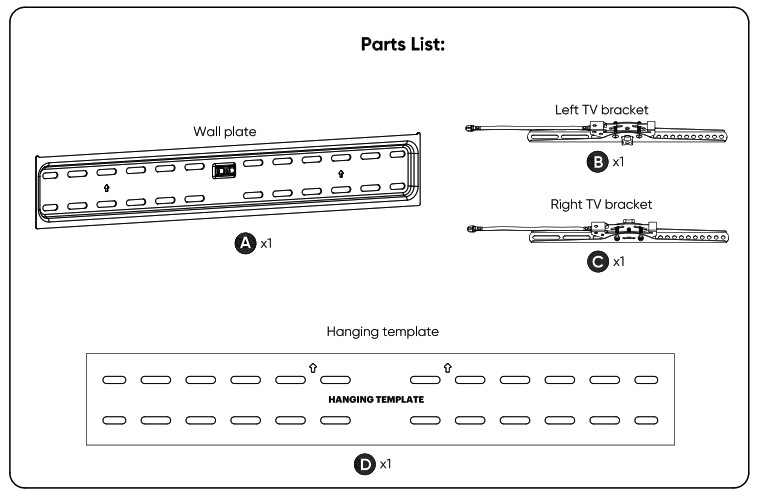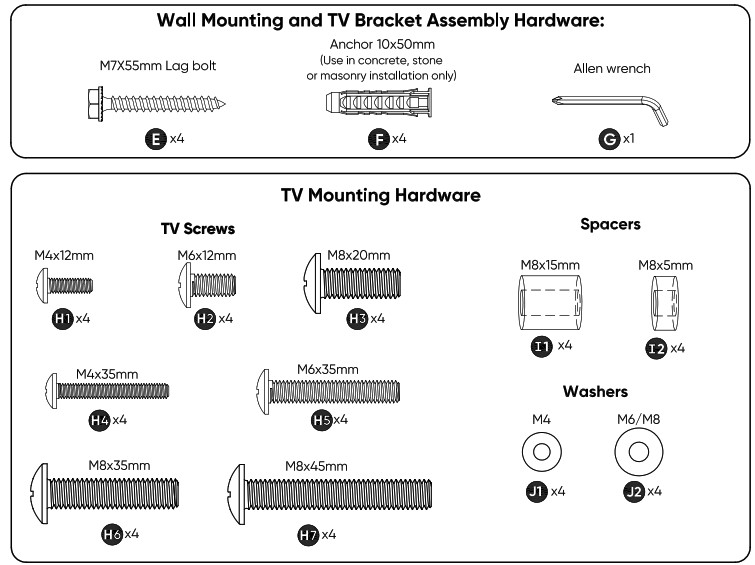 CAUTION: Carefully lay your TV on its face on a flat, non-abrasive surface covered with a blanket or soft padding to help prevent damaging the screen.


CAUTION: Place left and right TV bracket in the appropriate position, make sure they are CENTERED on the back of TV and LEVEL with one another.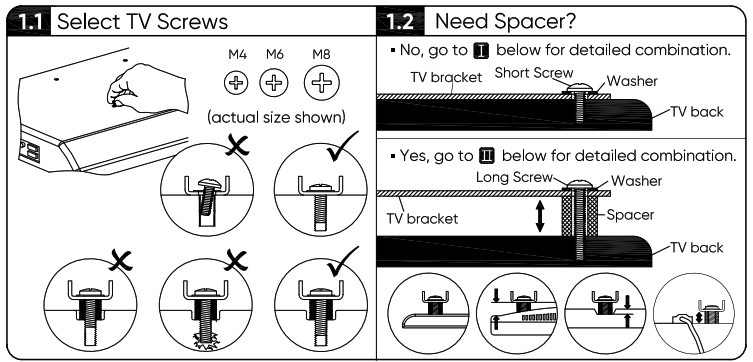 Choose proper screws that fit your particular TV mounting holes. Use spacers and washers as needed since they are not always required. You will have screws, spacers and washers leftover. Discard all unused hardware after you have completed TV mount installation.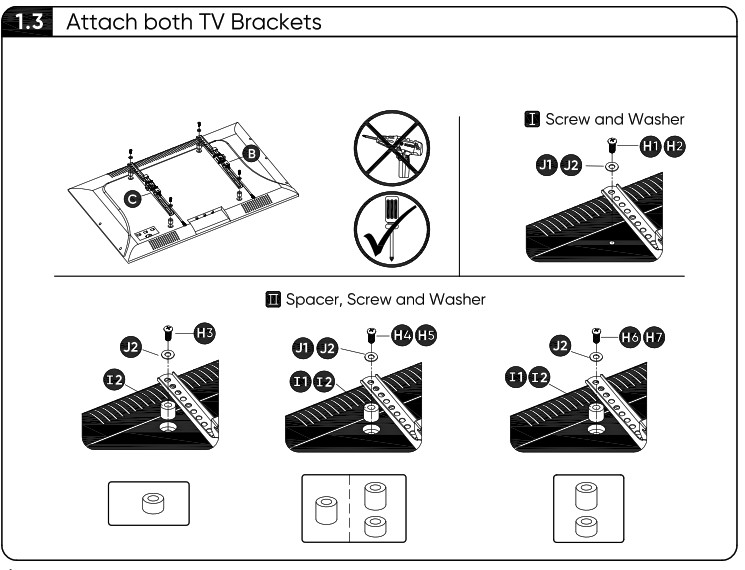 STEP 2 Attach Wall Plate A to Wall

For wood stud installation, follow STEP 2A


For concrete wall installation, follow STEP 2B
STEP 2 A Wood Stud Installation
NEVER USE ANCHOR F FOR WOOD STUD ASSEMBLY


CAUTION: The wood stud minimum size is 2×4″, and surface covering can't be more than 5/81 Drill hole on the wood stud centerline.
STEP 2 B Concrete, Stone or Masonry Installation

CAUTION: The concrete wall minimum thickness is 5.5′, and surface covering can't be more than 3/8″.


CAUTION: These anchors are for concrete, stone or masonry wall ONLY. Do not install into a wood stud.


CAUTION: This product can only be installed on a perpendicular wall. Do not install this product on the ceiling.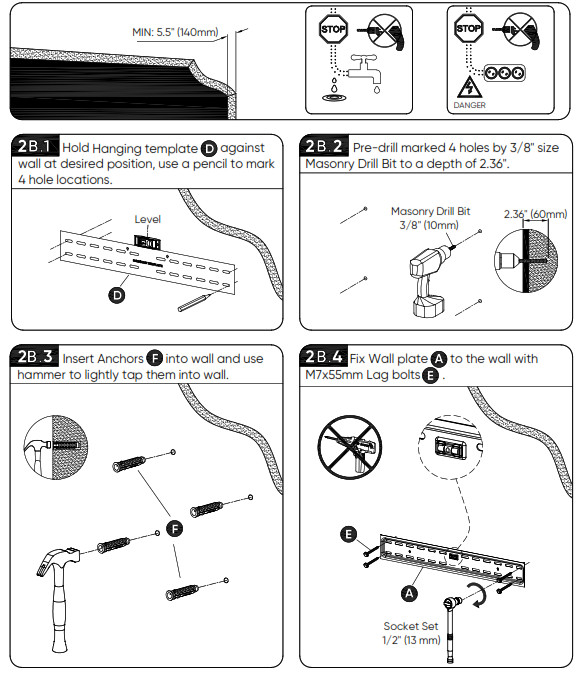 STEP 3 Hang and Secure TV on Wall Plate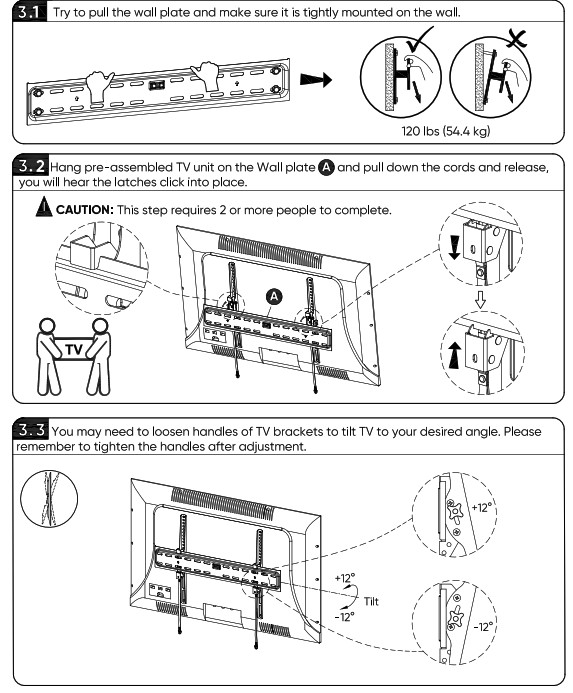 © 2020 Walmart onn. is a trademark of Walmart. All Rights Reserved.
Distributed by Walmart Inc., Bentonville, AR 72716
MADE IN VIETNAM
We'd love to hear from you. Scan with your Walmart app and let us know what you think.