The Honeywell T6 Pro Series Thermostat is a great way to control the temperature in your home. It has many features that make it easy for you to set and maintain the perfect temperature inside of your house. This thermostat manual will help you learn all about the T6 Pro Series Thermostat so that you can get everything set up properly. Installation is made easy in these instructions as they contain all sorts of diagrams and information that you need to check out before attempting this yourself.
Package Includes:
T6 Pro Thermostat
UWP Mounting System
Honeywell Standard Installation Adapter (J-box adapter)
Honeywell Decorative Cover Plate – Small; size 4-49/64 in x 4-49/64 in x 11/32 in (121 mm x 121 mm x 9 mm)
Screws and anchors
2 AA Batteries
Installation Instructions and User Guide
Optional Cover Plate installation
NOTE: If Optional Cover Plate is not required, see "UWP Mounting System installation" on next page.
Use the Optional Cover Plate when:
Mounting the thermostat to an electrical junction box
Or when you need to cover paint gap from old thermostat.
Separate the Junction Box Adapter from the Cover Plate. See Figure 1.

Mount the Junction Box Adapter to the wall or an electrical box using any of the eight screw holes. Insert and tighten mounting screws supplied with Cover Plate Kit. Do not overtighten. See Figure 2. Make sure the Adapter Plate is level.
Attach the UWP by hanging it on the top hook of the Junction Box Adapter and then snapping the bottom of the UWP in place. See Figure 3.

Snap the Cover Plate onto the Junction Box Adapter. See Figure 4.

Before starting, turn the power off at the breaker box or switch. Open package to find the UWP. See Figure 5.

Position the UWP on wall. Level and mark hole positions. See Figure 6. Drill holes at marked positions, and then lightly tap supplied wall anchors into the wall using a hammer. ‒ Drill 7/32" holes for drywall.
Pull the door open and insert the wires through wiring hole of the UWP. See Figure 7.

Place the UWP over the wall anchors. Insert and tighten mounting screws supplied with the UWP. Do not over tighten. Tighten until the UWP no longer moves. Close the door. See Figure 8.
Power options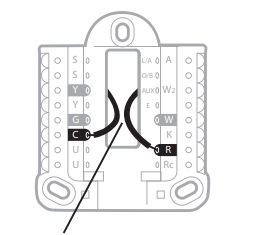 Insert R and C wires into designated terminals for primary AC power (C terminal is optional if batteries are installed, but it is recommended). Remove wires by depressing the terminal tabs.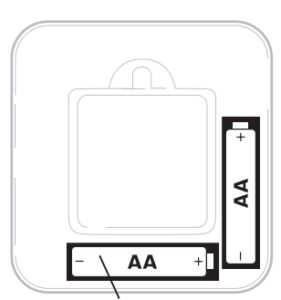 Insert AA batteries for primary or backup power.