This user guide for the onn 43" LED Roku Smart TV (model number 100012584) contains all the information you will need to get your TV up and running. The smart TV features a built-in Roku streaming unit with all of the functionality available from the included remote control.

43" 4K UHD TV Model: 100012584
*Roku, Roku TV and the Roku logo are the trademarks of Roku, Inc. All other trademarks and logos herein are the property of their respective owners.
What's in the box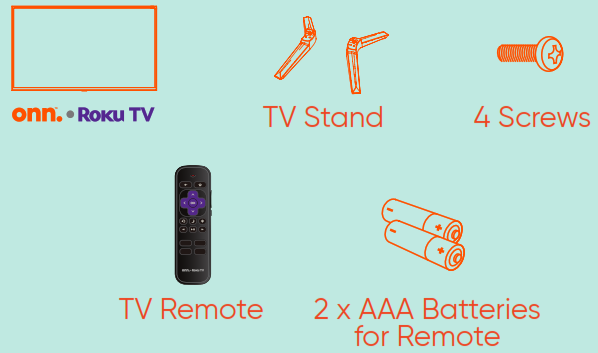 What you need

Installing the Stands
Do not install the stands if you want to wall mount your TV. See your wall mount instructions or chat live at www.onntvsupport.com. You will need: Phillips screwdriver (not included)
Place the TV screen-down on a clean, flat, soft surface (e.g.: blanket) to prevent scratches or damage to the screen.
Use a Phillips screwdriver to attach each stand with the provided screws.
Place the TV upright on a stable, level surface.